IOA Suspension: A blessing undisguised
Editor's Pick
16 Dec 2012, 18:26 IST
1.06K
"It's only after we've lost everything that we're free to do anything." - Chuck Palahniuk
In our country, cricket, the object of our monomania, tends to come up a lot during conversations centered around a child's future. It's a staple in Indian households. The doting mother and the stern but loving father, spurred on by their son's shining performance in his 4th grade final exams, pose to him the seemingly innocuous question,"Beta, bada hokar kya banna chahte ho?" (Son, what do you want to be when you grow up?). What the kid does not know is that he is suddenly playing a round on the not-for-profit version of the hit TV show "Kaun Banega Crorepati". There are actually four options to said question:
A. Lawyer
B. Doctor
C. Engineer
D. Mummy ka favourite baccha (mom's favourite kid, always very endearing)
Luckily for our fledgling quiz contestant, choosing any one of the options would win him the jackpot. But our little protagonist, conditioned by a decade of watching cricket on cable television, arbitrarily appends a fifth option to the already heavy duty list. Without a shadow of a doubt, punctuated by a jump and followed by a giggle, he exclaims,"Cricketer banunga!" (I will be a Cricketer). At least this time he referred to an actual occupation. Few years prior, he would have babbled something to the effect that he would grow up and become Sachin Tendulkar. How his mind convinces him this is possible, remains a mystery. All the same, growing up, becoming Sachin Tendulkar seems like a viable career option to a lot of us Indians.
Indian sport is at a crossroads. The seeds of this infirmity were planted frequently and systematically by various individuals and bodies. Extensive news coverage on the issue means that finally, the common man is sitting up and taking notice of the turbulent state of sporting affairs in our nation. Administrations have been thrust into the eye of this storm by the pertinacious media. We received ample acknowledgement of the decrepit state of these institutions when the International Olympic Committee (IOC) suspended the Indian Olympic Association (IOA). Additionally, a provisional suspension of the Indian Amateur Boxing Federation was also made. The sad reality is that the apparent purveyors have become the principal marauders of our sporting heritage.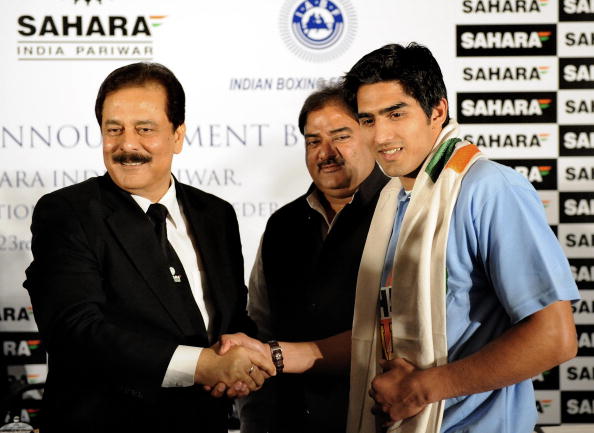 Observing quietly from the sidelines is the hapless Indian sporting contingent. Practising their art in a country where having to contend with cricket's cult is impossible; you might expect that they'd be accustomed to let-downs and abeyances. But forget the attention factor for a moment. Let's take a look at those that are in it for the simple joy of doing what they love.
Welcome to Bhiwani Boxing Club, the "Cuba of India", as Chief National Boxing Coach G.S. Sandhu calls it. A few hours from Delhi, this hamlet in rural Haryana couldn't be farther removed from the hustle and bustle of life in the capital. Languorous chaupals and dusty fields pepper this bucolic backwater. Formerly associated with its textile industry, Bhiwani is now acknowledged as being the nursery for budding pugilists who will go on to represent the nation and hopefully heap medals and earn a name for themselves. Talking about earning a name, Vijender Singh, arguably India's most placeable boxer, is an alumnus of the centre. But it isn't just him. Most of the country's top boxers hail from Bhiwani.
The Sports Authority of India-run institution houses  about a thousand boys on any given day. The training is gruelling, understandably. The young aspirants arrive here early. Many of them have travelled long distances to make it. Often times, this means waking up before daybreak. Here's an excerpt from Shamya Dasgupta's book 'Bhiwani Junction', which chronicles the phenomenal contribution this village has made to the sport of boxing:
"…training starts at 6.30 a.m. It doesn't matter that the temperature outside on this January morning is close to zero degrees – not when an Olympic gold is what you are chasing. And Sandhu Sir (coach) doesn't see what the hoo-ha about the cold is about. 'Just go for a quick jog around the compound- what's the big deal?'"
Most of the recruits  have dropped out of school. As the 2010 Guangzhou Asian Games silver medallist Dinesh Kumar puts it, "What could we have achieved by studying? Where would we have reached? What aukaat (status) did we have? In Haryana, within a month of doing well (in sports), you get so much money and a good position". Over the years, the state has done remarkably well to encourage sporting endeavours among its denizens.
Cut to the present. Remember, suspension and all? What it implies is that, "Today, for Indian athletes it is not possible to take part in any competition under IOC jurisdiction", as the IOC's NOC Relations Director Pere Miro put it. In effect, what we're telling the youngsters at Bhiwani is that no matter how driven they are, regardless of all the hard work they put in, under current circumstances, they cannot compete at the highest levels under the India flag. Hopefully, national level success gratifies them.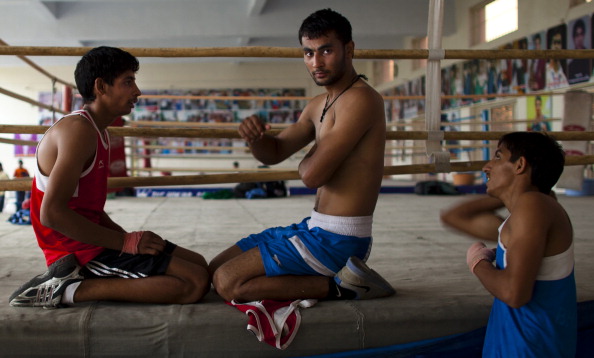 But hold on a second. My fervour seems to have incited me into overstating the outcome of the ruling. The ban fortunately comes at a time when there aren't too many international events lined up. For all you know, the IOC, empathizing with our unfortunate athletes, is going to lift the ban tomorrow (highly unlikely though). I do concede the prohibitory decree will have an undesirable effect on the morale our sportspersons. However, due to the ignominious nature of the suspension and all the attention the imbroglio has been garnering, the long-term benefits of the bitter episode are manifold and will hopefully outweigh its short-term consequences.
Soon after the incident grabbed headlines, Farhan Akthar tweeted:
"Like the CWG scam wasn't depressing enough, we've been suspended by the IOC because of the same lot of mis-administrators #saveourathletes"
Save our athletes? How? By providing them with better facilities? Or ensuring apposite remuneration for meritorious performances? Quality training at the grassroots level maybe? Of course not. All that is old. We've thrown those phrases around long enough. How do we go about saving our athletes?
By getting banned of course! This harsh decision on the part of the IOC has left the derelict heads of sporting bodies with nowhere to hide. They are finally being coerced into some meaningful action. The most insightful reaction to the order came from former Sports Minister Ajay Maken when he said, "It should be considered as an opportunity. I believe (the) days are not far when only sports personalities and professionals will be governing the sports associations."
And when will we know that we've redeemed sport in this country? When youngsters from all around India have a host of representatives from an array of sports to choose from when considering whom to make an idol. When those that toil in obscure parts of this country such as Bhiwani can focus solely on honing their craft, unperturbed by extraneous elements. Perhaps next time, the young fellow will say he wants to become a shooter, or the next Vijender Singh maybe? Every Indian sports lover eagerly awaits the day.