Liverpool's Season: So Far So Good? – Part 2
Feature
06 Dec 2012, 11:58 IST
690
You can read Part One here.
Almost midway into the 2012-13 season and Liverpool now find themselves at 11th position in the league table. But the table does not reveal everything.  Here are the ratings of every Liverpool player who has played atleast five matches this season:
The first edition involved the goalkeepers and defenders. In this edition, we will analyze the performance of the midfielders and striker(s).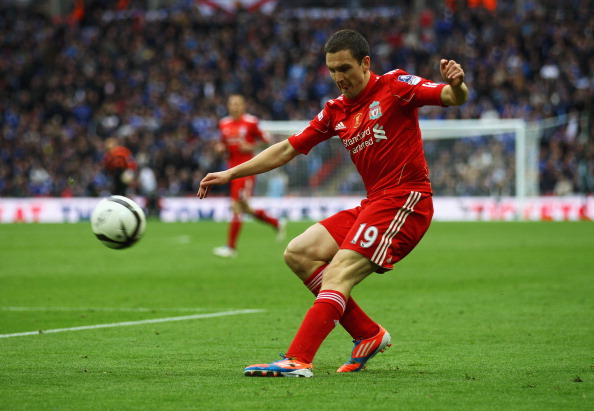 1.  Stewart Downing [Winger] (1.5/5) – This English midfielder has always been subject to criticism after his transfer to Liverpool from Aston Villa last season. With a poor show of form ever since he has donned Liverpool colours, Downing has been a flop signing for ex-manager Kenny Dalglish. With 4 goals in 63 matches for Liverpool, Mr. Downing has failed to prove his critics wrong and will probably be sold during the January transfer window.
2. Joe Cole [Winger/CAM] (2/5) - Joe Cole has been a clear disappointment in his entire Liverpool career. He was brought in as a free agent from Liverpool by the then manager Roy Hodgson and enjoys a staggering 110k/week salary, a sum that can be termed as unjustified considering his performances for the Reds. His loan spell in Lille did not change his outlook and this tired, unsure 31-year-old is just loitering around the Liverpool squad. His MoM performance against Young Boys gives him a slightly better rating than Stewart Downing, but overall he shares his throne with his fellow Englishman.
3. Joe Allen [CM/CDM] (3/5) - This Welshman was one of the most important players for the Swans last season. He joined Liverpool and his coach Brendan Rodgers from the Welsh club for a transfer fee of £13.5 million. After joining Liverpool, he has proved why he is not just another British midfielder with an expensive price tag. Joe Allen, with his confidence, possession and effective passing, has impressed the Anfield loyal. However, his failure to create impact in forward plays has been criticized. Joe Allen has shown signs of a certain Spaniard who left Liverpool a couple of years ago. Is Joe Allen the missing link to the much needed balance in the Liverpool midfield? We shall find out soon.
4. Jordan Henderson [CM] (2.5/5) – Sometimes a spark, most of the times a timid player, Jordan Henderson has been somewhat of a  disappointment. But this young midfielder has shown glimpses of confidence. The problems lie with the fact that those are glimpses and not consistent performances. His work rate can never be questioned. Always running up and down the wings, Jordan's commitment level to his club has been excellent. But the question remains, are Liverpool patient enough to give Henderson his  chance? Does Henderson deserve his chance? The Anfield loyal are not familiar with a Jordan "consistent" Henderson. Is he good enough for Liverpool? Rumours that Liverpool are ready to atleast loan out this former Sunderland midfielder during the January transfer window are already making the rounds.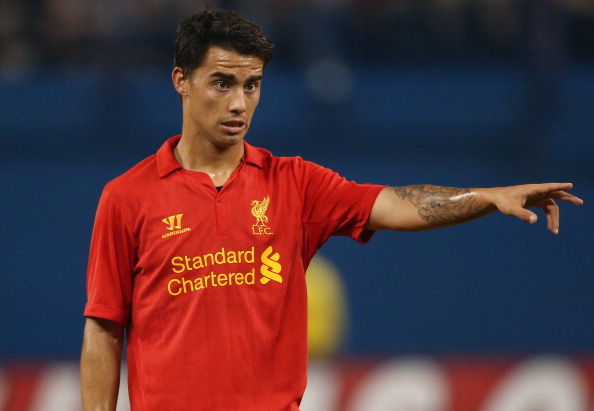 5. Suso [WINGER/CAM] (3.5/5) – Jesús Joaquín Fernández Sáez de la Torre who is popularly known as "Suso" was brought into the Liverpool academy by ex-manager Rafa Benitez. Having rejected Real Madrid and Barcelona, Suso made it quite clear that he had no problem in choosing the English club over the Spanish giants. His consistently good performances in the academy gave him a well deserved senior team call up this season. Suso signed a long term contract with Liverpool after the season began and shrugged off any rumour linking him up with a trip back to Spain. With his commitment level, attitude and performance, he surely has a bright future in the Red jersey.
6. Nuri Sahin [CM] (2.5/5) – Nuri Sahin made his Liverpool debut with a 2-0 defeat to Arsenal at Anfield. A former Bundesliga Player of the Season, Nuri Sahin joined Liverpool in a season-long loan from Real Madrid. He was compared to former Reds midfielder Xabi Alonso, but has more or less disappointed the supporters. His MOM performance against West Brom wasn't enough to satisfy the Anfield crowd. After-match statistics like passes attempted and attempted tackles are just an escape route as this Turkish international has somewhat failed to live up to the hype. But whoever has followed him since the 2010-11 season knows what he is capable of. Write him off at your own peril. Liverpool has still not seen the best of this midfielder, and with the presence of Lucas and Gerrard in the squad, Nuri Sahin can only get better.
7. Jonjo Shelvey [CM/CAM] (3.5/5) – Another Rafa Benitez signing, he has become a regular squad member for Liverpool in the current season. A loan spell in Blackpool during the first half of last season has actually done a world of good for this English midfielder. He came back rejuvenated and has been an important soldier of this Red Army. With four goals in Europa League this season, Jonjo Shelvey is one of the brightest stars in this Liverpool line up. Will he be thesuccessor to his "midfield senior"? We wil find out in a couple of years.
8. Oussama Assaidi [WINGER] (3/5) – This exciting Moroccan international joined Liverpool from  SC Heerenveen  for an undisclosed fee thought to be in the region of £2.4m, which feels like steal as even with limited opportunities, this young player has already won  the hearts of the Anfield crowd. A bit of trickery and sheer pace has helped him dribble past defenders at ease most of the times. This entertaining winger has a long way to go and will definitely excite the crowd more if given more opportunities.
9. Raheem Sterling [WINGER] (3.5/5) – This Rafa Benitez recruit is undoubtedly the best winger Liverpool has seen in a long time. At this age, Raheem Sterling has already grabbed the headlines of newspapers all around England. Sterling made his debut for Liverpool last season as he came on as a second half substitute against Wigan. This season has been an even better affair for Raheem, as he has already booked his placed in the starting XI. However, recent rumours suggest that his agent is unhappy with the situation at Merseyside and has warned that his client may not sign a contract extension at Liverpool. On the other hand, Raheem's teacher Mr. Rodgers is pretty sure his brilliant student won't make a stupid decision by not signing a contract extension.But only the kid knows what's in his mind. We are mere spectators and can only hope for the best.
10. Lucas Leiva [CDM] (3.5/5) - Once a flop, Now a 'world-class player', Lucas Leiva has been a sensational player for Liverpool in the last couple of seasons. A horrific injury ruled him out for half of last season. It was to the great satisfaction of the Liverpool fans that Lucas was considered fit to play right from the beginning of the season. But that happiness didn't last long as Lucas suffered yet another horrific injury as he limped off in the early minutes of the game against Manchester City, eventually ruling him out for the next 3 months. Lucas made a comeback against Southampton in the first week of December where he attempted the most number of tackles and won 100% of his aerial duels. His inclusion in the squad clearly spotted out the missing link in Liverpool's midfield.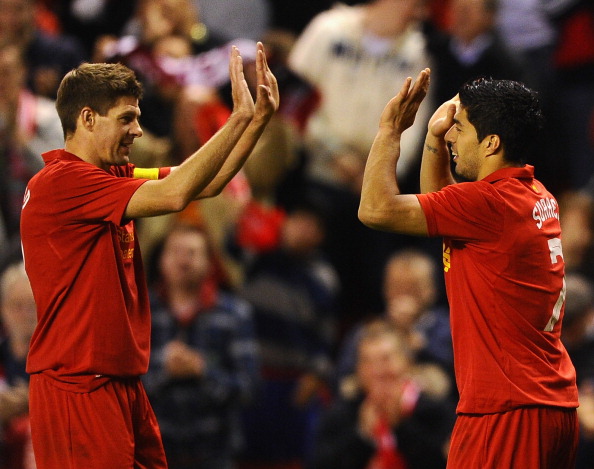 11. Steven Gerrard [CM/CAM] (2.5+1/5) - Captain Fantastic! "Steven Gerrard needs no introduction, Steven Gerrard needs no description". These are true words, but it remains to be seen how long will this man carry the burden of his team on his shoulders. Steven Gerrard is 32 and you can never blame him for not performing consistently enough at this stage of his life. His commitment level for Liverpool never showed any signs of negligence since his "birth" on 29 November, 1998. Although his mistakes have affected Liverpool greatly this season, Steven Gerrard is more than just another player on the pitch. He is a leader who has always motivated the team, a player who has always performed in the highest levels. Blaming Gerrard is not a wise man's decision. But maybe it's time for someone else to share the burden. Always a '+1′ for this living legend.
12. Fabio Borini [ST] (2.5/5) - This Italian striker patched up with his former Chelsea (reserve team) and Swansea boss Brendan Rodgers for the third time in his career as he joined Liverpool for a fee of £10.5 m from Roma. Fabio Borini got his debut goal for Liverpool  against FC Gomel in the Europa League qualifying round, but has failed to create a further impact in the team. Nothing much to say about this Italian youngster as he suffered a terrible injury during international duties back in October which has now ruled him out till the end of January 2013.
13. Luis Suarez [ST] (4.5/5) - Arguably the only senior striker Liverpool has, Luis Suárez has been a sensation right from his first day in a Liverpool shirt. With a phenomenal display of skill and confidence, Suarez is undoubtedly the most entertaining player in the entire league. Being the highest goal scorer in the league so far, he has humiliated the critics who claimed that Suarez is not a good finisher. With 13 goals and 6 assists in 20 games so far this season,  Luis Alberto Suárez is the best player of Liverpool's season so far (so good?).