India have been knocked out of the Squash World Cup 2023, having lost to Malaysia in their semi-final match.
In the first semi-final, Egypt blanked Japan with a 6-0 score. Karim El Hammamy and Fayrouz Aboelkheir won their respective matches 3-0. Aly Abou Eleinen beat Ryunosuke Tsukue 3-1, while Kenzy Ayman beat Akari Midorikawa 2-0 to see them through the semis.
In the second semi-final, Malaysia beat India 5-0 to book a berth in the summit clash of the Squash World Cup 2023. Sai Hung Ong beat Abhay Singh in the first match 7-4, 5-7, 1-7, 7-1, 7-6. The Indian player lost the first game but fought hard to register a victory in the next couple of games.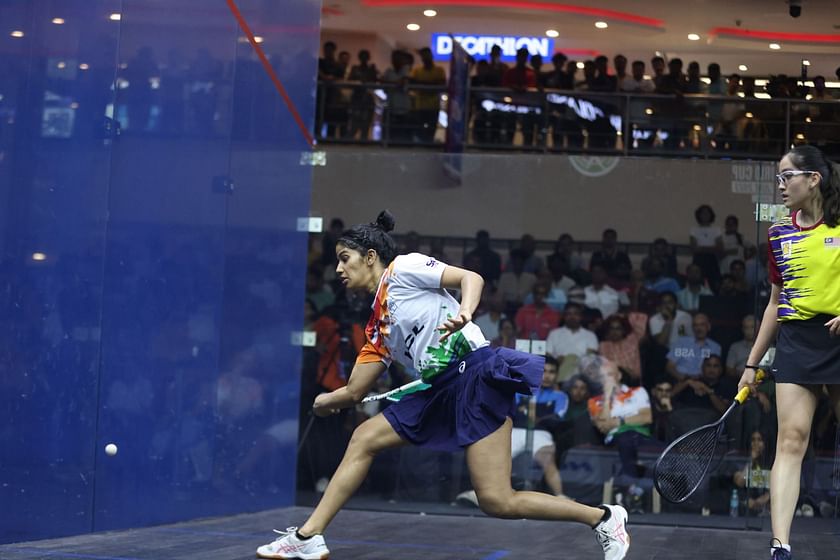 However, Sai Hung beat Abhay by a convincing margin in the fourth game and followed it up with a close-fought victory in the final game. Joshna Chinappa lost to Aira Azman 7-3, 7-3, 5-7, 7-4. The Indian player had a tough outing as India were 2-0 down and had to win their last two matches to keep them alive in the race for the Squash World Cup 2023 Final.
Darren Pragasam defeated Saurav Ghosal 7-5, 2-7, 7-6, 6-5 in a must-win match for India. Saurav Ghosal was seen struggling due to an injury and couldn't give his best shot against Darren.
"I have looked up to Saurav forever. One of the greatest Asian players. I thought I will go there and enjoy myself. I saw he was struggling a bit but still tried his best. Hats off to him," Darren Pragasam said after defeating India's Saurav Ghosal.
The Indians finished their Squash World Cup 2023 campaign with a loss in the semi-final. However, India win a bronze medal and hold the joint-third place with Japan in the ongoing edition of the event.
Moreover, the bronze medal at the Squash World Cup 2023 is India's best finish to date.
---
Squash World Cup 2023: Semi-Finals Results
Friday, June 16
Semi-Final 1 - Egypt 6-0 Japan
Karim El Hammamy beat Tomotaka Endo 3-0
Score: 7-1, 7-6, 7-2 (21m)
Fayrouz Aboelkheir beat Satomi Watanabe 3-0
Score: 7-5, 7-2, 7-2 (20m)
Aly Abou Eleinen beat Ryunosuke Tsukue 3-1
Score: 6-7, 7-6, 7-5, 7-5 (36m)
Kenzy Ayman beat Akari Midorikawa 2-0
Score: 7-3, 7-4 (7m)
---
Semi-Final 2 - Malaysia 5-0 India
Sai Hung Ong beat Abhay Singh 3-2
Score: 7-4, 5-7, 1-7, 7-1, 7-6 (37m)
Aira Azman beat Joshna Chinappa 3-1
Score: 7-3, 7-3, 5-7, 7-4 (21m)
Darren Pragasam beat Saurav Ghosal 3-1
Score: 7-5, 2-7, 7-6, 6-5 (25m)
Xin Ying Yee vs Tanvi Khanna - match withdrawn