Saurav Ghosal and Dipika Palikal Mixed Double champions: Chennai Open 2010
970 //
11 Mar 2010, 19:25 IST
Hectic activity of ten-day PSA and WISPA events came to a close with Saurav Ghosal and Dipika Palikal winning the Mixed Doubles title in the Chennai Open 2010 here this evening at the Indian Squash Academy courts today.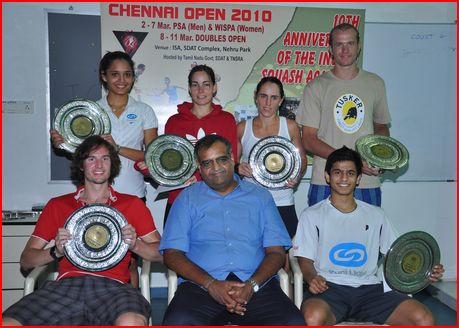 The Indian duo maintained their focus to the optimum throughout the match and scored a deserving straight games win over highly rated top seeds Mohd Ali Anwar Reda(Egy)/ Rachael Grinham(Aus) 11-8, 11-4 in 30 minutes.
It was a closely fought out encounter and the Indian duo brought about their best efforts in raising their game to greater levels mainly in the closing stages of the games. The rivals were matching each other in the intial stages of the games but the manner in which Ghosal and Dipika, who has been showing great signs of improvement in her performance clicked with better coordination and exhibited perfect cohession in their handling of the situation in the closing stages for winning the title at home.
After winning the first game in a hard way, Ghosal and Dipika were classy in their approach and execution of shots and dead drops for winners in the second game, which they won without much resistence from their rivals.
Earlier in the morning, Ghosal and Harinder Pal Singh Sandhu finished in third position in a strong field of higher rated PSA ranked players in the Men's Doubles, while Joshna Chinappa and Palikal showed their grit and determination to claim the bronze medal when they came from behind to beat the best of Jaclyn Hawakes (NZ) and Samantha Teran (Mexico) 11-7, 6-11, 11-6 in 38 minutes in the women's doubles.
Ghosal and Sandhu, who have played a tough encounter yesterday against top seeds Jonathan Kemp(Eng) / Stephen Coppinger(South Africa) before losing at 11-5,10-11,11-9, did not exert much today as they went about their task in a methodical manner. The Indian pair went through the motion beating Scotts Chris Small/Lyall Paterson 11-5, 11-10 in 40 minutes.
Unlike their men counterparts, Chinappa and Palikal took the vital lead in the first game after leading
7-1 but lost the initiative in the second as they trailed 3-6 before losing the game. However, in the decider, the Indian pair touched good patch from the beginning. Raising their game to great effects from 2-1 to 7-2, Chinappa and Palikal executed their game plan intelligently before winning the match.
The Men's and Women's doubles titles were won by Kemp and Coppinger when they beat Harry Leitch/Alan Clyne(Sco) 5-11, 11-6, 11-8 in 49 minutes and top seeds Jenny Duncalf(Eng)/ Rachael Grinham(Aus) respectively. Duncalf and Grinham survived some anxious moments in their 8-11,11-9, 11-8 (56 mins) win over Donna Urquhart /Kasey Brown(Aus).
In the third place match in mixed doubles section, Alan Clyne / Frania Gillen (Sco) defeated Chris Simpson/Jenny Duncalf(Eng) in straight games of 11-8, 11-6 in 24 minutes.