WWE Money In The Bank 2011: Preview
2.19K //
17 Jul 2011, 08:24 IST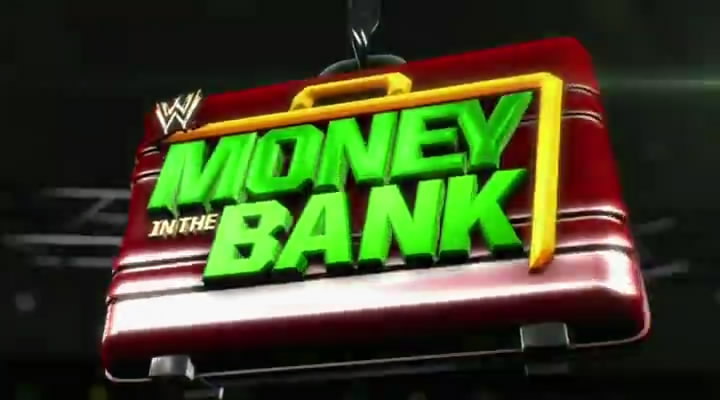 The second WWE Money In The Bank pay-per-view is all set to take place this Sunday on July 17 at the Allstate Arena in Rosemont, Chicago, Illinois. Though the money in the bank fixtures were a regular in the card till Wrestlemania 26, a separate pay per view was introduced last year (2010) owing to the novelty and unpredictability factors of 8 men ladder matches. Add three more title matches and we have got a lot of fantastic action awaiting us this Sunday. So let's take a detailed look at the 6 scheduled matches scheduled to be held on Sunday.
This is an inter-promotional match which has Mond
ay Night Raw's Big Show colliding with Friday Night Smackdown's Mark Henry. The clash 
of two mammoth men will surely create ripples in the ring. The start of this feud dates back to the night when Big Show and Kane lost their tag team titles to David Otunga and Michael Mcgillicutty. Big Show got run over by a car driven by the personal ring announcer of Alberto Del Rio, Ricardo Rodriguez. On returning back to the ring, Big Show ve
nted out his frustration by brutalizing Mark Henry on Raw. This angered the giant, Mark Henry, and paved way for his transformation into an intimidating and brutalizing man. He literally squashed the Big Show at Capitol Punishment. He bulldozed Big Show and broke the steel cage in Show's Raw Roulette Steel Cage match against Alberto Del Rio which led to this match which promises a lot of action. This is likely to be the show starter or may be used as mid-card filler. Going by the kind of attitude that Mark Henry has been displaying over the past few weeks, there is a widespread expectation that he may find the better of the Big Show. But the Big Show is no pushover. So we are in for a giant's brawl at Chicago.
Match No.2: Kelly Kelly © vs. Brie Bella
Type: Singles Match for the WWE Divas Championship
This is the first time that Kelly Kelly is defending her Divas Championship which she won in a Raw Roulette match. Though we can't expect much action from divas matches, there may be a few high spots for both the ladies in the match. Kelly Kelly may be the clear favorite at this time, but let's not count out the twin magic of the bella twins. This match will evoke very little interest from the crowd and is not expected to make an impact on the audience.
Match No.3: Raw Money in the Bank Ladder Match
Contestants: Alberto Del Rio, The Miz, Alex Riley, Evan Bourne, Kofi Kingston, Rey Mysterio, Jack Swagger and R-Truth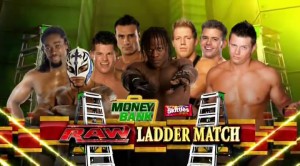 This year's Raw Money in the B
ank ladder promises plenty of high flying action with the presence of high fliers like Rey Mysterio, Evan Bourne and Kofi Kingston. We are in for a match with plenty of fast paced action and jaw dropping moments. Since the money in the bank contract has been cashed in successfully on all previous occasions, all the competitors will vie fiercely to climb the ladder and unhook the briefcase with the contract inside it. Plenty of heart stopping moments guaranteed. This match could easily be the show stealer because of the array of talent on display. Since there is a widespread expectation that the winner of this match will cash in the same night itself, this match has got a high level of expectation among fans who will certainly not be disappointed in the end. 
Match No.4: Smackdown Money in the Bank Ladder Match
Contestants: Wade Barrett, Sheamus, Sin Cara, Cody Rhodes, Daniel Bryan, Kane, Justin Gabriel and Heath Slater
A look at the contestants of this match will tell you that this match lacks the star power and the fizz to match the status of the Raw Ladder Match. It is a no brainer that Wade Barrett, Sheamus and Cody Rhodes are sure favorites to win this match. But don't be surprised if Sin Cara grabs the briefcase because of his extended push by the WWE management. The presence of Justin Gabriel and Sin Cara provides a lot of room for some high flying antics. The others like Bryan, Slater and Kane may provide some scintillating moments but have slim chances of winning. Watch out for the Englishman Wade Barrett to get the win in this match and get his path on track to become the World Heavyweight Champion.
Type: Singles Match for the World Heavyweight Championship
Special Stipulations: Christian automatically wins the title if Randy Orton gets disqualified or if the referee makes a bad call
This rivalry has been on for quite some time since Edge retired from professional wrestling. Christian, who won the world heavyweight champion after 17 long years by defeating Alberto Del Rio at Extreme Rules was forced to defend his championship within five days to the newest member of Smackdown, Randy Orton, who was drafted from Raw in the WWE Draft. Christian lost the match which led to him switch to a heel character thinking that he was screwed by his peeps. He then got one rematch after another but kept losing in all of them. He began to find several excuses for losing in those matches and felt that Teddy Long is conspiring against him. So he wanted this opportunity to face Randy Orton again and added special stipulations to the match. Since he felt that he was screwed by faulty referees, he wins the title automatically if the referee makes a bad call. He also did not want Randy Orton to win through a disqualification. So he also added a no disqualification clause in the contract signing before the match. Randy Orton feels that Christian had failed in the previous chances that he had got and will continue his poor form this Sunday too. But Christian is confident that he is capable of beating Randy and will do so this Sunday. So, who's gonna win?  
Type: Singles Match for the WWE Championship
Special Stipulations: John Cena will be fired if CM Punk leaves Chicago with the WWE Championship
The special stipulation has added some extra spice for this match billed to be either John Cena's or CM Punk's last match in the WWE atleast for a short duration. Everyone seems to be very much interested in knowing the outcome of this epic match which involved the second city saint CM Punk and the champ John Cena. CM Punk became the number one contender for the wwe championship by beating Alberto Del Rio and Rey Mysterio in an impromptu triple threat match made by the Anonymous Raw General Manager. Several WWE fans feel that this match has the status of a wrestlemania main event. This match is certain to be the main event of the night and deserves its status owing to the fabulous build up made over the past few weeks on Raw. At first it was tipped to the final match of CM Punk's career because of the fact that his contract expires on July 17. But CM Punk's cruel intentions were to take away the WWE Championship with him. After his verbal assault on John Cena, Mr. McMahon, Triple H and Stephanie McMahon during the closing moments of Raw Roulette, CM Punk has caught the imagination of wrestling lovers. He delivered a perfect worked shoot, which has worked wonders. And the fact that John Cena will be fired if Punk takes away the WWE Championship has added another dimension to this match. With CM Punk not having signed the contract on Raw this week, there is a possibility of him taking away the title. Many wrestling pundits feel that CM Punk will win this match and then gets beaten by the Raw Money in the Bank Ladder match winner. While others feel that CM Punk will be screwed by Mr.McMahon in some way so that John Cena gets the victory. Hence, there are so many ways that this match could end up. Cena faced a lot of heat from the Chicago crowd even at Wrestlemania 22 and nothing short of a hostile crowd is awaiting him this time too. CM Punk will be backed by them and the atmosphere will certainly be fantastic. This match is certainly the one to look out for.
With a singles match, three championship matches and two Money in the Bank Ladder matches, hardcore wrestling lovers are in for a treat this Sunday. CM Punk has created an aura around his match against Cena through his exceptional promos over the past few weeks on Raw and will surely not disappoint his fans this Sunday. The fact that last year's Money in the Bank winners Kane and The Miz dominated their opponents and were in the center-stage for more than six months highlights the importance of this match. So catch the most promising and unpredictable pay-per-view of this year "Money in the Bank".     
Make sure that you do check out my review of WWE Money In The Bank soon after the end of the PPV.