Every year the National Basketball Association (NBA) hosts the NBA All-Star Game, where the league's best players from the Eastern Conference take on the league's best players from the Western Conference.
Imagine a similar concept applied in the English Premier League. How great would it be to see the best players from teams like Spurs and Arsenal play against a team with the best players from Manchester United and Manchester City? Certainly a mouthwatering prospect!
#1 London XI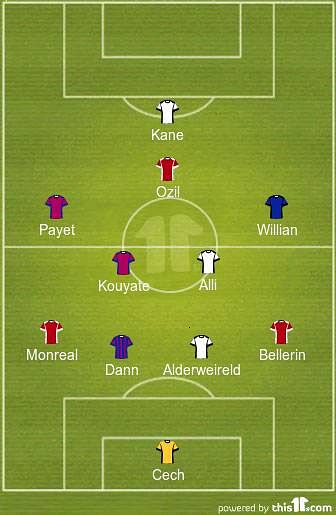 Petr Cech: Arsenal's only summer addition turned out to be a brilliant one. The veteran keeper has the most clean sheets in the league with 12 to his name.
Hector Bellerin: Hector Bellerin has been scintillating while going forward and has been equally adept in his defensive duties. He is arguably the best right-back in the league this season.
Toby Alderweireld: Alderweireld has brought immense stability to the Spurs backline and has scored some important goals for them as well. He was worth the effort it took Spurs to sign him.
Scott Dann: Dann has been of the most underrated defenders this season and has a huge hand in Palace's current league position. Funnily he is also Palace's joint highest goal scorer this season with five goals to his name.
Nacho Monreal: Monreal has been one of the best left-backs this season both going forward and in defending. It is no surprise that he made that spot his and kept Gibbs on the bench.
Cheikhou Kouyate: Kouyate has done well to bring a balance between attack and defense from his central midfield role. He has been so good that players like Alex Song and Pedro Obiang are finding it hard to nail down a starting role.
Dele Alli: Alli has made the step up from League One to Premier League with so much ease and has left the spectators in awe with his performance. He is now a crucial player for Spurs and has scored 9 goals and provided 7 assists this season.
Willian: Chelsea are experiencing their worst season in many years, but the one positive for them this season has been the performance of Willian. The Brazilian has become an indispensable member of the Blues' side and has 8 goals and 3 assists for them this season.
Dimitri Payet: Payet is arguably the signing of the season and a look at West Ham's results with and without him will give a clear indication why. He has 6 goals and 4 assists for the Hammers this season and has already earned a new and improved contract.
Mesut Ozil: Ozil is currently the leading assist provider in Europe with 16 to his name and he is very close to breaking the record for most assists in a Premier League season. In addition to his assists, Ozil also has six goals to his name.
Harry Kane: Harry Kane's initial form this season indicated that he might be a one season wonder, but he has cast all doubts aside by scoring 18 goals already. He scored 17 of these goals in the last 22 games. He just needs 3 more goals to catch up to Vardy in the race for the Premier League golden boot.