According to WWE veteran Jim Cornette, one of the biggest names on the AEW roster is simply bidding his time to join WWE before his retirement.
The star is none other than CM Punk. While he had a very successful run in the Stamford-based promotion, he had a less-than-healthy exit from the roster. After a lengthy hiatus from the active scene, Punk burst back into the squared circle in AEW in 2021 to be welcomed by fans.
However, his run on Tony Khan's roster has not exactly been smooth sailing, considering the events of last year's All Out media scrum. Although Khan officially announced his return, Jim Cornette still believes it is only a matter of time before the veteran star jumps ship.
"Whatever contractually time is left on Punk's deal, you know as well as I do that he is just rolling his eyes, holding his nose, cashing his 7 figure cheques per year and gonna finish that out and then have a two-year run up north in the WWE, make several more million dollars and say, 'fu*k it, atleast I ended on a high note instead of with the idiots over there in the Outlaw group.' That's exactly what he is gonna fu*king do. I don't blame him, that's what he should do," said Cornette. [From 19.19 - 19.43]
Matt Hardy also commented on the former WWE Champion's return
The Second City Saint's comeback is certainly massive news for fans and the AEW roster alike, and Matt Hardy seems to think the same.
In a recent episode of The Extreme Life of Matt Hardy podcast, the veteran stated:
"CM Punk is a huge star, and him coming back is a big deal. It's going to be very interesting to see the kind of reaction he gets. When the Young Bucks were in Chicago, they were getting booed out of the building. It'll be interesting to see Punk's reaction, considering how smart the AEW fans are." [H/T WrestlingInc]
As of now, it remains to be seen what is next for Punk in the pro-wrestling scene.
---
Do you agree with Jim Cornette? Sound off in the comments section below!
If you use the quote from the first half, please credit the original source and add a H/T for the transcription.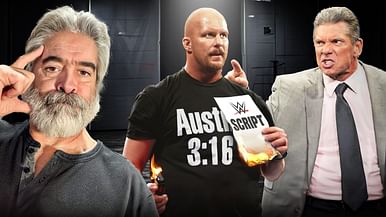 How Stone Cold was born in 2 minutes