While there may not be much of a relationship between UFC and AEW, a major star from the former has apparently referenced a Dark Order member on Twitter.
The UFC star in question is Israel Adesanya (aka Izzy). Starting his MMA career at the beginning of 2010, Israel immediately embarked on a seven-fight winning streak. His list of achievements only grew in the subsequent years as he became one of the most prized fighters in the Ultimate Fighting Championship.
Israel recently had a rematch with Alex Pereira, who had previously defeated him thrice. This time, the reigning Middleweight Champion was able to hold his own and emerge victorious. Anticipating a conversation about his 3-1 record against Pereira, he took to Twitter with a humorous photo of John Silver, a member of the Dark Order in All Elite Wrestling.
"Don't be that guy at the party tonight," The Stylebender tweeted.
While it remains to be seen if Israel intentionally used this particular picture of John Silver or not, some fans in the comment section certainly noticed the All Elite reference.
UFC and AEW have crossed paths on numerous occasions
While Israel's tweet may seem out of the ordinary at first glance, many UFC personalities have appeared in AEW.
Former UFC Light Heavyweight Champion Vitor Belfort, 'BMF' Championship holder Jorge Masvidal, former Heavyweight Champion Andrei Arlovski, and former Bantamweight Champion Henry Cejudo are among the few who have made cameos in Tony Khan's promotion.
Many of these appearances were facilitated by Dan Lambert and Chris Jericho, leading to short interactions between the All Elite roster and the UFC veterans.
Current UFC Women's Featherweight Champion Amanda Nunes has also been seen in the Jacksonville-based promotion. Nunes' cameo also saw her being accompanied by American Top Team founder and owner Dan Lambert.
As of now, it remains to be seen if anyone else from the company will appear in AEW in the future.
---
What do you make of Israel Adesanya's tweet? Sound off in the comments section below!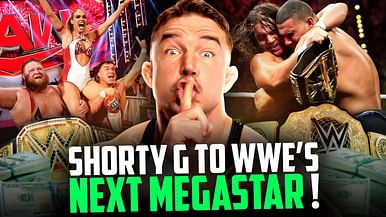 Why Chad Gable could be the next WWE mega star