In addition to having an illustrious career in the ring, Shawn Michaels continues to influence current and upcoming talent in the industry. Recently, multi-time Intercontinental Champion John Morrison (aka Johnny Elite) shared his insights on the Hall of Famer training Logan Paul for his Crown Jewel match.
The 27-year-old YouTuber and Boxer signed a multi-year contract with the Connecticut-based promotion last year. With only two wrestling matches on his resume, Paul went up against Roman Reigns for the Undisputed WWE Universal Championship in November. In the weeks leading up to the event, he shared updates via social media that he was being trained by Shawn Michaels.
During the mid-2000s, in his first stint with WWE, John Morrison often crossed paths with HBK in the ring on a few occasions. Morrison then formed an alliance with The Miz and the duo went on to become two-time Tag Team champions. Last year, he made his AEW debut at the Owen Hart Tournament last year under the moniker 'Johnny Elite.'
On the latest edition of the Insight with Chris Van Vilet podcast, the 43-year-old shared his thoughts on Logan Paul's wrestling career:
"He's getting a lot of help from the best minds in the business and pretending like he's doing more of it than he is, cause without the help of the people surrounding, I think Logan Paul falls flat on his face." (33:53 - 34:11)
Morrison shared his thoughts on wrestling veterans assisting Logan Paul in preparing for his match against The Tribal Chief:
"Don't know if anyone's had their first WWE matches rehearsed as much as he's rehearsed his three matches, especially working one-on-one with Shawn Michaels. Who in the business can say that they worked for a month, on one match with Shawn Michaels? Before they had that match? Yeah, I mean, it's no wonder it was a great match. Yeah, he's working with one of the not just best minds, best minds, best in-ring technicians performers in the history of the business, individually for a month for one match."(35:00 - 35:38)
Check out the entire interview down below:
John Morrison also teased a potential Royal Rumble appearance, citing his 'unfinished business' with The Miz.
---
Shawn Michaels had high praise for Logan Paul
Before taking on the administrative and backstage role in WWE, Shawn Michaels took many future stars under his wing. Current AEW star Bryan Danielson was also mentored by the Heartbreak Kid.
During his interaction on the Notsam Wrestling podcast, Mr. WrestleMania reflected on training Logan Paul. He cited the young star's determination to prove critics wrong and how he's taking time out of his ''extremely busy schedule''.
Crown Jewel was Logan Paul's last WWE televised appearance. While he has not confirmed his presence at Royal Rumble, it is very likely that the 27-year-old will throw his hat in the ring.
Do you think Logan Paul should be a part of the Royal Rumble this year? Sound off in the comments.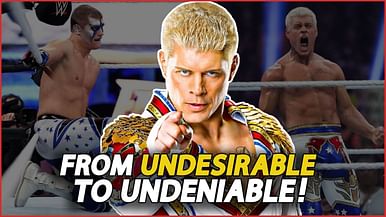 How Cody Rhodes returned to WWE and change pro wrestling forever!
Edited by Gurjyot Singh Dadial