Today, CM Punk, the former AEW World Champion, took to social media to extend birthday greetings to his good friend Batista.
Dave Bautista, known as Batista in the world of wrestling, has had a successful acting career since leaving wrestling. He recently starred in Glass Onion: A Knives Out Mystery and the Guardians of the Galaxy series. However, CM Punk had a dispute with members of The Elite that led to physical altercations and suspensions for those involved. His future with AEW is uncertain as he has not been seen since the incident.
Both stars left WWE at different times. CM Punk departed in January 2014 and The Animal had his final match against Triple H at WrestleMania 35. The two wrestlers have maintained a strong friendship over the past few years. They have stayed in touch and continue to support each other in their respective careers and have been spotted together at various public events, showing their strong bond.
Former AEW world champion CM Punk shared a birthday message for the former WWE World Champion in his Instagram post.
"HBD!" Punk wrote.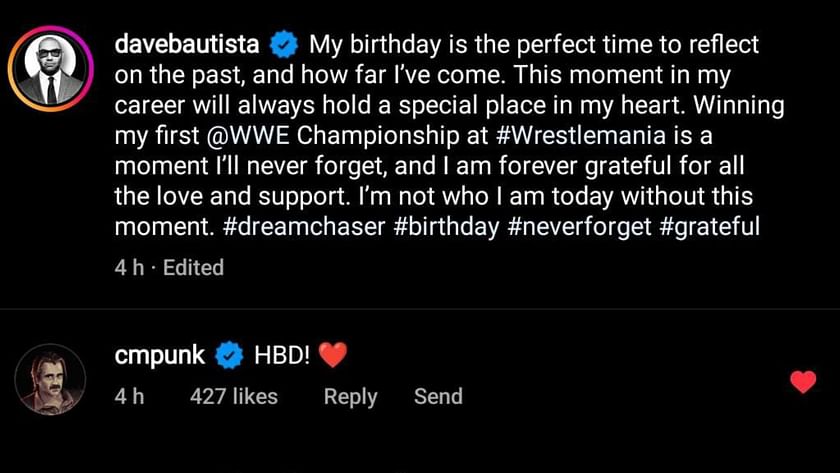 ---
Batista thinks AEW star is a great fit for The Judgment Day
Edge formed The Judgment Day with Damian Priest at WrestleMania 38 and Rhea Ripley joined the group the following month. However, Finn Balor joined the group and unexpectedly turned on Edge, attacking him.
On Instagram, WWE asked who should be added to the Judgment Day faction. Batista suggested that the former AEW champion would be a good fit for the group.
"In a perfect world?! CM Punk!" The Animal wrote.
You can check out the post below: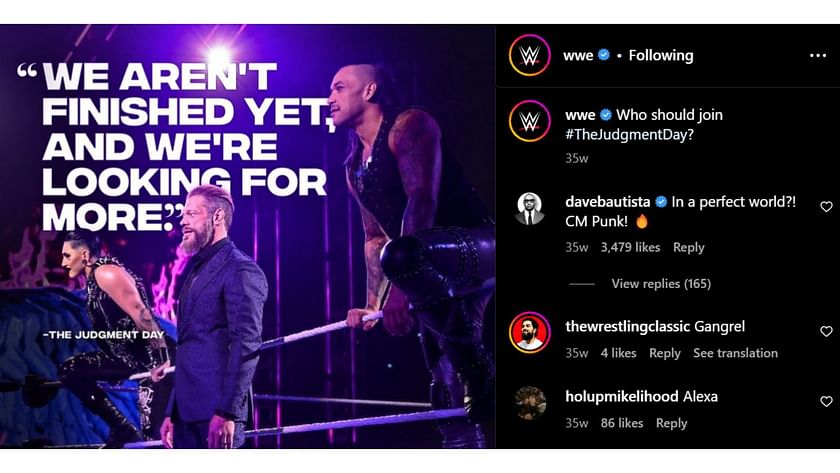 Batista's comments sparked a lot of responses from fans, with many suggesting alternative names for the faction.
Do you want CM Punk to join The Judgment Day? Let us know in the comments section below.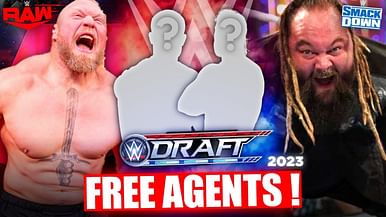 Brock Lesnar and 10 WWE stasr who are FREE AGENTS
Edited by Ashvinkumar Patil