Current AEW wrestler seemingly called out the renowned rapper and musician Cardi B after she expressed her desire to step inside the squared circle, describing it as her dream.
It is no secret that pro wrestling is a part of pop culture and several celebrities have been associated with the sport in the past. The most recent one happens to be the world-renowned rapper and musician Cardi B, who recently expressed her desire to appear at a wrestling event during an interview with Hot 97:
"I mean, I would love to attend. I don't know what to do. I don't know if I have to perform or slap a b*tch, but I want to go, I have to fulfill some type of dream… I used to love wrestling, I used to be crazy for it." [H/T POST WRESTLING]
Cardi B also said that her favorite wrestlers were Batista, Eddie Guerrero, Booker T, and The Undertaker. Meanwhile, AEW wrestler Nyla Rose has responded to the comments made by the popular rapper, as she took note of her "slap a b*tch," line and seemingly invited Cardi to AEW:
"Aye @iamcardib what's good? Hell if you want, you can perform AND slap a b*tch! IGOTCHU! My security team is ready for you boo…" Tweeted Rose.
---
Cardi B was sent an invitation by another top AEW star last year
Last year, after the AEW Dynamite Grandslam episode, Cardi B took the internet by storm by tweeting a clip from the show featuring former TBS champion Jade Cargill. Cardi also wrote the following caption:
"MY MOOD ALWAYS!"
Later, Jade Cargill also had a response for the renowned rapper in her own way as she wrote the following:
"Run it up! Let me know when you want to come through 💅🏾@iamcardib."
Meanwhile, it remains to be seen whether Cardi has a response for Nyla Rose amid her invitation and whether AEW fans could expect to see the popular rapper on their favorite wrestling show.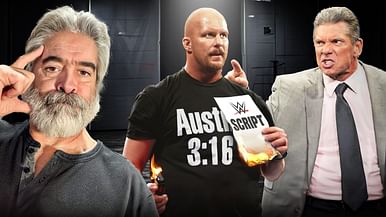 How Stone Cold was born in 2 minutes
Edited by Gurjyot Singh Dadial