An AEW star has a message to all the wrestlers who unfortunately lost their jobs amid the recent mass releases in WWE. The star in question is Lance Archer.
Following the merger between WWE and UFC, which resulted in a new entity named TKO Group Holdings, several staff and talents were the recipients of mass releases. Some of the shocking names include veterans like Dolph Ziggler and Shelton Benjamin, young and talented superstars like Mustafa Ali and Matt Riddle, and so on.
Nonetheless, the wrestling community is thankfully supportive of all the people released. Meanwhile, AEW star Lance Archer also has a heartfelt message for all the wrestlers, as he provides hope and motivation to the ex-WWE superstars while talking to Lee Walker on the Perched On The Top Rope podcast:
"If it's a true dream and a true passion you will find your way. The path to success exists if that success is not always a straight path. I've had several doors closed on my face and I've always found another door to open and a different path to go. You have to chase your dream and push every avenue you possibly can, never give up..." Lance said.
Lance further stated:
"Find your way, and right now there are a lot of opportunities in the business, you know, AEW is doing extremely strong, New Japan is expanding, Impact Wrestling just celebrated their 1000th episode, they're still going strong, there are a lot of avenues for guys and girls to go through and you can find a path." [0:23-2:12]
---
Lance Archer also recalled the story of his WWE release
Many people may not know that Lance Archer had a brief stint in WWE back in 2009-10. He also performed on ECW and SmackDown before his eventual release in 2010.
Archer described what he did after his release in the aforementioned interview:
"You know when my time in [...] WWE in 2010, it kinda came out of nowhere and I had relationships with people in the past in Japan and started reaching out and started pushing that avenue and ultimately it led me to New Japan and that wasn't even my first point of reference, [...] and then fast forward 12-13 years later I'm still working with the company."
Meanwhile, The Murderhawk Monster, Lance Archer, continues to perform on AEW, and he is paired with the legendary Jake 'The Snake' Roberts. It remains to be seen what further opportunities await in his career.
---
What do you think of Lance Archer's motivational message to all the recently released superstars from WWE? Sound off in the comments section below!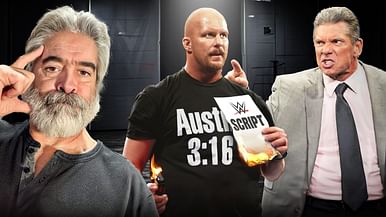 How Stone Cold was born in 2 minutes