WWE legend Goldberg is arguably one of the biggest stars in the pro wrestling industry, and in the early 2000s, he was possibly at the height of his fame. Surprisingly, he didn't follow the other WCW names into TNA, and Jeff Jarrett has provided a possible reason why.
Despite being a multi-time WWE Champion, many fans online criticize Goldberg far more often than they praise the legend. Notably, stars like Wardlow are often compared to the legend in a far more positive light, proving that some still remember his heyday.
During Jeff Jarrett's recent My World podcast, the AEW executive recalled Dixie Carter's attempts at signing Goldberg.
"Dixie [Carter] had a lunch with him several years later that I think you could classify [as interest] on Dixie's part for sure, substantially. I don't think on Bill's part," Jarrett said.
Jarrett continued, noting why he believes that TNA would never have enticed Goldberg in the end.
"Bill made a lot of money in WCW and made a lot of money at WWE. Bill's a businessman first and foremost. I never viewed any of the conversations with Bill as substantial strictly off of there isn't enough money for Bill to come." (H/T WrestlingInc)
Disco Inferno once discussed Jade Cargill's in-ring work and suggested that AEW should begin booking the TBS Champion as Goldberg was in WCW.
---
Missed out on last week's AEW Rampage? Catch up with the results right here.
---
Jim Cornette believes that AEW should have built Wardlow up like Goldberg or WWE legends The Road Warriors
Wardlow enjoyed one of the best-received builds to the TNT Championship in recent AEW history, and his triumphant victory over MJF seemed to set him up as a major star. Unfortunately, the War Dog hasn't wrestled on screen for 2023, and his booking before his disappearance was poorly received online.
In response to the criticisms, Jim Cornette proposed that AEW take a note out of WWE legend Goldberg's booking since he believes the promotion has wasted his potential.
"Wardlow had size and power, and the ability to physically dominate his opponents – kind of like a Goldberg or Road Warrior-type of appeal – especially in the land of Lilliput that is AEW. When you put him against a guy obviously more experienced and powerful - Wardlow not only can't muscle him around like he could the smaller guys, [he] is still green." [01:13 onward]
Could Wardlow come back into prominence if his booking mirrored the WWE Hall of Famer? Until Wardlow makes his return to AEW, fans will simply have to be patient.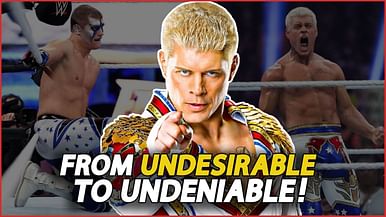 How Cody Rhodes returned to WWE and change pro wrestling forever!