Jeff Hardy's association with the wrestling industry spans three decades. Along with his older brother Matt Hardy, the duo captivated fans with their high-flying moves in the ring. Recently, John Morrison reflected on his favorite matches with The Charismatic Enigma.
John Morrison debuted on RAW in 2004 under his 'Johnny Nitro' gimmick. Accompanied by his then-girlfriend Melina and Joey Mercury, the trio called themselves 'MNM.' The 43-year-old's smooth moves kept fans on the edge of their seats. He continued to have an impressive run in the tag team division alongside Mercury before allying with The Miz until he departed from WWE.
In 2007, John Morrison challenged Jeff Hardy for the Intercontinental Championship in a steel cage match at the now-retired New Year's Resolution event. The match ended with the 43-year-old attempting to escape the cage from the top while Melina prevented the referee from opening the door for Hardy to leave. However, The Charismatic Enigma kicked the door open, resulting in Morrison suffering an unpleasant injury.
On the latest edition of Insight with Chris Van Vliet, Morrison reflected on his matches with The Hardys and about the steel cage match with Jeff Hardy:
"Things that come to mind are like working with Jeff [Hardy] as a tag, MNM vs. The Hardys, singles matches, Johnny Nitro vs. Jeff, like the finish of one of our cage matches, like in 2007. I thought was still one of my favorite cage match finishes." (53:45 - 54:03)
Check out the entire interview below:
---
Jeff Hardy and John Morrison debuted on AEW last year
With many talents signing with AEW, Jeff Hardy and John Morrison's debuts on the promotion surprised the wrestling world.
They debuted on separate occasions, with Hardy coming out to his brother's aide and preventing an assault by Andrade El Idolo, Private Party, and The Butcher and The Blade).
Morrison, who undertook the moniker 'Johnny Elite,' was the Joker for the Owen Hart Tournament quarterfinals.
Hardy is currently suspended from AEW owing to his third DUI arrest last year. Morrison had three matches in the promotion last year and has teased a potential WWE return at the Royal Rumble this year.
Would you like to see John Morrison return to WWE? Sound off in the comments.
---
If you use any of the above quotes, please credit Insight with Chris Van Vliet and add a H/T to Sportskeeda Wrestling.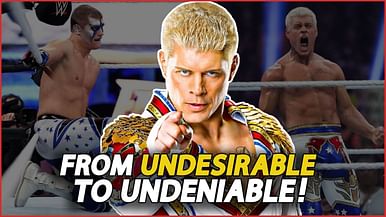 How Cody Rhodes returned to WWE and change pro wrestling forever!