The Young Bucks revealed information about the emotions and reactions backstage before the airing of AEW Dynamite following Jay Briscoe's passing.
On the most recent episode of Dynamite, several tributes were paid to Briscoe following his passing the day before. The tributes included wrestlers wearing black armbands. A full-scale tribute show was recorded for ROH after Dynamite, which will be available for free on both YouTube and WatchROH.com.
On the latest episode of "Being the Elite," Nick Jackson stated that it was "voluntary" for wrestlers to participate in Dynamite tapings.
"Today, it's completely voluntary for the wrestlers to come to the show, because a lot of us we came up in the business with him. A lot of the current AEW roster and obviously, we own ROH, too, so a lot of his 'brothers' work in our locker room. It will be good to see all the close wrestlers that were buddies with him, but it's a tough day. It's weird. I was telling Matt that this hurts more than my own family dying," said Nick. (1:59 - 2:41)
If you're interested in sports betting, the Los Angeles Lakers play the Los Angeles Clippers this week! Don't miss out. Claim the offer and place your bets below!
Make Your First Deposit. Bet $5+ on any sports pre-game ML, and get $150 if Your Bet Wins on Draft Kings.
Why couldn't AEW feature a Jay Briscoe tribute show?
Jay Briscoe's passing was felt throughout the wrestling industry, despite not being part of the AEW roster. While many expected a tribute, Dave Meltzer stated that Warner Media was responsible for the lack of one.
On Wrestling Observer Radio, Dave Meltzer claimed Warner Media banned All Elite Wrestling from dedicating the entire show as a tribute to Jay Briscoe.
"There was a graphic at the start of the show and at the very end of the show there was a mention by Excalibur. A lot of the guys had armbands, a lot of them, but there was not any kind of big tribute because they were not allowed by WarnerMedia (Warner Bros. Discovery) to do one," Meltzer said. (H/T: Cultaholic)
Although there wasn't a full tribute show to Jay Briscoe on Dynamite, several wrestlers, including the Young Bucks, Bryan Danielson, and Jay Lethal, wore black armbands as a tribute. His name was also mentioned several times during the commentary.
What are your thoughts on Warner Media not allowing AEW to do a tribute show? Let us know your thoughts in the comments section below.
---
Please credit Being The Elite and give a H/T to Sportskeeda Wrestling if you use the quotes from the first half of this article.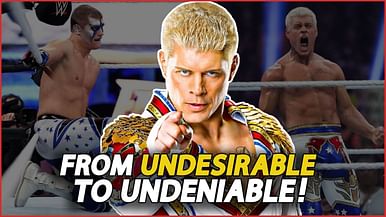 How Cody Rhodes returned to WWE and change pro wrestling forever!