WWE Superstar Bray Wyatt has opened up about the passing of former AEW TNT Champion and Wyatt Family member, Brodie Lee.
The wrestling world was left shocked and saddened on December 26th, 2020, when it was announced that Brodie Lee had passed away at the age of 41 years old.
Brodie Lee was a wrestler who meant a lot to so many people in the business, with no better example of his legacy than the "Celebration of Life" tribute show that was held by AEW in his honor a few days after his passing.
One person who knew Brodie better than most was Bray Wyatt, who made Lee (then known as Luke Harper) a member of The Wyatt Family during their time in WWE. However, speaking on the "Out of Character" podcast with Ryan Satin, Wyatt revealed that Brodie's death affected him more than most.
"There was so much there. Just so much going on with all that. It was out of nowhere. I wasn't prepared for any of that. I lost my childhood best friend. I lost Brodie. I lost my best friend from college, Mark. It was something that I think I didn't deal with very well. I think Brodie's wife, Amanda dealt with it. The kids dealt with it better than me and Rowan did. There's something there that reminds me of him every single day." (H/T SEScoops)
Bray Wyatt was released from WWE in the summer of 2021, which the former Universal Champion also spoke about with Satin, saying that he wasn't himself and that the time away helped him come to terms with the fact that he wasn't going to see a number of people he was close to ever again.
"I think that time period was such a conundrum for me. I wasn't myself. It took me a while to kind of remember what makes me, me. It was a long journey man but it's led me here, into this moment. This is the best I've ever felt." (H/T SEScoops)
Bray Wyatt paid tribute to Brodie Lee at WrestleMania 37
Since his death in 2020, many wrestlers have paid tribute to Brodie Lee in their own special ways, with the likes of The Dark Order making Brodie Lee Jr. an official member of the stable, while FTR renamed their finishing move the "Big Rig" in honor of Lee.
Even Bray Wyatt got the chance to honor his late friend during his match against Randy Orton at WrestleMania 37 in 2021. Wyatt performed one of Brodie's trademark poses in the middle of his match with Orton.
Bray Wyatt wasn't able to break character when he performed as The Fiend, however, it was clear as day that, even when performing as his evil alter-ego, he still had all the love in the world for his fallen friend.
What are your favorite memories of Brodie Lee? Let us know in the comments section down below!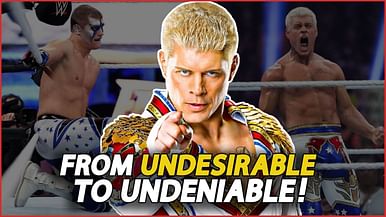 How Cody Rhodes returned to WWE and change pro wrestling forever!
Edited by Gurjyot Singh Dadial