One of the most popular factions in the modern era of WWE is The Shield. The three-person group almost grew in number. Big E had revealed that he was supposed to be the fourth faction member.
The Shield comprised Seth Rollins, Dean Ambrose (aka Jon Moxley), and Roman Reigns. They were introduced to the main roster as the henchmen of then-WWE Champion CM Punk in 2012. The trio parted ways with the Second City Saint to forge their own path. All three members have become the top champion in the promotion.
During a Network special episode of WWE 24 featuring Big E that aired back in 2021, the muscle of The New Day revealed that he was initially planned to be added as the fourth member of the infamous faction. The four stars were set to debut on the main roster together, but unfortunately, the plan did not come to fruition.
"My first feeling of getting called up was 2012. I was doing loops. Any collective period of days is a loop. It's Roman [Reigns], Seth [Rollins], Dean [Ambrose], and me. There was some thought of bringing all four of us in together as a group. Obviously, that changes, they go on to international fame as The Shield," Big E said. [H/T Fightful.com]
Big E appreciates Undisputed WWE Universal Champion Roman Reigns for being The Shield's muscle
In the same episode, the former WWE Champion mentioned that he was glad not to be part of The Shield. While he feels it would have been a big boost to his career, he is glad that he was not part of it and felt Roman Reigns was a perfect fit as the 'Muscle' of the group.
"I couldn't fathom now being a part of The Shield. I'm sure it would've been fun. I'm sure it would've been enjoyable. I think it was really best for Roman to be in that role as the big dude, the enforcer of that group. That dynamic wouldn't have felt the same with me being there. It's hard to fathom that almost a decade ago that for one brief moment I was considered as a possibility to be in that group," said The New Day member. [H/T Fightful.com]
The New Day's Muscle is currently recovering from a career-threatening neck injury and thus has been sidelined.
Do you think Big E would have been a good fit in The Shield? Share your thoughts in the comments section below.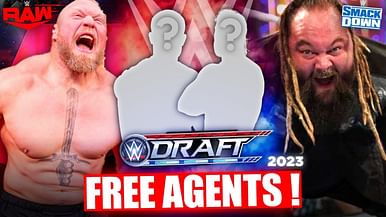 Brock Lesnar and 10 WWE stasr who are FREE AGENTS