Kevin Durant achieves extraordinary feat playing in NBA over past year
Kevin Durant achieves extraordinary feat playing in NBA over past year
Kevin Durant will start the next season as a member of the Phoenix Suns. He was traded to the Suns at the 2023 trade deadline, but has appeared in only 19 games for the team, 11 of which were in the postseason.
Durant's journey has been very interesting, and he'll soon play under his fourth head coach in less than a year. Phoenix fired Monty Williams after getting eliminated in the second round of the playoffs, replacing him with Frank Vogel.
The Suns certainly have what it takes to have a deep playoff run. However, it will be interesting to see how well they will do under Vogel's leadership. Vogel will be Durant's fourth head coach since November 2022.
---
Kevin Durant is not very lucky for head coaches
Kevin Durant began the last season with the Brooklyn Nets. The team had a lot of problems, and Steve Nash, the head coach, was fired shortly after the season started.
Nash was the head coach of the Nets from 2020 to 2022. Under him, the Nets were 94-67 (.584) in the regular season, but only 7-13 (.350) in the playoffs. After Brooklyn started the season with only two wins in seven games, Nash was fired.
The Nets replaced Nash with Jacque Vaughn, his assistant, who achieved slightly more success with the team. However, Durant was traded to the Phoenix Suns in February, where he began playing under Monty Williams.
You may be interested in reading: What is Frank Vogel's coaching record? Exploring achievements of former NBA Champion coach
The Suns were among the favorites to win the title, but they were eliminated by the Denver Nuggets in the second round. Kevin Durant and Devin Booker did a great job, but Chris Paul's absence turned out to be huge for the Suns.
Despite turning the Suns into a powerhouse, Williams was fired at the conclusion of the 2022-23 season. The Suns were 194-115 (.628) under him and also advanced to the NBA Finals in 2021.
Kevin Durant will play under Frank Vogel in the 2023-24 season, his fourth coach in less than a year. The Suns signed a veteran head coach to a five-year contract worth $31 million.
Vogel is best known for his tenure with the Indiana Pacers in the early 2010s. He spent six seasons with the team, going 250-181 (.580) in the regular season and 31-30 (.508) in the playoffs.
You may be interested in reading: Phoenix Suns are hiring Frank Vogel as head coach for $31 million
The 49-year-old coach also coached the LA Lakers from 2019 to 2022. In his first season with the team, he won it all in the NBA bubble.
Phoenix fans are certainly hoping that he can do the same with the Suns and help Kevin Durant win his third championship.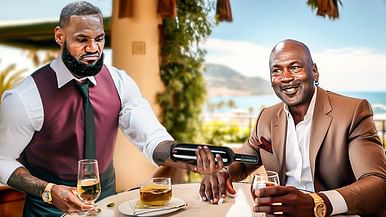 How is Michael Jordan officially richer than NBA's 10 richest players?!
See more
More from Sportskeeda