NBA Rumors: LA Lakers "highly unlikely" landing spot for Kyrie Irving 
NBA Rumors: LA Lakers "highly unlikely" landing spot for Kyrie Irving 
According to NBA rumors, the Los Angeles Lakers are an unlikely landing spot for Kyrie Irving when he becomes a free agent next off-season. This season, the seven-time All-Star is embroiled in yet another controversy. Irving recently endorsed an anti-semitic movie.
The Brooklyn Nets guard refused to acknowledge the impact it had on the Jewish community. Irving was unapologetic about his actions. After the league and the Nets organization stepped in, the former NBA champion apologized for his actions. The Nets had to suspend the former Cavaliers guard for five games without pay for his latest offense.
However, Irving faced suspension for the second season in a row. Last year, the Nets had to take action due to his anti-vaccination stance. Irving missed the first couple of months and didn't play home games until New York City authorities lifted mandates for unvaccinated players.
Kyrie Irving is becoming an unreliable superstar, which could hamper his prospect of potentially signing a long-term deal in free agency with the Nets or elsewhere. The LA Lakers have been among the potential landing spots, but according to The Athletic's Sam Amick, it seems "highly unlikely."
Here's what Amick's latest report said regarding Irving to the Lakers links:
"Sources say the Lakers have significant concerns about the prospect of adding Irving at any price and have not been focused on that scenario all season long. It's quite clear that Laker Land is a highly unlikely, if not impossible, landing spot."
LeBron James and Anthony Davis have been injury prone over the last two seasons. Adding Russell Westbrook has not turned out the way the Lakers would have wanted. The Lakers need another superstar who can carry the team in their absence. Kyrie Irving fits the bill solely based on his talent and skillset.
However, his off-court antics may have forced the Lakers to rethink their pursuit of Irving in free agency next season. They have already made some questionable moves, leaving the team with a lack of draft capital and flexibility, so they will have to be wise about their choices.
Also read: When Meyers Leonard used anti-semitic slur "k**e" and was let go by Miami Heat in 2021: How it compares to the Kyrie Irving situation in 2022
---
NBA GM's not confident about Kyrie Irving's free agency prospects
Despite his talent, it doesn't seem like many GMs around the league would want to acquire Kyrie Irving in free agency. Irving is a max contract player considering his level of play. However, his issues off the court have taken a hit on his market value.
According to The Athletic's Sam Amick, an anonymous NBA GM believes Irving may not play in the NBA again, while a front office executive said the star guard could only secure a one-year deal. Another GM added that Irving isn't a commodity at this point, taking into account the money he will earn on a potential long-term contract.
Also read: NBPA president CJ McCollum hopes players learn from Kyrie Irving's fallout: "You have to be careful with what you're posting; You have to know exactly what it is"
This year was Irving's chance to prove his worth and reliability after he failed to secure a long-term contract with the Nets. He opted into his player option to stay with the franchise.
However, it didn't take him long to find himself in the middle of another controversy. As things stand, he may not be able to secure the max deal he would ideally want to sign next offseason.
---
Click here to read Sam Amick's report on Kyrie Irving and the LA Lakers.
---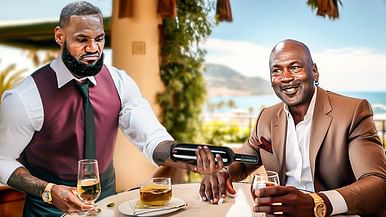 How is Michael Jordan officially richer than NBA's 10 richest players?!
See more
More from Sportskeeda