Jey Uso vs. Austin Theory: Hidden history between the two WWE stars?
Jey Uso vs. Austin Theory: Hidden history between the two WWE stars?
Jey Uso and Austin Theory main evented the latest edition of WWE SmackDown with the United States Championship on the line. The match wasn't without interference as Pretty Deadly showed up, this was followed by Jimmy Uso and Solo Sikoa. The match ended after an unintended superkick from Jimmy to Jey, which helped Austin Theory to secure the victory.
While the superkick was a mistake, it could be the root of further problems with The Bloodline. However, this isn't the first time Uso and Austin Theory shared the ring. In 2022, the current United States Champion crossed paths multiple times on the road to SummerSlam 2022.
During one of the segments, Jey Uso smacked Theory at the back of his head while exiting the ring with Roman Reigns. The current United States Champion got agitated and attacked Jey with the MITB briefcase. Even though Uso wanted to retaliate, Roman Reigns stopped him. The Bloodline walked away leaving a fuming Austin Theory in the ring.
---
Austin Theory had shared some words about Jey Uso
While Jey Uso and Austin Theory are rivals on-screen, they're off-screen relationship is just the opposite.
The current United States Champion mentioned Jey by name during a session on After the Bells with Corey Graves. He revealed that Uso and MVP were the individuals who kept an eye on him as he was being pushed to the top.
"Usually two people that I really like to mention is Jey Uso and MVP. There are definitely some others but Jey Uso specifically man, somebody that since the beginning when I got pulled up and started doing the dark matches. I would say it was around a year ago, I started doing the dark matches and eventually got on the main roster then everything took off."
He further added:
"But, even to this day, this past Monday, like passing him in the hall, he's like good stuff out there. Like always keeping an eye, and even if I don't see him, I'll always message him like, like, what do you think, you know, and he's always just, he's a veteran of the game. He's been there for a long, long time. So, it's always good to have somebody like that to help."
It'll be interesting to watch a story develop between Uso and Austin Theory, if it moves forward. However, in their first bout, Jimmy Uso cost his brother the gold and that can't be good for their relationship!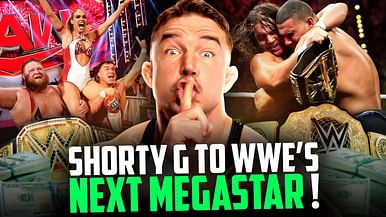 Why Chad Gable could be the next WWE mega star
Edited by
Ashvinkumar Patil
See more
More from Sportskeeda