Blind Esports claims the Skyesports Champions Series BGMI title, a ₹25,00,000 Battlegrounds Mobile India competition. The squad grabbed a total of 255 points and received a cash prize of ₹12,00,000. Since signing their new roster, the renowned esports organization has been dominant, winning back-to-back notable third-party events.
Blind Esports was the only unit to score over 250, despite not having a good final day. Spower from the winning squad was named the MVP for his shining performance throughout the Finals as he clinched 55 eliminations with an F/D ratio of 1.83.
Team Soul bagged the runner-up spot with 210 points, showing an impressive comeback in the decisive phase. Compared to the Semifinals, they played extraordinarily in the five-day Grand Finals. The Omega-led squad exhibited a consistent showing from the first day and handled it well till the very end. The fan-favorite side took three Chicken Dinners and 132 eliminations in this process.
---
Skyesports Champions Series BGMI Finals overview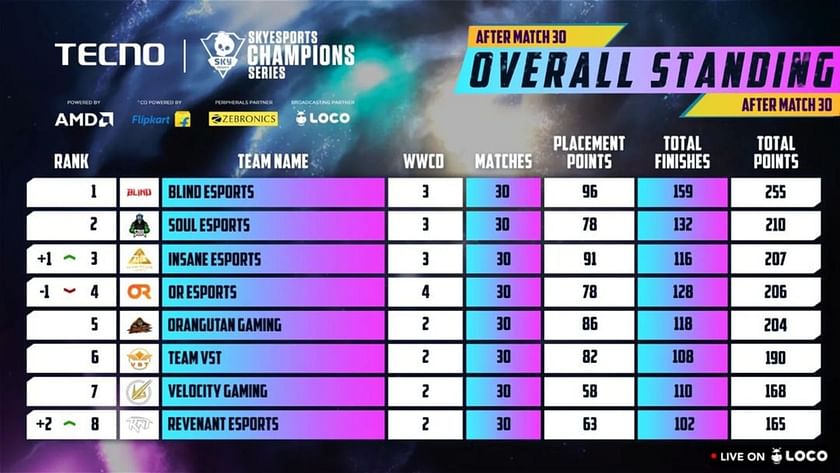 Team Insane, featuring underdog players, had a stunning performance as they earned third place with 207 points and were rewarded ₹3,00,000. OR Esports, led by Jelly, came fourth with 206 points and 128 kills. The team picked up four Chicken Dinners, the most in the Champions Series BGMI Grand Finals.
Orangutan Gaming, the best-performing squad of the Semifinals, had a poor start to the Grand Finals. Regardless, they made an outstanding comeback on Day 3 and demonstrated their power in the last 18 matches, finishing fifth in the overall standings. Orangutan gained a total of 204 points, only six points behind the second-placed squad.
Team VST, led by Saumraj, grabbed sixth place with 190 points and has impressed everyone with their results despite being a newly established squad. Velocity Gaming and Revenant finished seventh and eighth, respectively. Gods Reign occupied 10th place, followed by 7Sea Esports.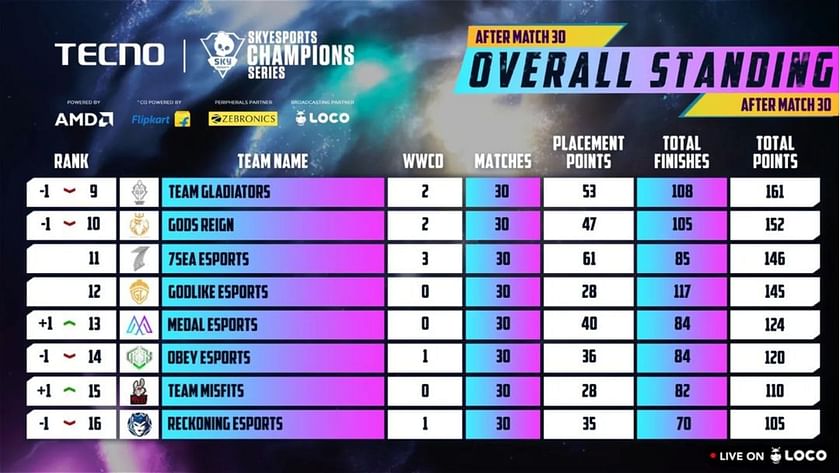 GodLike Esports, a reputed BGMI squad, had a dismal result in the notable event, ending up in 12th place with only 145 points in 30 matches. The Shadow-led squad performed poorly throughout the tournament, including the Semifinals stage.
Medal and Obey Esports finished in 13th and 14th, while Reckoning Esports was the worst-performing team in the ultimate phase despite taking a Chicken Dinner.
Justin from Team Gladiators was the second best-performing player in the BGMI Finals with 43 eliminations. Admino from OR Esports and Nakul from Blind took third and fourth places in the kill leaderboard with 43 kills each.