After struggling in a few recent events, GodLike Esports has become the champion of the iQOO BGMI Pro Series 2023 after returning to the form they are known for. The Shadow-led squad took a total of 136 points, including 92 finishes, in this competition's Grand Finals and registered their first victory after Battlegrounds Mobile India's re-release. The side got ₹4,00,000 in prize money.
GodLike saw a mediocre start to the final round and were in eighth place after Day 1. However, they displayed a much-needed upgrade in performance in their next 12 matches and emerged triumphant in this BGMI Pro Series contest. A legendary player of this team, Jonathan, clinched the MVP award for his 34 kills in the Finals.
OR Esports, who were at the top after Day 2, slipped to second place after an unremarkable performance in a few matches on this event's final day. The roster gained 127 points with the help of two Chicken Dinners and 74 eliminations and received ₹2,50,000 in prize money. Admino, with 26 finishes, was the top athlete from this squad and came fifth in the overall kill leaderboard.
---
Prize pool distribution of BGMI Pro Series
Here is the prize pool distribution for the event:
GodLike Esports - ₹4,00,000
OREsports - ₹2,50,000
Gods Reign - ₹1,50,000
Gujarat Tigers - ₹1,00,000
Orangutan - ₹₹50,000
MVP - Jonathan - ₹50,000
Gods Reign, the top-performing squad after this event's first six games, grabbed the runners-up spot with 123 points and 72 kills. NinjaJod exhibited impressive performances throughout the competition. Gujarat Tigers, a newly established team, came fourth without earning a single Chicken Dinner and were awarded ₹1,00,000.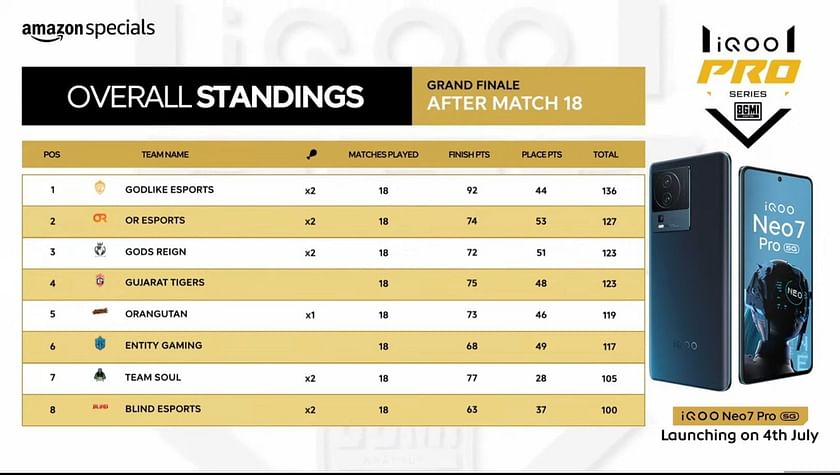 Orangutan Gaming, led by Ash, occupied the fifth spot in the BGMI Pro Series. They'd played consistently, but it was not enough to keep them in the top three. Saumraj-led Entity Gaming got the sixth spot with 117 points without any Chicken Dinners.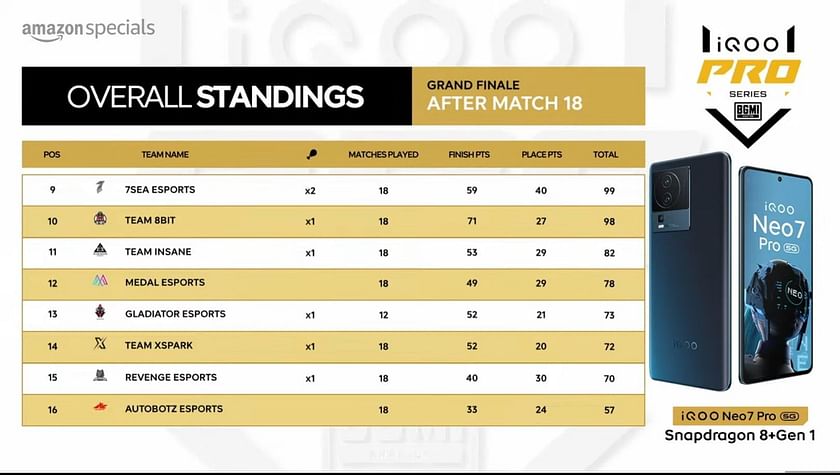 Fan favorite side Team Soul ended this event in the seventh spot with 105 points and 77 eliminations. This star-studded roster struggled to collect position points in most of their games. Blind Esports scored 100 points, including 63 finishes, and ranked eighth in the competition.
7SEA Esports and Team 8Bit came ninth and tenth with 99 and 98 points, respectively. Team Gladiators, who recently won the Nodwin BGMI Champions Cup, ended their run in the 13th position with 73 points. Team XSpark came 14th in the tournament after stumbling in many encounters.
Edited by Soumyadyuti Ghosh