Ronnie Coleman, the man who termed the phrase 'lightweight baby', is referred to as one of the greatest bodybuilders of all time. His eight Olympia title wins tied with Lee Haney are the most by any bodybuilder to date.
Coleman recently posted a video of himself doing a leg workout on his Instagram. Fans were amused to see 'The King' and reacted to his post. One fan wrote,
"Please light weight"

---
Fans react to Ronnie Coleman's leg workout video
Being the eight-time Mr. Olympia champion, Coleman is usually recognized as either the best or one of the two greatest bodybuilders of all time, along with Arnold Schwarzenegger, and as possessing the most impressive bodybuilding physique to ever take the stage.
Ronnie Coleman recently took to his Instagram to post a leg workout video to promote all his newly launched hoodies.
Fans were excited about their favorite bodybuilder hitting the gym. They were stunned to see the energy of a 58-year-old Ronnie Coleman.
One fan commented on his famous catchphrase,
"Light weight bby"
Indeed, Ronnie Coleman is a big man, so this fan feels,
"Big Ronnnn"
Lifting heavyweights has been a trademark of Coleman's, and the word 'yeah' is often used in gym,
"Yeah Buddy"
"YEAAAH BUDY!!!!"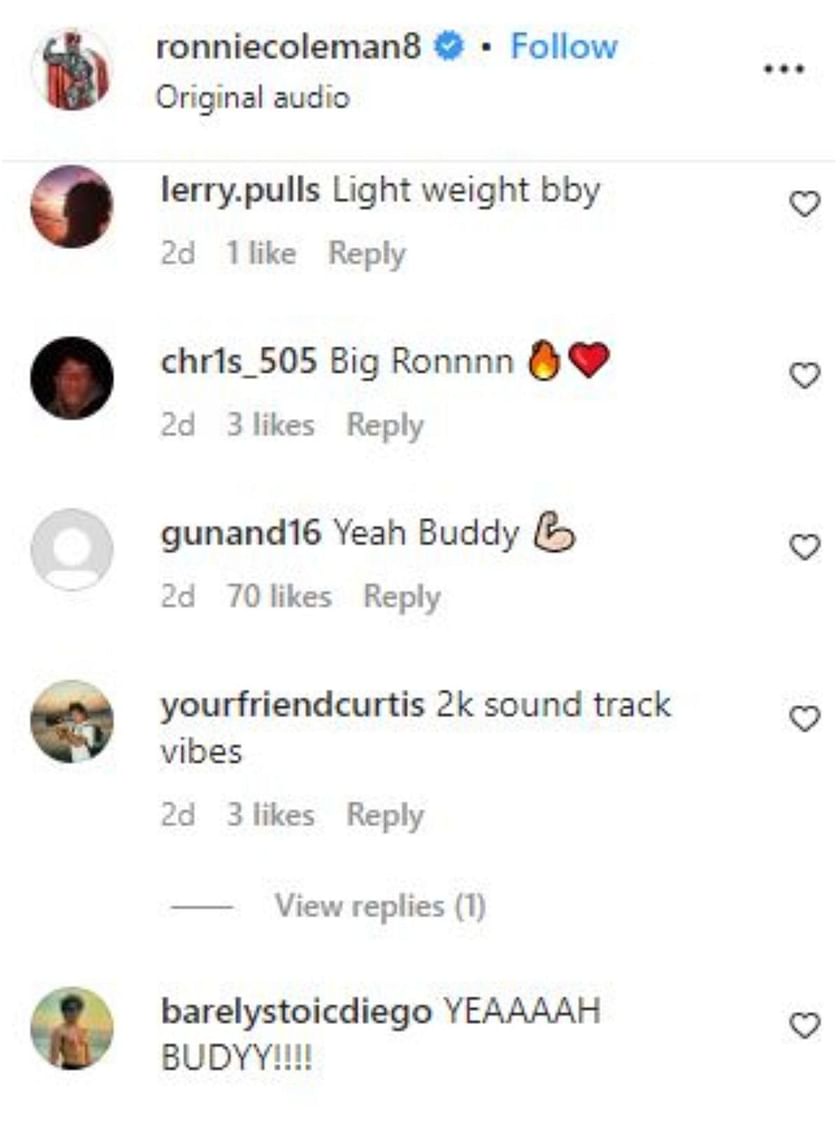 'Big Ron' was spammed in Ronnie Coleman's comments section:
"Big Ron!!"
Without trolling, no celebrity comments section is complete, just like this comment,
"Half execution, but what to do, right? It's the king of bodybuilding lolololol"
However, a Coleman fan replied to the former comment,
"he can"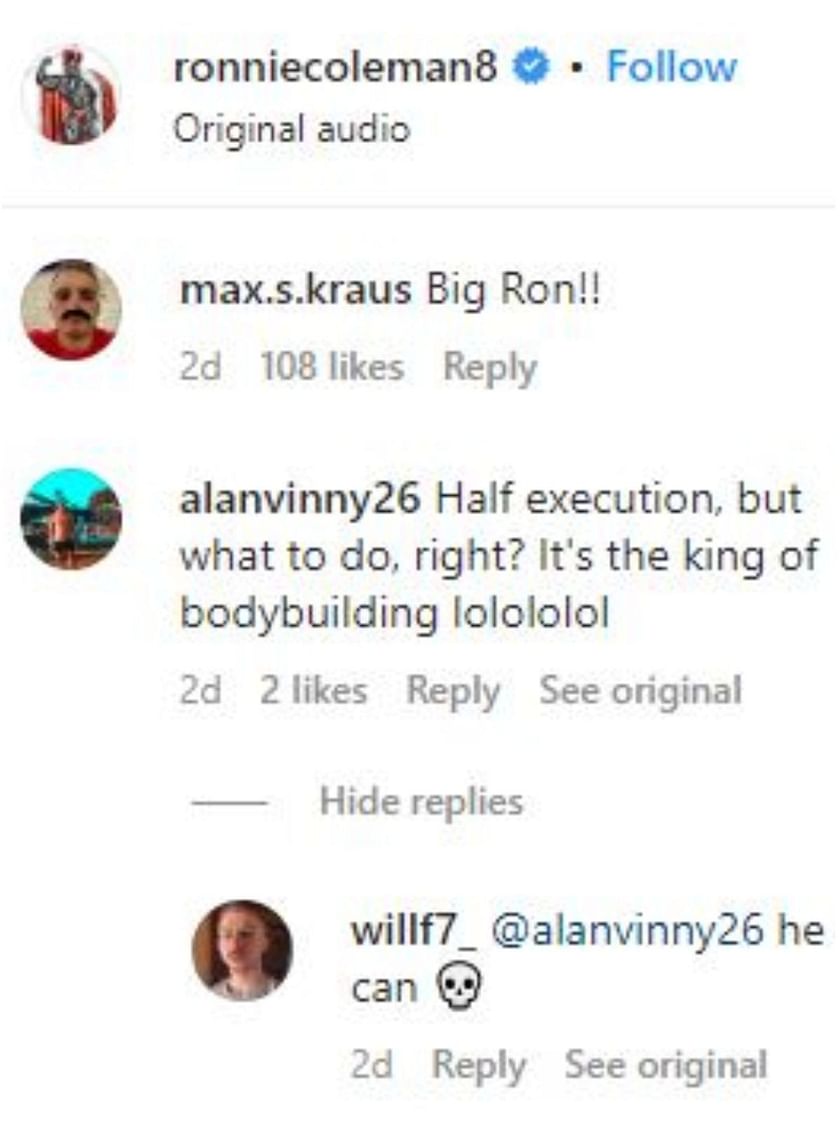 It is absolutely lightweight, and this fan feels the same,
"Yeaahhh Buddyyyyyy!!!light weight!!!!"
According to fans, Coleman brought enough 'heat' into the room,
"This legend brings enough to heat a ton of rooms"
Ronnie Coleman is often referred to as 'The King', this fans calls him that,
"King!"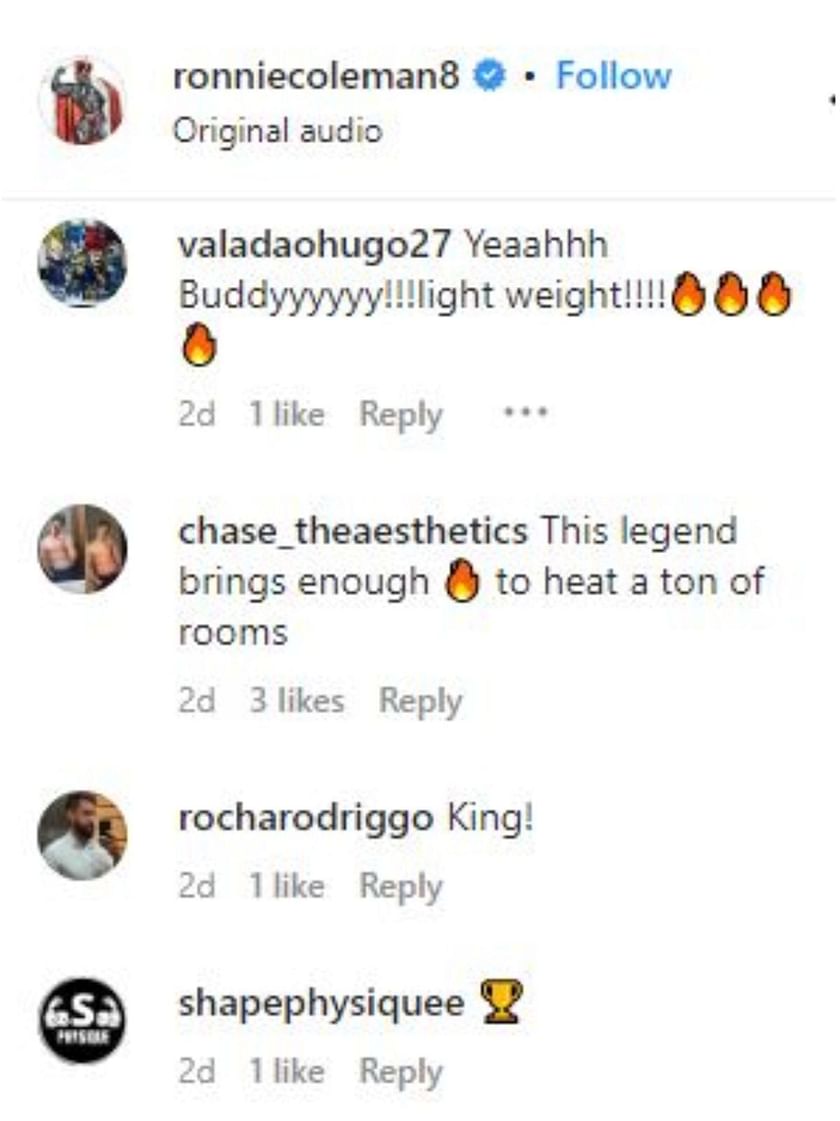 A guy wrote that machine leg press causes severe inflation as he had a slipped disc,
"I speaking for myself, I've got a slipped disc and severe sciatica. This exercise causes me to have a lot of inflammation."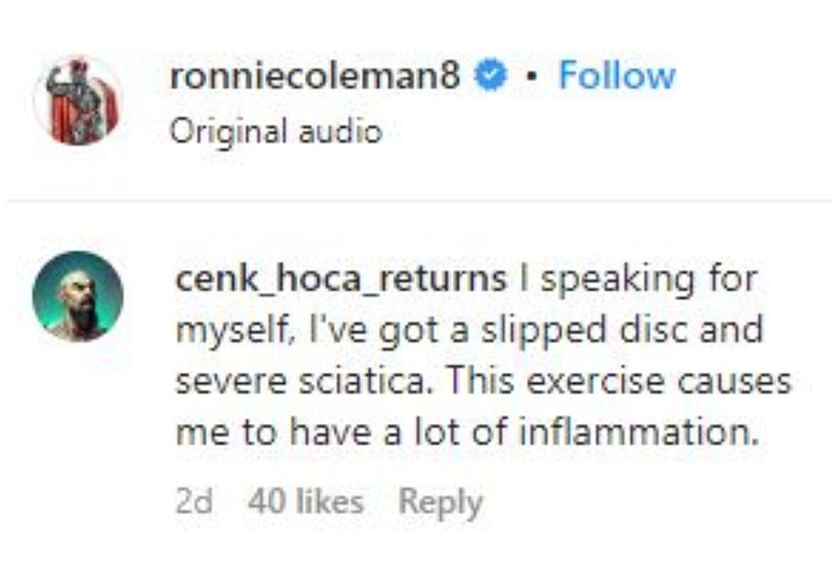 It is absolutely a mistake to think that Coleman can stop weight training. Despite his health issues, Coleman is still highly involved in the bodybuilding and fitness industries and continues to train, albeit with less weight.
---
Ronnie Coleman's early life
Coleman found it extremely challenging to make it to the major levels as a young professional. The greatest performance in his first five Mr. Olympia contests was sixth place, which he earned in 1996.
After shocking everyone and winning the title in the 1998 tournament by overcoming competitors like Kenneth Wheeler, Nasser El Sonbaty, and Kevin Levrone, Coleman brought the heat to the stage. After that, Coleman went on a tear and won eight straight Mr. Olympia crowns.
Along with Lee Haney, he won the contest handily and now ranks as the most successful Mr. Olympia ever. His successful campaign earned him the moniker "The King". Coleman was the first bodybuilder to win the Arnold Classic with Mr. Olympia in the same year he was in power (2001).
Jay Cutler established a reputation before the 2006 Mr. Olympia by coming in second place in each of the previous three years. Thanks to his incredible physique and his hallmark pose, the Quad Stomp, Cutler deposed the King in 2006.