Shazam star Zachary Levi has come under a social media storm for tweeting what many have termed an anti-vax message on January 29.
The actor landed in the middle of cancel culture after he retweeted a question from Twitter user Lyndon Wood on Sunday. Wood tweeted,
"Do you agree or not, that Pfizer is a real danger to the world?"
Zachary Levi shared the tweet and replied to the question, stating, "Hardcore agree."
While the actor did not mention COVID-19 vaccinations, many have taken to Twitter to call him out for being anti-vax.
---
Fans are not impressed with Zachary Levi's tweet
Levi's controversial tweet has been viewed by 30.3 million people as of writing. The backlash comes at a time when the second installment of his DC movie, Shazam, is gearing up for release.
People are threatening to boycott Shazam! Fury of the Gods!
Some tweeted that this was a nightmare for DC's PR team since they had to previously deal with The Flash star Ezra Miller's controversies.
It has become very crucial for actors to maintain a strong public image, especially when they plan to be vocal on social media. Twitter itself could prove to be a career killer, as it has been in the past few years. Only a few, such as the co-CEO of DC Studios, James Gunn, have managed to bounce back after facing a Twitter debacle.
Wakanda Forever star Letitia Wright also bounced back after her own anti-vax comments. Ezra Miller seems to be retaining his role in the DC universe as well. So, there's a chance that Zachary Levi could also return as Shazam in future DC Universe outings as well. But for now, people involved with Fury of the Gods will just hope that Levi's tweet won't hamper ticket sales.
---
Shazam! Fury of the Gods will introduce two new villains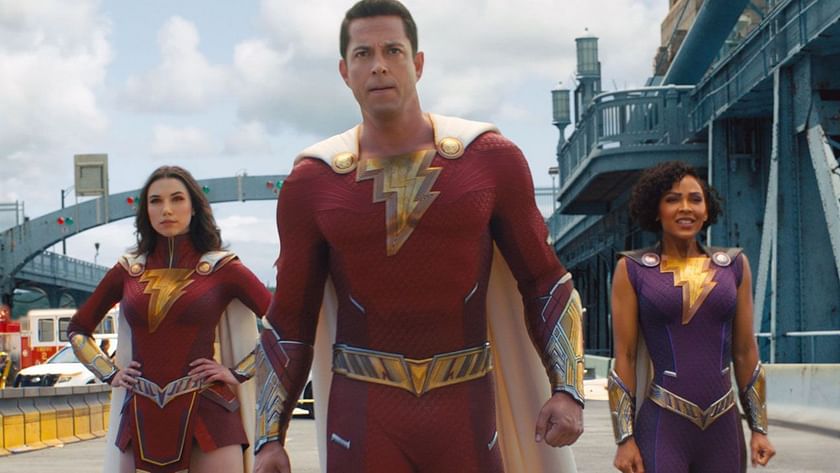 Shazam! 2 is introducing two original villains to the DC Universe by pitting them against the Shazam family. Directed by David F. Sandberg, the official synopsis of the movie reads:
"Bestowed with the powers of the gods, Billy Batson and his fellow foster kids are still learning how to juggle teenage life with having adult Super Hero alter-egos. But when the Daughters of Atlas, a vengeful trio of ancient gods, arrive on Earth in search of the magic stolen from them long ago, Billy—aka Shazam—and his family are thrust into a battle for their superpowers, their lives, and the fate of their world."
The upcoming sequel to 2019's Shazam! stars Zachary Levi as Shazam, Asher Angel as Billy Batson, Jack Dylan Grazer and Adam Brody as Freddy, Ross Butler and Ian Chen as Eugene Choi, Meagan Good and Faithe Herman as Darla Dudley, Lucy Liu as Kalypso, Helen Mirren as Hespera, Rachel Zegler as Anthea, and Djimon Hounsou as the Wizard.
The film also stars D.J. Cotrona, Grace Caroline Currey, Jovan Armand, Marta Millans, and Cooper Andrews.
Shazam! Fury of the Gods hits theatres on March 17, 2023.