10 greatest ODI knocks by Sachin Tendulkar
3.98K //
23 Dec 2012, 21:23 IST
"On a train from Shimla to Delhi, there was a halt in one of the stations. The train stopped by for few minutes as usual. Sachin was nearing century, batting on 98. The passengers, railway officials, everyone on the train waited for Sachin to complete the century. This Genius can stop time in India!" – Peter Roebuck.
Trains will no longer wait. People won't switch off their lives in front of a TV set. The crowd won't accumulate in front of every frigging Electronics shop in the country. One Day Cricket has finally retired from the phenomenal stranglehold of  Sachin Tendulkar.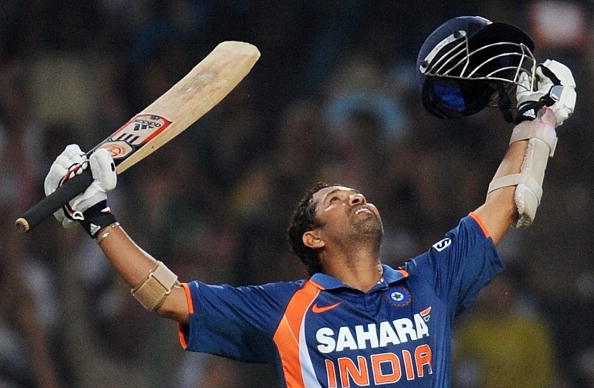 But, instead of worrying about how we will never see Sachin Tendulkar in India's blue ever again, let us be revisit the joys that he has given us over the years. Here is a list of his top 10 ODI knocks:
# 10 – 117* vs Australia, 2008 at SCG
After a fiery test series which included the Monkey Gate and India's fantastic win at Perth, the Commonwealth Bank Series began and India progressed to the best of three finals with Australia. The first final began at Sydney Cricket Ground where India had never won a match before.
Against the lethal attack of Brett Lee, Mitchell Johnson and Nathan Bracken, Tendulkar battled from the first ball till the last to register a memorable win for India. Later, India went on to win the second final with the help of Tendulkar's 91 to register a memorable series win in Australia.
# 9 – 141 vs Pakistan, 2004 at Rawalpindi
Chasing a steep 329, India needed something special from Sachin Tendulkar. He battled hard to get to 141 and when he went out, India needed only 85 runs off 68 balls.
But, the Indian middle order collapsed and Sachin Tendulkar's magnificent knock went in vain.
# 8 – 163* vs New Zealand, 2009 at Christchurch
163 runs in 133 balls. 16 boundaries and a six. Tendulkar retired hurt at the 45th over and looking at how he went, the 200 could have come two years earlier.
India posted 392 on the board and despite New Zealand's best efforts, they fell 58 runs short as Sachin Tendulkar's first ODI Century in New Zealand brought India a much needed win.
# 7 – 186* vs New Zealand, 1999 at Hyderabad
During the first One day of the series against New Zealand in Rajkot, India were outplayed. This time in Hyderabad, they had to make things right and my word, they did!
Along with Rahul Dravid, Sachin Tendulkar was involved in a 331 run partnership with both of them posting 150+ scores. India registered 376 runs which was an unimaginable target at that time. New Zealand fell short by 174 runs, making it India's largest win margin at that time.
# 6 – 175 vs Australia, 2009 at Hyderabad
Another high scoring Sachin showdown at Hyderabad. But, this time it was for a losing cause.
Chasing an impossible 351, Sachin stood tall, smashing 19 boundaries and four sixes despite others falling like nice pins at the other end. When the target was in the sight, Sachin fell and the crowd went dead silent.
Just like India from the late 1990s, the rest of the Indian batsmen choked and India went on to lose the match.
# 5 – 98 vs Pakistan, 2003 at Centurion
Tendulkar at his deadly best. Chasing 273 in a very important World Cup match against your arch-rival is not easy, nor is facing an attack consisting of Wasim Akram, Waqar Younis and Shoaib Akhtar.
But Tendulkar and Sehwag went all guns blazing and took the attack to Pakistan. With a massive century in sight, Tendulkar was made a victim of an Akhtar bouncer. India still went on to win the game comfortably. Tendulkar rates this knock as one of his very best.
# 4 – 140* vs Kenya, 1999 at Bristol
Tendulkar's mother wanted him to go back and play for the nation. His late father too would have wanted that. Tendulkar came and produced an innings for a lifetime. This knock of 140 against Kenya was accumulated with the highest run rate amongst all 100+ scores.
When he scored his century, he removed his helmet and turned his gaze skywards, dedicating the knock to his father. A billion people had moist eyes in India.
# 3 – 134 vs Australia, 1998 at Sharjah
India were in the finals through Sachin's brilliance. Now, it was time to take Australia down and Tendulkar delivered once again. It was Tendulkar's 25th birthday and it was the day when he won the hearts of millions of cricket lovers.
Three sixes, 12 boundaries and Sachin scored 134 runs to help India chase down Australia's 272. Shane Warne claimed that Tendulkar gave him nightmares after that innings. He dominated the Australian bowling right from the word go and at the end, the Aussies were wondering what struck them! Pure pleasure.
# 2 – 200 vs South Africa, 2010 at Gwalior
As Ravi Shastri's exclaims, "The first man on the planet to reach 200 runs" and it was indeed the superman from India.
The innings was special not only because he reached 200 runs. He reached 200 runs despite being at the crease for the entire innings. He reached 200 despite being 36 years old. He reached 200 despite cramping up in 150s. He reached 200 against one of the best bowling line up of that time. He reached 200 at a faster pace than most of his other centuries.
The fact that he scored this only two years back is a true testimony to the level of fitness that he has maintained throughout his cricketing career.
Sachin Tendulkar, take a bow Sir, take a bow.
# 1 – The Sandstorm vs Australia, 1998 at Sharjah
Sachin Tendulkar was a man possessed that day. Australia scored 283 runs and India needed to get within 30 runs of the target to secure their spot in the finals.
Before crossing 150, India were four down. VVS Laxman came to the crease to join Sachin Tendulkar and India were staring at yet another defeat. To make things worse, a sandstorm came into the stadium and halted the proceedings for half an hour. After the score adjustment, India needed to get 94 runs in 87 balls against the bowling attack of Shane Warne, Damian Fleming and Michael Kasparowicz.
When the match resumed, Sachin sent the first ball out of the ground. The rest, as they say, was one of the greatest One Day knocks ever played.