A Very Very Special Innings - VVS Laxman
845 //
14 Nov 2012, 13:33 IST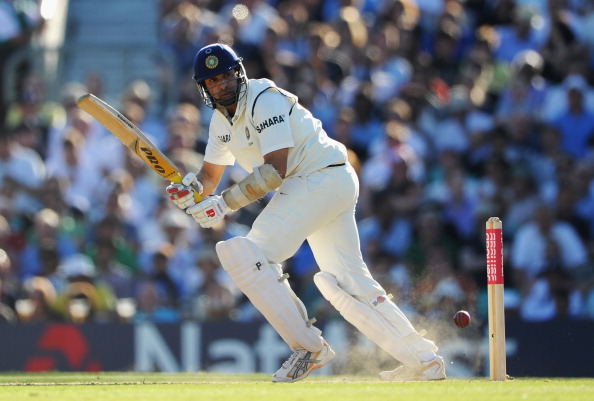 The "Bhagawad Geeta" states, "The person whose mind is always free from attachment, who has subdued the mind and senses, and who is free from desires, attains the supreme perfection of the freedom from Karma through renunciation". Well, in today's world, it is difficult to be such a person. But, there is a person who did that with utmost grace and dignity in a career spanning for over 15 years and his final call did not tamper it. That's why we call him Very Very Special Laxman.
The rolling of wrists, glancing of the ball off the pads, playing the ball on the off to the leg side and on the leg to the off side can only be done by a supremely gifted human being. Well, that human being is none other than VVS Laxman.
VVS Laxman will always be remembered as an artist at work every time he walked to the 22 yards in the middle. His vivacity, combined with mental mobility, always held a upper hand from the others. He was like Leonardo Da Vinci, painting everything with a sense of objective being involved in it. For Laxman, the objective was to win as many matches for his side. That's why there is a saying that, "Whenever Laxman used the word I, it was for the word WIN". This can be interpreted from the knocks he has played for India in tough situations that involved the tailenders. His 73* against Australia in Mohali makes the point even more unambiguous.
The start of the article stated a section from the "Bhagawad Geeta", stating the words like attachment, desire, perfection and karma. Well, all that existed in VVS books as well but in his own way. He had the attachment of the game from his early days as he gave up a career in medicine to be a cricketer. He had the desire to excel in every area of his game. He was a great prodigy but his desire to excel prompted him to make subtle changes in his game that related to economy of movement. His stillness and lack of foot movement were his adversary from the start till the time some changes were made by him. The word Perfection is used for Rahul Dravid in cricket but Laxman was perfect in his own way. He was a perfect master in creating angles with his bat. Laxman comes from the school of, "Just do your work and everything would fall into place". He just did what India wanted him to do. He batted as an opener when India was struggling to find one, he batted at No.3 because a sense of calmness was required and he even batted at No.7 to make sure tail-enders realize how important their wickets were to India. That's where the word Karma fits in for VVS.
There is a saying statistics reveal more than what they hide. Well, in Laxman's case this statement surely goes for a stroll in the park. VVS averaged a modest 45.97 in Tests and has 17 tons to his name. What is important to realise is at what state those runs came about. His 79 against Australia in the famous Test at Perth came along with the likes of RP Singh at the other end, who made a valiant 30. The word "Life saver" fits in for Laxman perfectly. His 281 in Kolkata is regarded as the benchmark for any batsman in Indian conditions but for the weightage Laxman held in world cricket, should be the impact he has had everytime he walked onto the pitch.
Lord Krishna stated, "Cultivate vigor, patience, will, purity; avoid malice and pride. Then you will achieve your destiny". These astounding words are difficult for a human being to imbibe but Laxman was an extra special human being. He never let pride and jealousy enter his mind but constantly kept working on his game that could earn him respect. He was one of those Indian cricketers who rarely appeared in advertisements and IPL did not bring him laurels. He knew his limitations and he knew his strengths; his strength lied in playing the artistic role for his country not in the role of commercial faces.
He may have departed the scene and a void has been left in the Indian middle order. The class has left the 22 yards but the class has not left in this human being. A journalist's delight, a complete family man and a successful man who never let mind took over his heart. Thank you for the memories Vangipurappu Venkata Sai Laxman. VVS is a good human being and a great cricketer. What a marvelous first innings played by him but everyone is surely going to be waiting for the second innings in which he has always succeeded throughout his career. Aren't we?