Adieu Ponting!
675 //
30 Nov 2012, 21:02 IST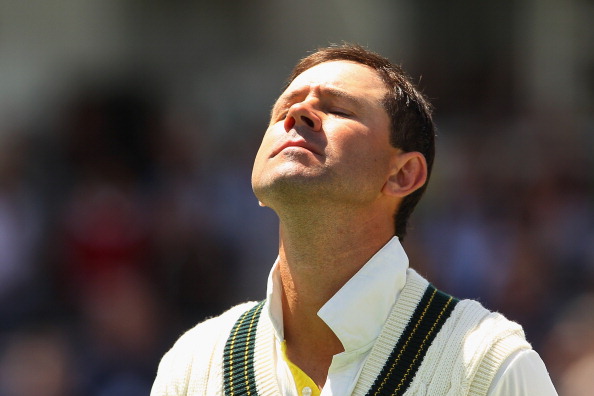 Ricky Thomas Ponting. The man not many like but who everybody respects. What do we remember with this name? Rahul Dravid made his exit amidst a few low scores and lots of dismissals by getting bowled; not much different for another legend's last days of a fantastic career. That very delivery from Kallis which bamboozled Ponting and crashed on the middle stump will never be forgotten. Ponting leaves as yet another Aussie who couldn't perform any better in India.
To be 38 in a few days, Ponting has probably taken a right decision at the right time. A period of 'consistent failures' can only be accepted for a period; a period of days or a period of a series or a period of months but definitely not a period of years or period of many tournaments.
Ponting was never a gentleman cricketer. Never! He even showed how tough he was even after being hit by a fast delivery and one can never forget that moment when he stood his ground during the 2011 world cup when he himself knew he was out. Do I need to mention about the monkey-gate episode and the team which played with the 'spirit of cricket'?
But Ponting has always been a team man. No Doubt! The 'committed captain' as Clarke mentioned. He, for most part of his career, carried the burden of the one down player. The burden is bigger and different from other players down that order, because he not only need to score runs at the top but also carry forward the momentum which Hayden and Langer created.
Ponting as a batsman has always been admired for his defiant pulls, has kept fans in awe but not the same can be said with Ponting as the captain. Ponting as captain against Asian countries, specifically. Is it because Ponting's batting average is poor in the subcontinent or just because he is Ponting? Australian captains are generally not crowd favorites (Waugh and Clarke could be an exception) and Ponting even more, because he had a great team to support and he kept on winning matches and kept on creating records as a team.
One can very well say that Ponting had been blessed with players of such caliber as McGrath, Warne and Hayden and hence was able to win matches consistently. True. But how many captains were able to take over such famed team and continue such performances? Take MS Dhoni. He got a fantastic team when he took over captaincy from Kumble. The team was never consistent in winning games but Ponting held his team high. Ponting, with his world cup trophies, shows his valor. That's dominance.
This is what I want to tell Ponting.
Ponting, we don't need a Bradmanesque retirement (duck out in his last innings) nor do we need a Gangulian retirement (made to captain for a few overs). We need a Pontingesque retirement with that 'Punter' touch. The player who's won most test matches, as player and as captain, 3 ODI world cups, a decade on top with the maze, full of runs, full of victories, what more? A century in the last international appearance, few catches at the slips and finally a team victory and back to Number one. This would be 'finishing on his own terms' for Ricky Ponting. Good Luck!
Over to Sachin Tendulkar and Jacques Kallis to keep up the legacy of Cricket for few more year(s) before the T20 era players take over.