Ajit Agarkar: A tryer for India walks into sunset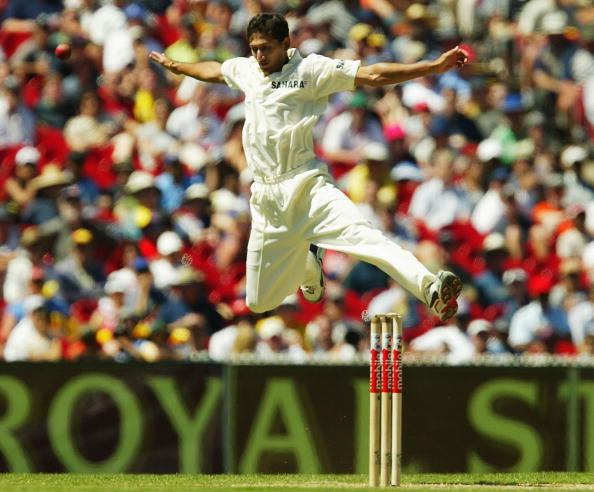 Lot of us will be busy thinking & writing about Sachin Tendulkar's retirement; as ideally it should be as he is the biggest Cricketing Legend of this era. Not many would have thought about Ajit Agarkar's contribution to Indian cricket and he was known and might very well be remembered as an expensive wicket taking bowler who would gift runs at will and take a wickets in exchange.
He debuted at a time when delivering an in-swinging Yorker by an Indian Fast bowler was almost ill-mannered on the field. The way Bowlers are taken to cleaners today; his economy of 5.07 from 191 ODIs looks menacingly accurate in ODI (Stats reveal – he has better Economy than Umar Gul at 5.10 & Lasith Malinga at 5.08). He sat high standards when he arrived on the scene with fastest to 50 wickets, that he was always compared with his then contemporaries who clocked economy rates around 4. He stuck every 32nd ball to get a wicket which is a rarity for today's bowlers specially the fast bowlers; also when the rules laid are batsmen friendly and bowlers to get hammered as per the script of shorter format of the game. In today's era of scientifically manufactured heavy bats and shorter boundaries; fast bowler with Economy of 5.07 and average of 27.85 (just behind the Great Kapil Dev in ODI List for India) is a rarity.
It was 1997 when he made his debut and before that Indians were battered all over the world. Be it South Africa, England or Caribbean Indians could not play fast bowlers and venues in Sub-continent like Sharjah, Colombo were the places where toothless Indian Fast Bowling got hammering of its life. Fast bowling reserves were depleted and likes of Venkatesh Prasad with his leg cutters and more injured than fit Javagal Srinath were the ones who led the attack and rest of the bowling being shouldered by spinners. Among all these disappointments; Inculcation of Ajit Agarkar was fresh breeze and was aptly labeled as genuine fast bowler who bowled at 140 clicks per hour