Analysing Anil Kumble's first season as India coach
How did Anil Kumble fare in his 1st year?
On the 28th of March 2017, the curtains came down on one of the most extraordinary home seasons ever to be seen in any country where this great game of ours is played.
India's long home season of 13 Test matches came to an end when they took on Australia in the fourth Test at the HPCA stadium in Dharamshala and won the game with a day to spare by eight wickets.
I have no doubt in my mind that in the coming years, cricket writers and historians will sit down and ponder over two things:
#1 How in the world, in times of extensive T20 cricket, did we see a team play as many Tests as India did in a single season?
#2 How did India manage to bring not one, but three premier teams to their country and pulp out full-fledged series against each of them?
To get one team is great, but to have three is quite something and one can say with a touch of confidence that Test cricket in India has found a new lease of life, courtesy that. The season is done and I think answers to a few questions are already quite clear.
The first of these being the spot of Cheteshwar Pujara in the playing XI. If there is anyone who doubts that after what he has done in these games, give him an Oscar and tell him to relocate to the Himalayas.
The right-hander has done everything right – he has amassed runs, remained consistent and bailed the team out of tricky positions – and merits a place in the Number 3 slot in the future.
The second one is the opening partnership. I know some are saying that KL Rahul has not got hundreds as often as we would have liked, but I think he has shown enough to show that he can be depended upon. An article on why so is in the pipeline, but for a later day.
There was never any questioning Murali Vijay's spot and so not much needs to be written on that. There are a few others as well, relating to India's on-field issues, but there is one off-field query on which some light needs to be shed.
That is regarding Anil Kumble and how his first season as an international coach has transpired. When he was given the role last year his task was to take the team forward and carry on the work done by the previous regime.
A lot of analysts called him the 'perfect man' for the role, so much so that we could have perhaps married Kumble with those words. But, in all fairness, they had every reason to do so, for few in Indian cricket had as long a cricketing career as he did and even fewer experienced ups-and-downs like he did during his time as a player.
A solid and honest man, Kumble fit the bill as the man to carry India forward and it would now be fair to assess his performance. First and foremost, when you assess anybody, you look at it from a results perspective.
In his 17 Test matches as coach, India have won 12, lost 1 and critically, drawn 4. For even an experienced coach, this is a superb start to his tenure and considering that this is Kumble's first ever tryst with coaching an international side, the stat is even more praiseworthy.
Secondly, we need to see how far the team has progressed and how players have responded to him. When Kumble took over, Cheteshwar Pujara's place in the team was still not secure, even if a confirmed question mark was not hanging over it.
After a harrowing time in the West Indies, the right-hander returned home and had the best season of his career so far. He played with intent, he played according to the team's requirements and once-and-for-all settled the debate of who should be India's Number 3.
When Kumble took over, Pujara was far away from the Top 5 rankings in Tests for batsmen and when the season finished, he found himself ahead of Kohli at the Number 2 spot.
The second player who has grown in stature over the course of the last 10 months is Ravindra Jadeja.
2016, for a large part, belonged to R Ashwin. But since the end of that year, it has been Jadeja who has taken over the mantle as the number 1 spinner. The Jadeja of the past was a master at darting the ball in. The Jadeja of the present is anything but that.
There was flight in his deliveries. He was allowing the ball to turn and making the batsman play more often and that resulted in a lot more wicket-taking opportunities. Jadeja 2.0 was in full flow during the Australia series when he took 25 wickets and ended as the leading wicket-taker across both sides. He also climbed to the top of the Test rankings for bowlers, during the course of the series.
Kumble deserves credit for Jadeja's transformation from a containing bowler to a regular wicket-taking bowler.
These two for me were really the finds of the season. But there were a few more as well.
KL Rahul, touted as the next big star, began his home season on an iffy note but finished on a high with a terrific series against Australia. Wriddhiman Saha, a player who had the job of filling in the boots of MS Dhoni, came of age this season, contributing at vital junctures lower down the order.
Special praise must also be reserved for the fast bowlers and in particular, Umesh Yadav, who seems to have grown by leaps and bounds. Bhuvneshwar Kumar also looked excellent whenever he got the chance to play as did Ishant Sharma, who may not have given the team the desired amount of wickets that they were looking for, but certainly kept a check on the runs from his end.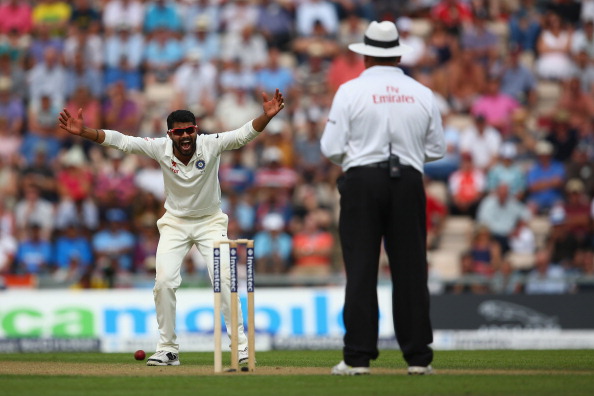 So, in a sense, a lot of players who began the season hoping to elevate their games to a higher level, have managed to do that and that is something that Kumble needs to be credited for.
But the most important change that we have seen ever since Kumble took over has been a new sense of accountability within the system. It is almost as if Kumble has stated categorically that the Indian cap needs to be earned and playing for the country is something that no player can take for granted, regardless of his stature.
Accountability – Kumble's biggest contribution
The case of Rahul early in the season is indicative of that. The right-hander injured himself in the Kanpur Test against New Zealand, the first one of the home season, and did not feature in the remaining two games.
Ahead of the second Test against England in Vizag, Rahul underwent an 'indirect fitness test', if you may call it, by playing a Ranji Trophy game at Vizianagaram and in the presence of a few selectors, smashed a hundred to indicate he was ready for the game. A few hours later, he was drafted into the squad and a couple of days later, he played in the Test match.
Saha is another example of how a player, in the current regime at least, would be picked only if he showed he was fully match fit and ready to go. Ahead of the one-off Test against Bangladesh, the Bengal keeper played in the Irani Trophy final and along with Pujara, took his side home courtesy a huge partnership.
Like Rahul, he too was picked for the Test that followed. It is a rule much different to the past when we saw players being taken out of cold storage and thrown straight into the playing XI.
Extra Cover: Don't see any reason why India cannot win abroad, believes coach Anil Kumble
RP Singh in the Oval Test of 2011 is an example which comes to mind straight away.
If this indeed is the way forward to judge whether a player is ready to take the field for India or not, then we are surely in for interesting times as it would mean that fitness and not form necessarily, will be the most critical factor in determining whether a player can play for India or not.
Kumble can be very pleased with the way he has guided a young side led by someone who is passionate about winning, about wanting to excel in whatever he and his team does and going forward, with India scheduled for a series of overseas trips, the challenge for Kumble will be to ensure they improve what is really an abysmal overseas record, and become an all-round side and not just a side that dominates at home, like they have this season.
My rating for Kumble: 8/10.