Anil Kumble: Top five cricketing moments
Seldom has any Indian cricketer drawn as much of a fan following as the peerless Sachin Tendulkar, who is currently the cynosure of most eyes with his impending exit from the game of cricket.
Anil Kumble, leg spinner and former captain of the national side in Test cricket, resembles a software engineer more than a sportsman, with his soft-spoken nature and a penchant for wearing spectacles on the field (until he discontinued the practice). But for legions of fans, he remains the strike bowler who bore the burden of the attack throughout much of the nineties and the early years of the twenty-first century.
A living legend, Kumble has achieved a lot that the game had to offer. In his current role as mentor of the Mumbai Indians outfit as well as heading the Karnataka State Cricket Association, he still has plenty on his plate – so much for a quiet life after retirement!
As he celebrates his 43rd birthday tomorrow, here's a look at five key moments which defined Jumbo and made him a national icon:
5. Indian Test captaincy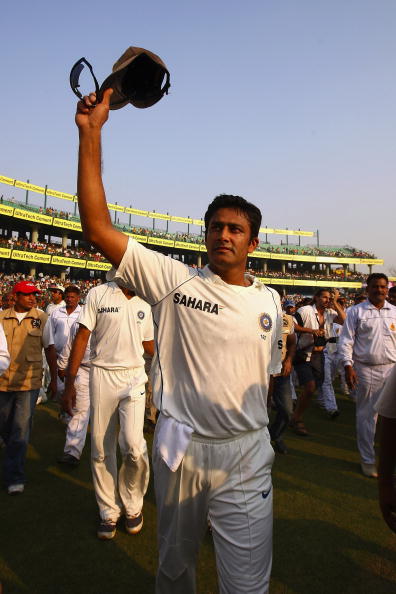 The elder statesman of the game had just turned 37 when the BCCI awarded him the ultimate honour – leading the national cricket team in the longest format for the home series against Pakistan – after statemate Rahul Dravid called it quits from the coveted position.
He did not disappoint either, as his side went on to beat the arch rivals 1-0 in that series.
In an era where leaders are thrust into the limelight almost daily, Kumble was a rarity. He wasn't the kind of person who would provide a torrent of sound bytes at the first sight of a photo-journalist. During the infamous Sydney-gate saga in 2008, he emerged as one of the few players with his dignity intact, refusing to release too many statements to the rabid media.
He was a firm believer in the adage that cricket should talk, and by his own admission, tried to maintain a balanced view of things. Not for him the theatrics you usually associate with fast bowlers, neither would he stoop to looking ugly just for the sake of proving his toughness. It was evident in his body language while bowling, but coming from the old-school of cricket, he has always let his art do the talking.
And it has been a privilege to witness the champion leg spinner lead the side onto the field without a single flashy gesture. Had he not fallen prey to the wiles of age, Anil Kumble would certainly have been the best captain India had ever had – not by numbers, but by niceness.