Australia 75/3 at stumps, trail India by 16 runs
1.09K //
17 Mar 2013, 17:46 IST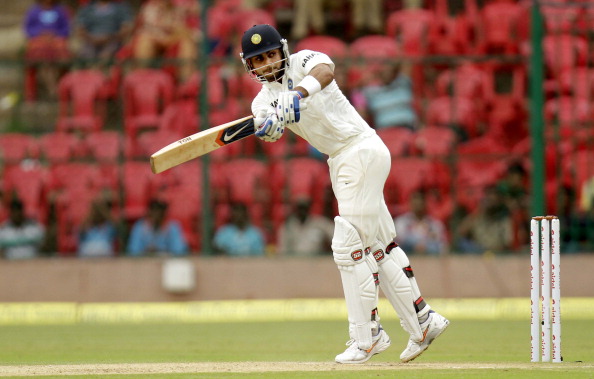 Mohali - Australia were 75 for three in their second innings and trailed India by 16 runs at stumps on day four of the second cricket Test here Sunday.
Australia lost David Warner, Ed Cowan and Steven Smith during the 21 overs of their innings. Swing bowler Bhuvneshwar Kumar picked all three wickets to fall.
Earlier Sunday, India made 499 in response to Australia's 408.
Scorecard:
Australia (First innings) 408
India (First innings, overnight 283/0)
Murali Vijay lbw b Starc 153
Shikhar Dhawan c Cowan b Lyon 187
Cheteshwar Pujara lbw b Siddle 1
Sachin Tendulkar c Cowan b Smith 37
Virat Kohli not out 67
Mahendra Singh Dhoni lbw b Starc 4
Ravindra Jadeja c Haddin b Siddle 8
Ravichandran Ashwin c Haddin b Siddle 4
Bhuvneshwar Kumar c Haddin b Henriques 18
Ishant Sharma c Haddin b Siddle 0
Pragyan Ojha b Siddle 1
Extras (b 5, lb 13, nb 1) 19
Total: (all out in 132.1 overs) 499
Fall of wickets: 1-289 (Dhawan, 59.5 overs), 2-292 (Pujara, 62.6), 3-384 (Tendulkar, 94.1), 4-412 (Vijay, 101.1), 5-416 (Dhoni, 101.4), 6-427 (Jadeja, 104.5), 7-431 (Ashwin, 106.5), 8-492 (Kumar, 129.6), 9-493 (Sharma, 130.6), 10-499 (Ojha, 132.1)
Bowling
Mitchell Starc 23-5-74-2
Peter Siddle 29.1-9-71-5
Moises Henriques 15-1-62-1
Nathan Lyon 31-4-124-1
Xavier Doherty 24-8-87-0
Steven Smith 10-0-63-1
Australia (2nd innings)
David Warner c Dhoni b Kumar 2
Ed Cowan lbw b Kumar 8
Phil Hughes batting 53
Steven Smith b Kumar 5
Nathan Lyon batting 4
Extras (lb 2, nb 1) 3
Total (for three wickets in 21 overs) 75
Fall of wickets: 1-2 (Warner, 0.3 overs), 2-35 (Cowan, 7.5), 3-55 (Smith, 13.5)
Bowling
Bhuvneshwar Kumar 8-1-25-3
Ishant Sharma 2-0-11-0
Ravichandran Ashwin 7-2-25-0
Ravindra Jadeja 2-1-11-0
Pragyan Ojha 2-1-1-0