Australia back on top of the world after annual Test update; India slip to 5th
17.46K //
01 May 2014, 10:00 IST
Australia has reclaimed the number-one Test ranking and has also retained its top ODI spot in the Reliance ICC Team Rankings at the 1 May annual update.
This is the first time since December 2008 that Australia has been ranked number-one in both Tests and ODIs at the same time. Australia last held the number-one Test ranking in August 2009, when it was displaced after losing 2-1 to England.
Australia has now edged ahead of South Africa, which had held the number-one position since August 2012.
In the latest table, Australia has gained eight ratings points to move up from 115 to 123, while South Africa has dropped from 127 to be level on 123, with Australia ahead of South Africa by a fraction of a point.
The results from 2010-11 have now been dropped from the rankings calculation, while the results from 2012-2013 are now reduced to a weighting of 50 per cent. In 2010-2011, Australia had lost to India (2-0) and England (3-1), while it suffered a 4-0 defeat in India in 2012-2013.
Australia captain Michael Clarke was delighted with the news that his side was now on top of both the Test and ODI tables. "We are incredibly proud to be the number-one ranked team in the world in both Test and ODI cricket, which are two of the team's most important goals," said Clarke.
"There has been an enormous amount of hard work and effort on and off the field that has led to this result.
"However, the true test of a great side is sustained success and now our goal is to maintain these rankings and continue to play great cricket as we lead into challenging Test series against Pakistan and India, and the ICC Cricket World Cup at home," he added.
Looking back at the past season, which has turned out to be the cornerstone of Australia's rise to the number-one ranking in Tests, Clarke said: "We had a fantastic home summer against England and a great series win away against South Africa earlier this year, but the challenge now is to continue that form.
"We have a huge amount of respect for the South Africa side, and the length it held the number-one Test ranking is testament to the great side it is. South Africa will no doubt continue to be a formidable opponent in Test match cricket," said Clarke.
Australia was the first team to be ranked number-one in Test cricket when the ICC introduced the current rankings system in 2003. Since the system was introduced, Australia has been ranked as the number-one Test side for 74 months, more than any other side. South Africa is a distant second, having spent 23 months on top.
South Africa had outstanding 2011-2012 and 2012-2013 seasons when it won six of the seven Test series it played. It defeated Sri Lanka (2-1), New Zealand (1-0), England (2-0), Australia (1-0), New Zealand (2-0) and Pakistan (3-0). However, as these series are now only weighted at 50 per cent, it has dropped four ratings points to slip from 127 ratings points to 123.
The biggest change in the rankings table at the annual 1 May update is of India which has slipped from third to fifth after dropping 10 ratings points.
India's 2010-2011 victories against Australia, New Zealand and West Indies (away), as well as a drawn series against South Africa, no longer count to the rankings. Similarly, India's 2011-2012 victory against the West Indies, and 2012-2013 victories against New Zealand and Australia are now weighted at 50 per cent.
There has been little change to the ODIs rankings, despite the top three sides – Australia, India and Sri Lanka – all seeing their rating drop.
ICC Chief Executive David Richardson congratulated Australia for becoming the number-one ranked Test side and retaining the top spot in the ODI table.
"We congratulate Australia for once again topping the Test table, a deserved reward for some exciting and consistent Test cricket played both home and away, particularly over the last nine months" said Mr Richardson, adding: "Test cricket is the ultimate challenge for all cricketers and any side that achieves the number-one spot, should be extremely proud of its achievement.
"The forthcoming season is going to be as interesting and thrilling as the past seasons with as many as four other teams, South Africa, England, India and Pakistan with a realistic chance of challenging Australia for the number-one spot.
"Next season also sees the staging of the ICC Cricket World Cup 2015, ICC's flagship ODI event. ODI cricket has never been more competitive with the top eight sides being currently separated by only 21 rating points. With a lot of ODI cricket to be played in the lead up to the World Cup plus the event itself, the competition for the number-one spot prize money as at 1 April 2015 will be fascinating."
About the Annual Update
The annual update ensures that the Reliance ICC Team Rankings Table continues to reflect recent form, with older results being discarded.
The updated table now reflects all Test and ODI series completed after 1 August 2011. All series played until the start of May 2015 will be added to this table, so that by May 2015, the ratings will be based on just under four years of results, with series completed prior to 1 May 2013 weighted at 50 per cent and subsequent results valued at 100 per cent.
Latest Test Team Rankings (As of May 1, after the annual update):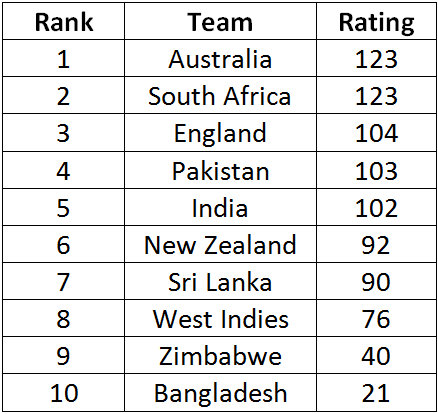 Latest ODI Team Rankings (As of May 1, after the annual update):