Being Virender Sehwag
2.01K //
07 Mar 2013, 19:36 IST
India was touring New Zealand in the winter of 2008-09, a land they had never fully conquered. New Zealand was not a team known for indulging in pre-series antics and talks, yet they did just that. The absence of any tour matches was being talked about. Statisticians were having a field trip. The last time India had won a Test on Kiwi soil was in January 1976. In their previous tour in 2003-04, India had scored just 1583 runs in 2 Tests and 7 ODI innings. An average of 143.9 per innings! They had lost 107 wickets in the series (out of the 110 possible).
Vettori said that he was confident his seamers would tackle the Indian batsmen in conditions suited to them. The Kiwi bowlers talked tough. Drop-in pitches were being prepared. There were nervous fans, and perhaps a nervous dressing room in the build-up to the games.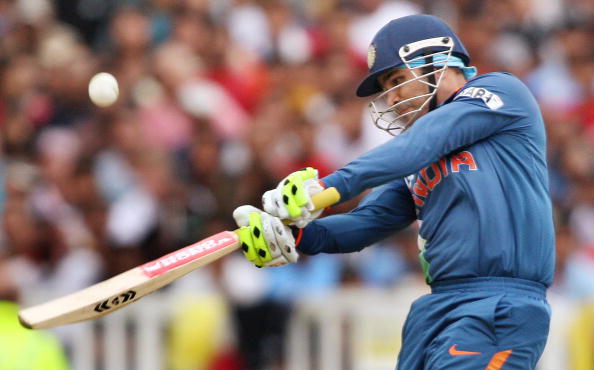 The first knock for India was in the Christchurch T20 after being put into bat. It took Gambhir three balls to get Sehwag on strike. First ball Sehwag faces on the whole tour, short from Southee, minimal footwork, pulled to the square leg boundary. Six! The next ball is pitched up; he flicks it, on the up, wide of mid-wicket. Short boundary? This would have cleared any ground. Six again! Third ball, shortish again. Cross-batted slap over the square leg boundary. Six more!
Sehwag showed no "thousand-yard-stare", an expression made famous by Stanley Kubrick. He was just a picture of calm amongst all the chaos around him. Any nervousness? Who said that? He would have probably just kept humming the song which he mentally sings. He induced a sense of calm in the dressing room, and among the viewers. It was strike one to India.
It didn't matter that India actually lost that T20. What that knock did was stop all the talk about Indian batsmen being inept. India won the ODI series 3-1 and the Test series 1-0. We will never know how important those three deliveries were in the context of those results. Just like we will never know how important Ganguly's 144 at the Gabba was in 2003-04 for the victory in Adelaide that followed.
***
It was a county match for Leicestershire with Abdur Razzaq reverse-swinging the ball in a manner only Pakistanis can. He and his partner, Jeremy Snape were ill at ease at the crease. Sehwag went up to his partner and said they had to lose the ball, as it was reverse swinging too much. Next over, he whacked the ball out of the stadium, and the umpires had to rope in a replacement ball. He calmly announced to his partner that they were safe for another hour, as it was a new ball they had to face. Simple! Jeremy Snape could relax. The dressing room could relax.
***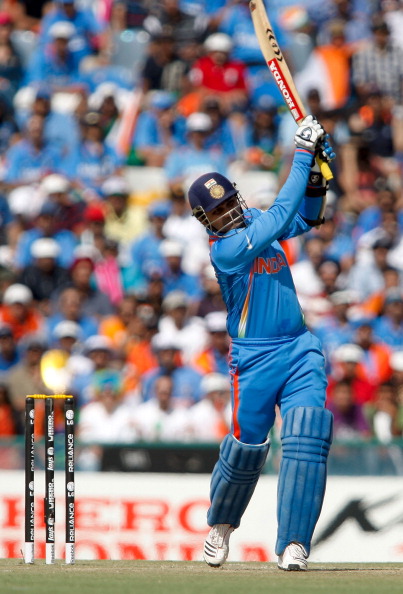 I have been taught about Mealy machines and Moore machines, but Sehwag couldn't be classified as either. He was stateless. See the ball, hit the ball; it was always as simple as that. Imagine it is the first ball of an important match, and the bowler over steps, resulting in a free hit awarded. The batsman on strike would go all out to capitalize on the opportunity and hit it for a boundary. Some of the nerves that would have been there before the match are all settled, not just for the batsman, but also for the non-striker and the rest of the team. The pressure would be on the opponents. Sehwag would do just that, except that it wouldn't be a free hit. Anyone remember the World Cup 2011 semifinals?
Marauder, butcher, and attacker are some of the words you often associated with a Sehwag innings. But for me, he was never a bully. A bully always backed down when someone stronger came in sight. Sehwag never backed down – never on the field, never in front of the media, never to his captain.
He has won India so many matches because of that trait. He instilled fear in so many opposition bowlers even before a match. He delayed so many declarations. From an opposition's point of view, the relief of getting an out-of-form Sehwag's wicket often surpassed the relief of getting a batsman in the prime of his form. Such was the Sehwag effect.
In the last couple of years, his 'hit ratio' fell below the acceptable level. His commitment and attitude towards the game raised eyebrows. He needed his coach, AN Sharma to bat for him. A rift with his captain was evident. Irrespective of what questions are being raised about the importance of being in Dhoni's good books to stay in the team, and irrespective of all other non-performers being retained, he deserved to be dropped.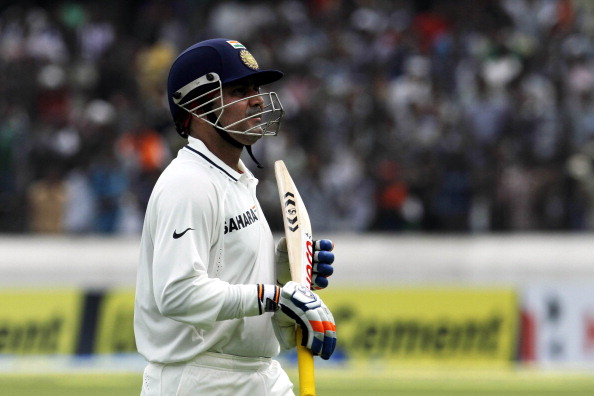 Sehwag was dropped from the limited-overs format earlier, and has now been dropped from the Test team. At 33, he may well have made his last international appearance. But I will always remember him for being the original Dabanng, and for soothing my nerves on umpteen occasions; for that, I will always be thankful to him.
Sehwag has stated that he will not retire, and is keen on making a comeback. He will go for another hit. Here's hoping he does it and whacks the first ball he faces to the boundary once again. Here's hoping for calmness to prevail again.