Can New Zealand Cricket turn recent performances into a resurgence?
1.02K //
27 Mar 2013, 17:04 IST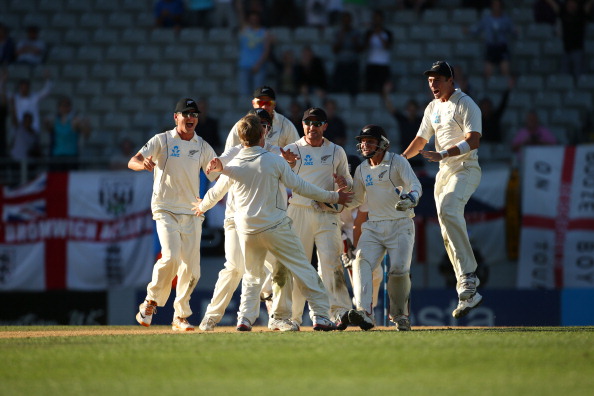 Incredible at times, inconsistent at most, I wonder if New Zealand gives you something new every time you watch them on the field. The 'Black Caps' suits them better, adds an edge, an attitude that is sometimes missing in their style of cricket. It should be surprising, considering how they have been world beaters in a game that is far more popular on this planet than cricket – rugby. The 1992 World Cup is a personal favourite of many cricket lovers, for many reasons – wonderful day-night tussles, long boundaries without ropes, Aussie crowds and South Africa; yes, South Africa. But amongst all this reigns a spectacular reason, a poignant tragedy that just fell short of poetic justice, New Zealand. In that World Cup, they played an enterprising brand of cricket. Long before Jayasuriya and little Kalu popularised the art of 'early hitting', Mark Greatbatch put the fear of devil in the bowlers; that was long before bowlers had to deal with power-play overs, two new balls and club-edged bats. And then there was the tactical genius called Crowe, who sat out the Pakistani chase in the semi-finals, his luck coinciding with that of his team. The dream never came true.
The Kiwis (I still prefer Black Caps) have been surprise semi-finalists at World Cups many times. They punch above their weight when they are least expected to. But, in recent times, they have gone downhill, the quality clearly missing. The Cairns' and the Wrights and the Greatbatchs and Crowes haven't been seen again. It is a team that is making do with bits and pieces. When South Africa trounced them, held them by their necks and banged them repeatedly on the wonderfully hard, bouncy pitches, I wondered if New Zealand will be lost to cricket just the way Zimbabwe was. The 3-Test series with England that ended 0-0 is therefore a moral victory for New Zealanders, even if it was a gut-wrenching loss emotionally. Twice New Zealand was dominant, but just couldn't take it across the finish line. Prior surviving after the ball hit the stumps but did not dislodge the bails is probably what New Zealand will look at as destiny thwarting them. NZ cricket needed that series win badly. However, New Zealand is richer for the experience and its young team can hope for a brighter future.
Kane Williamson, that tender looking young cricketer that New Zealand has invested in, is repaying the faith. Whether it is Rutherford's debut century or Fulton's swashbuckling approach, the batting finally seems to be developing some mettle. One would hope that seniors like Ross Taylor and McCullum, who still have a few years of cricket left in them, mentor the young lads and show them how it is done at the highest level. Southee, who had managed to impress 'White Lightning' himself, and Boult, the left-armer with fire and a fiery heart, could be the fast bowling combination that can take the team to greater heights. Australia's trans-Tasmanian neighbours have a decent keeper and a good support cast. What would they not give for a Chris Cairns at this juncture?
I wonder if New Zealand takes its cricket too lightly, or if it is just the lack of infrastructure that creates the ebbs in the flow. It was incredible to note that there wasn't a Man of the Series announced, almost making me doubt whether New Zealand has enough sponsors. In the 2011 WC quarter-final against South Africa, they showed how ruthless they could be. Vettori gives them an extra edge, but injuries have plagued him much the same way New Zealand's cricket has been plagued by the lack of enough world class cricketers. They don't have any representation in the top 10 ICC Test rankings for batsmen and bowlers, currently.
Brendon McCullum, who during this series shed his prodigal self to help the team's cause and lead from the front, needs to retain, almost preserve carefully, his mojo. The team that drew a series in Australia before the latter trounced India 4-0 down under and the team that drew the series with England show bright signs. The only question that remains to be asked is whether there is enough fight in the present team, fresh and young, to learn from the heavy scars inflicted in South Africa; an example of the humiliating defeats that punctuate their international success far too often. It remains to be seen if the boys, who were gutted after failing to pick one last wicket, pick themselves up and do what it takes to go the full distance next time. Beyond technique and beyond temperament, attributes which the young batsmen and bowlers still need to master, is a big question that New Zealand has to answer when it comes to the big league. I hope the answer is in the affirmative.