Caught in a time warp: Actual and potential similarities between 1992 and 2015 World Cups
2.25K //
08 Feb 2015, 17:39 IST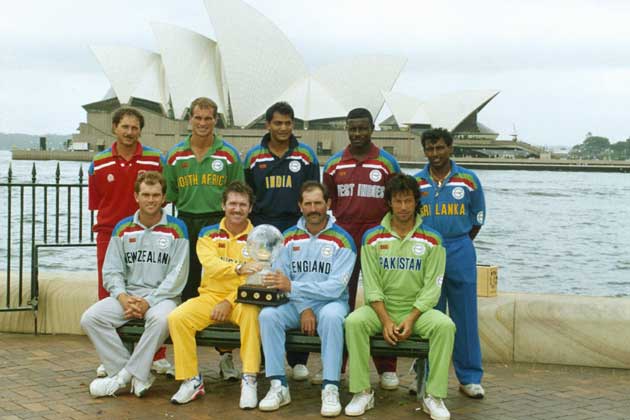 A few days back, after witnessing Tom Cruise die and come to life approximately a zillion times in the 2014 sci-fi thriller, Edge of Tomorrow, on DVD, my idiot box redirected me to one of the countless re-runs of the history of the World Cup (WC) on a popular sports channel, which was broadcasting Pakistan's mercurial triumph in the 1992 WC.
With my brain still tuned in to the time-warp, our evergreen loverboy-turned-action-hero found himself in; I could not help but wonder about some of the coincidences, some actual, some potential, between the events playing out in that game-changing edition of the tournament, and the one we are about to immerse ourselves in, about a week from now.
While there may not be any threat from rampaging aliens in the near future (in spite of what conspiracy theorists claim), we do stand the risk of a 23-year old de-ja-vu, which on second thought, may not be the worst thing to happen, given the wonderful entertainment which was on show during that unforgettable event.
Stating the obvious
Before I hear the very deserving snickers and snorts of contempt, let me issue the disclaimer that, being a fan of Ravi Shastri's commentary since my childhood days, and more recently, MS Dhoni's customary 'Well, obviously', whenever the microphone is pointed in his direction, I have no shame in stating the obvious, which is, the venue itself.
Only for the second time in the history of the most coveted limited overs tournament in cricket will the action play out on the popular cricketing shores Down Under, a privilege mostly hogged by England and the Indian sub-continent.
For everyone cricket-aware back in 1992, the literal translation of deja vu ('already seen' in French, for the uninitiated) may hold more water in this case than the thrilling associations made by Hollywood blockbusters and bestsellers over the years, though the excitement factor could be just as high, if not more.
Expectedly, the smattering of day-night matches in the 1992 edition has been revised into an almost mirror-image as far as day matches are concerned (10 D/N matches in 1992 v/s 12 D matches in 2015), to satisfy commercial interests as well as current viewer synchronization, and I will miss the groggy-eyed mornings when a 10-year old explored a domain, highly attractive but relatively unknown, in a manner not too different from a teenager walking down the mysterious but alluring corridor of their first love.
Face-Off: The England-New Zealand switch hit
My movie hangover is back with a vengeance, because the Face-Off I refer to is not what is commonly associated with sporting events, but the 1997 Nicholas Cage-John Travolta starrer (Bollywood fans may associate better with the 2001 Amitabh Bachchan-Manoj Bajpai thriller Aks). Bear with me as I attempt to correlate.
The Kiwis' amazing flight in the 1992 WC is well documented, but a slightly lesser known fact is that they were whitewashed by the Englishmen, at home, in both Tests and ODIs, just days before the tournament kick-started. In an era where bilateral ODI series were limited, this must have been devastating for New Zealand, even as England glided into the event as a well-oiled machine psyched for success.
Back in the present, on current form, or the lack of it, England stake claim to the 'least favourites' crown among the Big 8; India's recent surge poses a genuine threat, but England's consistency over the past year gives them the edge.
New Zealand, on the other hand, are coming off one of their most successful years in international cricket, across all formats, and given the red-hot form they currently find themselves in, are one of the most exciting teams to watch out for in this edition.
In other words, both these teams are shrouded in the pre-'92 WC avatar of the other. If this Face-Off lasts the distance, the Kiwis would finally break into an elusive WC final, and England will literally shock the world with their innovativeness.
Captains Royale
Majestic captains. Most WCs had one, incidentally from the winning team – Clive Lloyd (1975 and 1979), Kapil Dev (1983), Allan Border (1987), Arjuna Ranatunga (1996), Steve Waugh (1999) and MS Dhoni (2011). (Ricky Ponting's credits get shared with the majestic team he had at his disposal during the 2003 and 2007 editions).
The 1992 tournament, however, had two – Martin Crowe the Innovator and Imran Khan the Street Fighter. Both carried their respective teams into the business end of the tournament, albeit with varying strategies, before meeting in an epic 'Rumble in Auckland' semi-final, where the Street Fighter downed an injured Innovator before ascending to the throne.
New Zealand look certain to tick that box yet again in 2015. After a few tournaments under solid but sedate captains like Stephen Fleming and Daniel Vettori, the Kiwis finally have an aggressive skipper in Brendon McCullum. He commands the team's respect, and given the stunning turnaround the Kiwis are displaying under him, the man from Otago is, in my opinion, the strongest candidate for the Majestic Captain crown for this edition.
In addition, my gut feeling says that, in a parallel with 1992, this edition will see not one, but two great captains display their wares. Craning my neck a little, if not sticking it out entirely, I pick AB de Villiers to be the second captain – the Immovable Object which meets the Unstoppable Force (The Dark Knight, anyone?), as far as captaincy battles go.
In his first opportunity to lead the Proteas at the highest stage, the near-superhuman Pretorian should be able to translate some of his unconventional batting skills into innovative captaincy, which might see South Africa finally ridding itself of the Albatross it has been carrying around for years.
Pakistan captains
Like any researcher worth his salt, I Googled 'similarities between the 1992 and 2015 World Cup' before embarking on this article, and found the first few pages dedicated entirely to this query, but in Pakistan's context. Article after article, with a strong hint of 'sharing and caring', all of which focused on similarities between the Pakistan squad of 1992 and 2015, kept popping up.
While I leave considerations of authenticity of these articles on the wise shoulders of curious readers, I would have to admit that a couple of coincidences were indeed interesting. The obvious one is, of course, the fact that while Imran, Pakistan's enigmatic skipper in 1992, was touching 40, the country's current captain Misbah-ul-Haq already cleared that milestone last year; an achievement in itself, given the current clamour for exuberance of youth over steadfastness of experience.
Borrowing from James Bond's vocabulary, if that's happenstance, both men hailing from Mianwali make it a coincidence. Thankfully, an 'enemy-action' scenario need not arise, with their captaincy styles as different as chalk and cheese. While it looks improbable that Misbah can inspire his men to motivational levels in the vicinity of those achieved by Imran, the inherently mercurial Pakistan team can never be written off.
If only the 1992 WC can repeat itself....
I have steered clear of parallels which have surfaced in every WC post 1992 – like Australia and South Africa almost always starting as favourites, or the latter being unable to realize the full potential of exceptionally talented squads due to a heady cocktail of choking, mind-freeze and just plain bad luck, or the customary minnow upset.
Even with these usual suspects knocked off, the 2015 tournament bears more than a passing resemblance to the pioneering 1992 edition, which, according to the Guardian, in an opinion I strongly endorse, was the best WC of them all, barring a rainy hiccup.
With a sequel to one of my all-time favourite movies set to release shortly after WC 2015, I cannot resist interjecting a ludicrous tribute to conclude - had the beautiful crystal 1992 trophy, while disappearing from public view aloft the broad shoulders of Imran, mouthed incoherently, "I'll be bakk(sic)", (a phrase first used by Arnold Schwarzenegger's villainous Terminator in the franchise's first instalment in 1984, and deployed subsequently in all sequels and several other movies of the Austrian-born hulk), then WC 2015 is undoubtedly the best stage to fulfil that promise, and if realized, we are definitely going to be in for a helluva lot of entertainment.