Champions un'cork'ed - Hampshire win T20 Trophy
666 //
18 Aug 2010, 02:31 IST
The Rose Bowl was witness to one of the most dramatic days in domestic cricketing history. T- 20 Finals day produced  a thrill a minute ride with an action packed display of powerful batting, fiery bowling, giant catching, pricky and niggly commentating, rain interfering, blood dripping contest. The climax – a tied final ending with heartbreak for some and ecstasy for others. Here's how the action unfolded.
Semi Final 1: ( Essex vs Hampshire)
Essex enter  the semis as favorites after two group stage wins against a  Hampshire side opting to operate without the services  of  the departing Kevin Pietersen . Hampshire win the toss and elect to have a bowl.  Alistair Cook (39)  and Mark Pettini(55) start off proceedings for Essex with a steady opening stand of 79. The good work is undone after Cook chips straight to the fielder in the circle at fine leg. 19-year-old spinner, Danny Briggs proceeds to trigger a batting collapse which sees  Ravi Bopara (2), Ryan ten Doeschate (1) and Dwayne Bravo (5)all depart without really troubling the scorers. Walker and Foster combine to take the score to a respectable 156/7 and all hope is not lost.
Abdul Razzaq (44) and the impressive Jimmy Adams(34)  give the Hampshire  innings some early impetus with a quick fire opening partnership of 67 from 8 overs. The departure of  Razzaq deals a hammer blow to the batting side who somehow manage to get themselves  in a hole and are well staring down the barrel needing 42 to win from the last  4 overs  .  Dwayne Bravo, flown in all the way to take part in the final for Essex is dispatched for a four and six by Sean Ervine before extracting his revenge with a beautiful yorker to uproot the off stump  and even  the contest . 29 required from 18 balls . Neil McKenzie and Micheal Carberry  keep a cool head and with some neat improvisation skills and some length bowling from Bravo  take the Hampshire  to within  5 runs  of victory off the  last over. A thump down the ground from Carberry and its all over. Hampshire  make it to the  T20 final on their home ground for the very first time!
Semi Final 2:(Somerset vs Nottinghamshire)
The second semi final is a battle between the batting prowess of Somerset and the much acclaimed bowling attack of Nottinghamshire. David Hussey wins the toss and with one eye on the heavens chooses to put Somerset into bat . Marcus Trescothick and an out of sorts Craig Keiswetter keep the trend of good starts going with 50 in 6 overs before the latter departs to a mistimed pull. Spinners Swann and Samit Patel strangle the middle order with some tight overs and key wickets to go with it . This sets the stage for  a 19 year old relative unknown,Jos Butler, who enters the scene and  outhits big man Kieron  Pollard with  some monstrous shots coupled with some deft touches to leave the onlookers and the opposition bowlers gaping in awe . 55 from 23 balls for the young upcoming wicketkeeper (he produces another blinder in a 40 over game as I write this article) and Somerset have set a stiff target of 183.
Rain stops plays and the revised target is 152 in 16 overs . Ali Brown and his "opening partner" Greame Swann make their  way to the centre and waste no time in dispatching the ball over the infield in the shortened Powerplay  .  The ever impressive Alfonso Thomas stops the flow with some timely wickets and the score reads 47/3 in 5 overs . Murali Karthik makes new man Samit Patel  look like a novice , turning and ripping the ball past the outside edge and just missing the stumps in his first over . Samit Patel decides he's had enough and counter attacks to good effect smashing sixes at will and playing a game breaking innings ably supported by captain Hussey at the other end .  The drama takes another turn with the Rain Gods intervening yet again to further complicate things for  Nottinghamshire .  No stopping the determined Mr Patel and the unperturbed Hussey   who score at pace to edge ahead on Duckworth Lewis. Another twist and this time it's a giant Pollard who does the star turn , leaping high in the night skies to hold onto a superb catch just inside the boundary  rope to send Samit Patel packing  after a powerful  39 from 25 balls .The equation changes and its too much of a task for the batting side who fall three runs short in a compelling contest . Somerset go through to the finals to face Hampshire!
Final (Somerset vs Hampshire)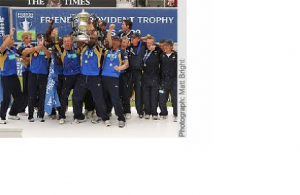 Hampshire go into the match as underdogs against a fancied Somerset who have made the finals yet again. Somerset win the toss and have no hesitation in playing to their strength and batting first .  Trescothick is a man in a hurry and after tonking a couple of sixes ,gets caught out, trying more of the same .  Score reads 42/1 in 5 overs . Peter Trego joins Keiswetter   and both batsmen scratch around for some much vaunted form . And just as they put the foot on the accelerator , Sean Ervine plucks a catch out of thin air after initially misjudging it to send Trego back to the pavilion fro 33 . Keiswetter continued his love affair for  tournament finals with a well struck 71 . Enter Kieron Pollard ,and wham bam slam ..22 of 6 balls … and then smack!…a thud on the helmet and the ball sneaks between visor and grill from a nasty short one from the apologetic Dominic Cork. Game changing moment! Somerset finish with a competitive 173/6 and a bowler short!
Hampshire start off like a house on fire with 52 in 5 overs , Razzaq(33) and Adams(34) benefiting from some lethargic bowling from Philips and de Bruyn . Somerset   pull it back with some quick wickets and the score at the halfway mark reads 91/3. McKenzie and Ervine keep a cool head and courtesy of some sensible shot making take their team to within 11 runs of victory of 12 balls . Then , McKenzie departs trying to finish it off and Carberry follows suit after lasting  just 2 balls . In between dismissals , Ervine is dropped and the target is now 8 from the last over . Let the fun and games begin…de Bruyn runs in  to bowl the final over….Christain and Ervine scamper through for a single of the first ball ,followed by a dot and a top edge behind the keeper for 2 from the third ….5 from 3 balls ….another bye with the stumps being missed again….4 from 2 balls….Christain  smashes a pull shot and it take a diving save at the boundary to keep the game alive…and Christian injures himself whilst running ….2 from 1 ball….Keiswetter comes up to the stumps…Christian with Adams as runner to face De Bruyn ..this for the Friends Provident T-20 trophy….De Bruyn runs in and bowls a perfect one which crash lands into the pads…LBW turned down…both Christian and Adams run (oops!) and somehow ,just somehow manage to complete the single . The game is tied . Confusion here , there and everywhere. The announces clears the air declaring Hampshire as champions by virtue of losing a wicket lesser 173/5 (as per some wierd rule book) …This sparks wild celebrations and the wily old Dominic Cork finally has  a moment to savour. What a match!…What a final!..Hampshire crowned T20 Champions of English County Cricket and as for for English cricket , the signs – Future Perfect!