Cheteshwar Pujara - A true Kshatriya!
1.76K //
05 Mar 2013, 00:06 IST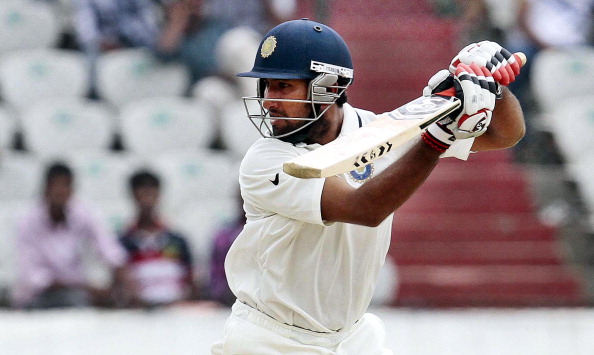 "Cheteshwar Pujara belongs to the Kshatriya clan" – I came across this queer piece of information somewhere on the internet and the depth of the statement amazed me! Kshatriyas were well-known for the bravery and valour. They fight for what they believe in.
Though the clan is extinct on the basis of the literal purpose that they served, it couldn't be more apparent that their descendants have indeed inherited and imbibed the basic nature of their founding fathers, or at least it holds well in the case of Pujara. The way Pujara has led the batting in the past eight months speaks volumes of his character traits.
The transition phase for any team is vital and inducting the right kind of talent is an unenviable job. Initially, the results would be poor and the void left by the former player would make its presence felt when the team is under the scanner. But the way Pujara has handled the position of Rahul Dravid (I believe that the number three position well and truly belongs to Dravid, and whoever plays at that position is merely filling in for the man!) ensured that the transition was smooth without any glitches. It is a certainly a boon for Team India. Having said that, the transition did not happen overnight; rather it was a process that was initiated quite a long time ago when Pujara cracked his maiden triple century in a Ranji trophy game.
The saga of Pujara begins on a sad note. In this era of cricket, it is arduous to stumble upon a domestic cricketer who did not possess all the luxuries that life offered. But in the case of Arvind Pujara (Pujara's father played first class cricket for Saurashtra), that wasn't the case. Pujara wasn't born with a silver spoon. Playing cricket as a passion, Pujara was quite extraordinary even as a kid. He was right away marked as a future Indian prospect.
But things were not hunky-dory for Pujara. His state of poverty meant that he had to sweat for everything he obtained. It wasn't a roller-coaster ride. It wasn't even a ride to be honest, rather a battle for a lone warrior who stood fighting.  The runs did come in huge numbers, but what enhanced his reputation was the kind of conviction that Pujara exhibited as a teenager.
The teenage generation of this era has disintegrated into 'sophisticated and contemporary'. Keeping focus amidst the social life that a youngster leads is a task for the determined and Pujara could not have displayed it finer by scoring back-to-back triple centuries at the under-22 level. He sacrificed his life as a teenager and embarked upon a journey to emerge as a successful cricketer.
The tribulations did not end there. Pujara, who wanted to pursue a career as a leg-spin bowler, lost his mother to cancer at the age of seventeen. It was a blow to Pujara as his mother Reenaben was his inspiration. She backed him to such an extent that she would actually participate in Pujara's day-to-day cricketing activities.
"You can imagine what a huge shock it must have been for Chintu when he was told about his mother's death. We were really worried about him, especially when he barely uttered a few words, let alone shed tears, for several days. It was as if his world had collapsed. Reena's death made Chintu more determined, and if you look at his scores and performances post-2005, you can notice a remarkable degree of consistency in them." – Arvind Pujara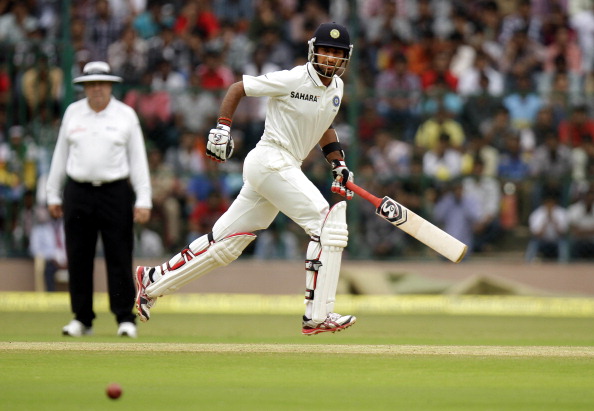 The next part of this saga was the transformation from a school cricketer to a first class cricketer. The refinement was apparent as he converted his talent into runs. He was the highest run-getter for India in the U-19 World Cup in 2009 (349 runs). He followed it up with his debut ton in the Ranji Trophy against Goa when he scored 145 runs.
"All this became apparent when he was selected in the Saurashtra Under-14 team, when he scored back-to-back centuries — 138 against Mumbai and 306 not out versus Baroda in 2000-01. In many ways, the 306 not out turned out to be a turning point in his career. Not only did it earn him national headlines for the first time, his progress as a cricketer has been marked since then." – Arvind Pujara.
Then he burst on to the big stage. It was the 9th of October 2010 when India took on Australia in a Test match. Pujara was selected in the team after the failure of the incumbent number six batsman. The first innings was a disaster as he was bowled for just four runs. The big moment was snatched from him by fate. The ball kept low and beat the bottom half of his bat and hit the stumps. The dejection was clear on his face. The pain of getting out was palpable as he walked back to the pavilion. It seemed as though another talent from the domestic circle was squandering his chances at this level.
But Pujara wouldn't give up. India was chasing 207 runs in the final essay as Pujara was sent ahead of the experienced Rahul Dravid to bat at number three. The audience were amazed at this decision from the skipper, since the man who walked out to bat was a debutante and one more wicket at this stage would have given a much needed boost to Australia.  But what transpired on the field was something phenomenal and will probably go down the history books as the 'birth-of-a-legend' in many ways.
Walking out to bat, Pujara was resolute as he manipulated the Australian bowling with ease. Even if he had any nervousness or pressure, he seldom displayed it as he went about setting himself up. There are hardly any cricketers from India who do not flinch at the thought of facing fast bowlers. Pujara stood apart from the rest as he excelled at the challenge of facing the fast bowlers, driving, cutting and pulling them with sheer disdain and incredible audacity. He was accomplishing the task set for him with impeccable finesse and precise timing. He made 72 runs before getting out and set the match up for the seniors. It was an emphatic victory over the toughest of foes and the credit would definitely belong to Pujara.
Pujara was dropped from the Indian side after a couple of poor outings. Things turned worse when he got himself injured and missed the better part of 2011. His comeback was in doubt and the amount of time it took meant that another player had already taken up his place in the Indian side. But Pujara did not give up as he fought back from the injury and toured with the India A side. Even as his team mates were faltering under alien conditions, Pujara looked rock-solid, emerging as the highest run-getter for his side.
"Some things are destined to be – it just takes us a couple of tries to get there."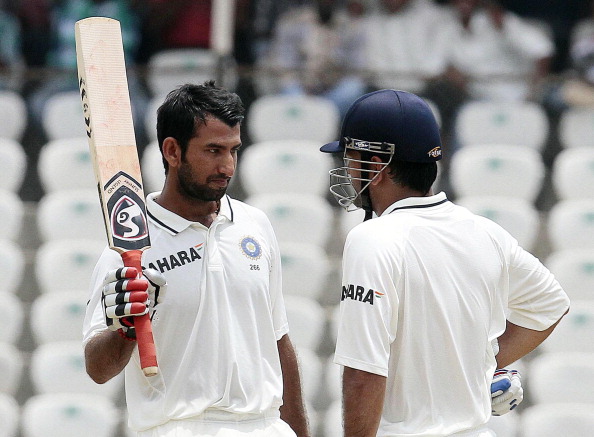 The retirement of Rahul Dravid provided Pujara with another opportunity to cement his place in the side. The set-up couldn't have been better for the Dravid-modeled batsman as he strode out to take the place of the great man. He took  guard even as the critics were baying for his blood and were waiting to call the retirement of Dravid "preposterous". A couple of failures could have destroyed his career but that is where Pujara stands out from the rest of the crowd. He made a fluent 159 against New Zealand and followed it up with a couple of centuries against England, one of which was a double.
The dream runs continues against Australia as he scored his second double ton (204 runs) in the second Test at Hyderabad. It was noteworthy for the kind of application that Pujara displayed, and having a cool head helped as well. He put India in the driver's seat with a humongous lead as he notched up a thousand career runs, the second fastest for India. If he manages to carry on in the same fashion, he could well set several benchmarks and become one of the finest Test match batsmen to have ever emerged from the subcontinent.
Patience and the hunger to stay in the middle are the stand-out attributes of Pujara. He has well and truly replaced Rahul Dravid and has anointed himself as an able successor to the "The Wall". Though he might have a variety of names such as "The Wall 2.0", "Che", and "Chintu", he will always be a "true Kshatriya" to me.