Coca-Cola cup 1997/98 (Desert Storm): Where are they now?
2.21K //
Timeless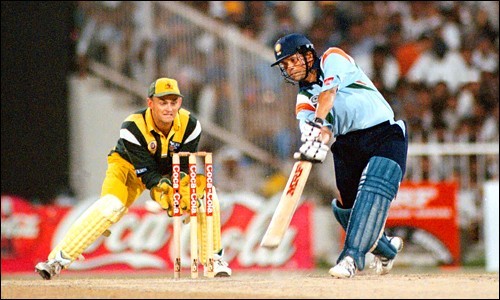 Sachin Tendulkar has achieved everything there is to achieve in the world of cricket. He has conquered all the cricket-playing nations and has played mind-boggling knocks all over the world.
One such knock came in the 1997/98 Coca-Cola Cup in Sharjah, against Australia. In blustery conditions with swirling winds throwing up the dirt, the Little Master batted like a man possessed, like it was the last innings of his life, like every ball he did not punish would later come back to haunt him.
Sachin pulled and hooked, drove and dabbed and basically ripped into Australia's bowling attack and pulled the soul out of it. He scored 143 that day, but the way in which he scored those runs was what captivated fans the world over.
Cricket is considered a team game but on that day, Sachin decided he didn't need teammates. Hell, he even picked up a wicket when the others couldn't.
However, there were still 10 other Indians on the field, 10 Indians who have had varied amounts of success in their respective careers. While most of the players from that Indian side have retired, there are a couple that can still be found in the domestic circuit. On that note, here is a look at what the members of that Indian squad are currently up to.
---
#1 Sachin Tendulkar
Sachin single-handedly won India the cup and finished as the leading run-scorer with 435 runs at an average of 87, miles ahead of any other player. The Little Master was in sublime touch throughout the tournament, amassing scores of 40, 80, 38, and the historic 143, before leading his side to victory with a sensational 134 in the final.
Now considered the greatest batsman of all time (Bradman fans may disagree), Sachin broke every record there was to break in his legendary career. He achieved his ultimate goal in 2011, when India lifted the World Cup trophy in front of their home fans, with Sachin finishing as the side's top run-scorer.
Following his retirement from all forms of cricket in 2013, Sachin has had stints in the commentary box as well as the parliament (he was nominated to the Rajya Sabha in 2012). He served as a mentor for IPL franchise Mumbai Indians and is, at present, a part of the Cricket Advisory Committee.
#2 Sourav Ganguly
The Prince of Kolkata couldn't contribute in the game in question, scratching his way to 17 off 32 balls before being dismissed by Damien Fleming. Ganguly had a relatively poor series by his standards, but still managed to finish as the fourth highest run-scorer, with 184 runs from five matches. However, that was largely due to the fact that he powered his way to a century in the first match against New Zealand.
Ganguly went on to have an immensely successful career, forming possibly the greatest opening combination ever, with Sachin himself. Their partnership has extended beyond just the cricketing field as the two are currently a part of the Cricket Advisory Committee, set up by the BCCI to handle matters relating to Indian cricket.
There is also the small matter of him being the president of the Cricket Association of Bengal.