Cricket is no longer my religion, Sachin is still my God
4.21K //
17 Mar 2012, 15:12 IST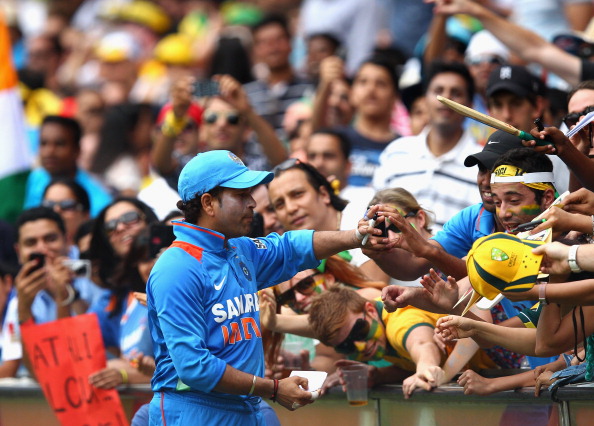 After two decades, you can't reduce Tendulkar's contribution towards my happiness to a stupid stat. The pull out advertisements, the congratulatory tickers on TV, the ghost written articles by former greats means the machine that has fed on Tendulkar's exploits and his failures is as strong as ever. Amidst the hyperbole that leaves a taste of dry vomit in the mouth – the truth, I repeat, is his contribution cannot be reduced to a stupid stat.
For more than a year, Sachin Tendulkar did not score a century. It is a condition he shared with many international cricketers. Coincidentally, India also lost many cricket matches during this period. So the ad club (can't score a single run, can write a magnum opus on how it is scored) got together in a dark room filled with Kachwa chaap smoke, and pored over the record books for the next big campaign. A hundred hundreds! Concept: How do you describe Everest's height without comparing it with something smaller and insignificant? A hundred hundreds! Even the ridiculous Asia Cup can be sold on that one.
A destination was created for the man who built the road. And the more he struggled, the more they said it was important. It would be the thing that will define him. Then they wrote the 1000 word tribute and filed it away. Easy money. Just a matter of time. Tell the shop floor to start making the special edition bottle.
Oh how the prankster struggled! The three digit score just won't come. And so a unique situation was created with a batsman walking into the ground and spectators counting backwards from a hundred. The ninety nine before were forgotten. The one after became everything. When he did not get it, the experts said it is the only thing that occupied his selfish mind. Scientific opinions indicated the missing hundred brought the Indian team and the Greek economy down. Viru can't comb his hair, Gambhir can't take a piss, Mamata has become a human headache, and Kingfisher just won't fly. Sachin, get your act together and score the freaking century.
The boy who survived is getting too old. Somebody do a Pointing on him. Well, wasn't he too young when he started creating magic?
Maybe, I am being too harsh. We are after all a nation of naturally gifted critics. Dravid is too technical, Dhoni can't talk straight, Dada's a schemer, and Kapil has a rural accent. And he is Tendulkar for god sake! An image bigger than the canvas it is captured on. There is enough space for critics else the painting will be too perfect to be beautiful. Tendulkar is fair game for that ripping argument at the kata. The inflation is screwing us, let's screw Tendulkar. Pass the chai.
But the truth dear critic is that little pest brings me joy. You selfish leech swimming in a pool of mediocrity mean nothing to me.
Does he really need a defense? Does he need a definition? Do I need to put a number to the pleasure in watching him being himself, let alone bat? What is that strange connection between my heartbeat and the leather as it leaves that big bat like a tracer bullet? What is a tracer bullet anyways?
Seriously, have you not felt those things? Haven't you enjoyed the Tendulkar show? Who are your heroes? Abhishek Bacchan? Buy a bigger house, for you are not easily pleased.
When I was a young boy I dreamed of playing cricket as Tendulkar played it. I could rattle out the entire card when that West Indian batsman was caught Azhar Bowled Tendulkar with scores tied at 126. I could tell you where Vikram Rathore scored every one of his runs with Tendulkar at the other end.
With time, circumstance, and the gradual reduction in Tendulkar's appearances – Cricket changed. A generation moved from sitting in front of TV for days to simply putting the mandatory Like on the highlight clip on Facebook.  Today, we don't even know Virat Kohli's middle name. That's how disconnected we are. Yet, for middle aged men like me – who now walk around things they once jumped over – Tendulkar has somehow managed to transcend from being a damn good cricket player to being the ultimate role model of life. He bleeds, he struggles, he amazes. He is human, yet he is God. You can't take that away from us.
When he hangs up his boots, I plan to take time off work so I can weep for a few days like a de-Barbied girl. I will then look back on my life lived on the Tendulkar calendar. Hopefully, somebody will stop me from getting a Sachin Forever tattoo.
When he is gone perhaps new heroes will be born and new temples made. But an entire generation will end its relationship with cricket. Till that day, leave him alone. Just let him be.