Cricket: Team India's Need for Speed
1.45K //
31 Jul 2011, 21:42 IST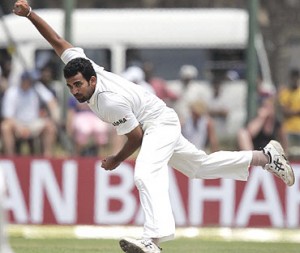 'Solid but Safe'…this is what the media decried about MS Dhoni's captainship after he failed to press home the advantage India had over the Diminutive Windies (an oxymoron in itself) and seemed content with 1-0 series win instead of a impending whitewash. Rain obviously had a lion's share of the blame in this expended opportunity…ably assisted by our conservative batsmanship and fear of losing. But according to me, one of the primary reasons why India fail to knuckle down the opposition (not just the WI series but the England tour also and overseas in general) is the lack of a genuine pacer who can tear apart the opposition and deliver the knockout jab.  What Team India needs is a bowler who can run in and instill fear in the minds of the opposition, a quickie who can sharpen our canines and put on display our killer instinct!
'Why can't we produce out-an-out fast bowlers?' …this is a question that has haunted Indian cricket right for eons. Maybe a Ramchandra Guha can answer it judiciously. How difficult for a cricket frenzy nation like India it is to find 'one'…just 'one' bowler who can bowl at a top speed of 150 + kmph and average speed of 140-145 kmph? Probability figures suggests very high chances of achieving this (considering more than 20% of the population of all cricket playing nations dwells in India) but reality begs to differ.
What we manage to produce instead are hot pan cakes in the domestic arena that fizzle down by the time they manage to clamber to the international arena (either to prolong one's career or to maintain line and length). West Indian fast bowling legend Andy Roberts is not the only one to be baffled by the phenomenon of young Indian pacers suddenly losing speed after showing early promise and start "spinning the ball". He mentioned this by claiming Munaf Patel as the most recent victim of this anomaly which is turning out to be more mysterious than the Bermuda triangle. Munaf joins a long list of Domestic-fast to International-Medium pace converts….Irfan Pathan, Zaheer Khan, RP Singh, Ashish Nehra just to name a few (the list is listless to say the least).
Here is a list of top 10 peak speeds scaled by Indian's and it is not a surprise that none have been able to maintain an average above 140 kmph.
Note: The list is based on data gathered from Google and may not be accurate but is certainly indicative
| | | |
| --- | --- | --- |
| 1 |  J Srinath |  155Kmph (96, South Africa tour) |
| 2 |  Ishant Sharma |  153Kmph (2008 Australia tour) |
| 3 |  A Nehra | 149 Kmph (2003 World cup) |
| 4 |  S Sreesanth | 149 Kmph (Kuala Lumpur tri series 2006) |
| 5 |  RP Singh | 147 Kmph ( 2008 Australia series) |
| 6 |  A Agarkar | 146 Kmph (around 2001-2002) |
| 7 |  Z Khan | 146 Kmph ( 2003 world cup) |
| 8 |  A Bhandari | 145 Kmph (2004 Aus tour) |
| 9 |  VRV Singh | 145 Kmph (2006 Africa tour) |
| 10 | Munaf Patel | 143 Kmph (early 2006) |
 Whenever I moot this idea (India's Need for Speed) to my friends I am faced with a lot of flak. Some say we are a spin dominated country and should maintain our strength and identity. Others justify that we are at a stage where we dominate 2 out of the 3 forms of present day without a genuine fast bowler. 'Why change things' is their logic? I say there is no harm in a James Anderson or a Chris Tremlett ably supported by a Graeme Swann. If England & South Africa can churn out quality spinners, it's high time India reciprocates. One of their theories to which I partially agree is that- line and length matters more than speed…Shaun Pollock, Glen McGrath etc are all top class because of their length/line. In fact 4 out of the top 5 wicket takers (excluding spinners) in tests are bowlers who have mastered the craft of smart bowling. But then what is wrong if your best bowler (in terms of line and length) has a 150+ kmph bowl hurling accomplice at the other end to back up. Even Pollock & McGrath had Donald and Lee soothing batsmen from the other end.
Analysts say it's the gene build up of Indian Homo sapiens which prevents the birth of a fast bowler; which I think is baseless, as our neighbours, who are genetically not so different, seems to produce fast bowlers copiously. One valid agreement is that maybe that fast bowlers abroad follow rigorous training procedures & have a balanced diet routine unlike their Indian counterparts. The other arguments that seem to have true semblance to some extent are lack of good bowling coaches at the club level, only one good pace academy for a population of 1.2 billion and the Sachin factor (where everyone wants to emulate him and take up batting)
The best explanation I could envisage for our Achilles heel (lack of good fast bowlers) is the paucity of good sporting pitches. The state of lip smacking pitches for pacers in India is as vile as infrastructure for other field sports in India besides cricket. It is no good developing fast bowlers in the MRF pace academy and then leaving them stranded in domestic matches with a dust bowl or concrete-like strip to deal with. P.G. Wodehouse would have described this as analogous to developing state-of-the-art facilities for breeding poultry and then handing them over to a butcher even before they conceive.
There seems to be a huge disconnect between the pitches provided in Ranji tournaments and ones available internationally. Budding cricketers would want to take up fast bowling in a batsmen dominated game only when they taste success early on in their career. This is where U-15 & U-19 tours to England, New Zealand should be made more frequent in addition to developing sporting pitches within the country. BCCI's unwillingness to prepare pitches that will foster the art of fast bowling is perplexing to say the least. Maybe it's time for them to get over the IPL saga & showcasing their dominance over world cricket and start thinking about encouraging genuine pace bowlers in the country.
As a true cricket fan, I am waiting for the day when an Indian fast bowler not only tops the fastest bowlers list but is also able to rip apart the opposition on a consistent basis to deliver overseas Test victories abroad. Until then, the wait is on!