Cricket's Closest Contests: India vs Pakistan, Karachi, 2004
3.83K //
26 Nov 2012, 20:49 IST
Whenever India plays Pakistan, the game takes on a whole new definition. In fact, everything else becomes secondary in nature. Studies, work, household chores, you name it. Daily routines come to a standstill as all eyes are glued to every television set in the country. Simply put, it's more than just cricket. The passion exhibited by the supporters of both countries is in its truest form. Lovers and haters of the game breathe the same patriotic air. All of a sudden, cricket becomes a way of life.
2004 was a memorable year as far as Indo-Pak cricketing relations were concerned. India's Prime Minister at that time, Atal Bihari Vajpayee's peace initiative brought forth a mouth-watering clash between the two subcontinent rivals. India were touring Pakistan after a gap of nearly 15 years!
Now that "the stage is set", let's move on to the action.
Ind vs Pak: Samsung Cup 1st ODI, Karachi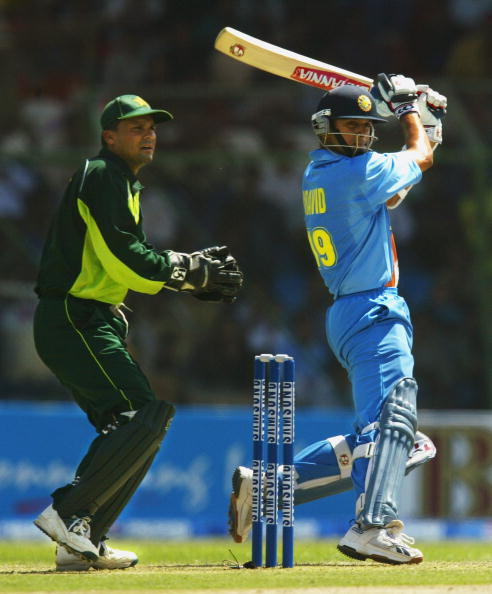 The big and burly captain of Pakistan, Inzamam-ul-Haq won the toss and decided to field. The prospect of exciting individual contests, namely Tendulkar vs Akhtar, made sure the stands were packed to capacity.
Pakistan's new ball duo of Shoaib Akhtar and Mohammed Sami were taken to the cleaners early on as India's openers cut loose. Virender Sehwag was at his berserk-best while Sachin Tendulkar played one classical shot after another. Tendulkar was given a reprieve early on when he was caught off an Akhtar no ball. In the same over, the Master Blaster hooked the speedster for a sensational six. Sachin played a few lovely cover drives and a trademark straight drive, but was eventually caught at backward-point. The Mumbaikar departed after scoring 28 runs as Akhtar claimed the prize wicket.
Meanwhile, Sehwag was scoring runs at the other end in a way that only he can, while the Indian captain Sourav Ganguly executed the sheet anchor's role to perfection. At one point, Ganguly could have been excused for catching flies at the non-striker's end since it was raining boundaries from Sehwag's blade. As it was always the case with him, Sehwag was one shot away from throwing his wicket away. After scoring 79 entertaining runs, Sehwag felt the need to make room to a disguised slower ball from Rana-ul-Hasan, which ultimately resulted in his dismissal. The dashing opener laid the foundation for India as they reached 142-2 in the 15th over. A dream start to a historic series!
Rahul Dravid walked into the mayhem while Ganguly made full use of the crease as he came down the track to maul the spinners and medium pacers alike. After an edgy start, Dravid went on a straight drive rampage. One gorgeous drive after another. By the end of the 25th over, India had already crossed the 200-run mark. Eventually, the Prince of Kolkata departed after top-edging a Rana-ul-Hassan delivery. It was a double break-through for Pakistan as India's next batsman Yuvraj Singh did not last long when Rana claimed the southpaw's wicket, caught by Yasir Hameed.
India stood at 220-4 in the 29th over. Mohammed Kaif was the new batsman. Dravid and Kaif needed to consolidate the start provided by the batsmen before them and they did just that. Kaif utilised his strong onside play to full effect while Dravid rotated the strike effectively from the other end. A brilliant 100+ run partnership from the two gritty batsmen helped India reach 338 in the 48th over. Dravid was on 99 when a slower ball from Akthar and an inside-edge resulted in his unfortunate departure from the crease. Castled and deprived of a well-deserved century, Dravid walked off to the pavilion after playing a gem of an innings. At the end of 50 overs, India accumulated a mammoth total of 349/7. Compliments from your not-so-friendly next door neighbours!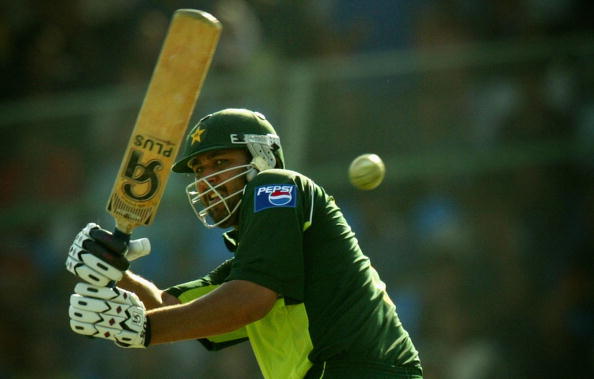 Chasing 350 to win, Pakistan had a steep task ahead. The occasion demanded Pakistan to kick-start an early onslaught. Fortunately for the visiting side, Yasir Hameed and Imran Farhat were not at their best. After a few hits and misses, India got their first wicket through the perennially gleeful Balaji. An inswinger from the Chennai bowler uprooted Hameed's off-stump. The very next over, Zaheer Khan claimed Farhat's wicket, caught behind stumps. Pakistan were staring down the barrel at 32-2 after just 8 overs.
A rescue act was in order and the two men at the crease were two of Pakistan's best batsmen of all time: Inzamam-ul-Haq and Yousuf Youhana (now Mohammed Yousuf). What followed was something India could not have expected. With early inroads and 350 on the board to defend, the Men in Blue were probably a bit complacent. Youhana's calm and composed batting provided the perfect foil for Inzamam to cut loose. Yousuf Youhana with his slow back lift and elegant drives, was simply a treat to watch. Both batsmen treated the Indian spinners (mainly Murali Kartik and Tendulkar) with absolute disdain. Youhana finally fell to Sehwag, caught at long off after compiling a brilliant 135-run partnership with the Pakistan skipper. Having scored 73 runs, laced with 5 fours and 4 massive sixes, Youhana's innings was one to remember. In reality, his dismissal denoted the calm before the storm. Inzi was determined to ruin the Indian parade. The skipper took the attack to the opposition, marching his way to a breezy hundred, his 9th in the ODIs while Younis Khan rotated the strike with ease.
India needed a wicket urgently and the dismissal of Inzamam was without doubt the turning point of the match. After scoring 122 runs off only 102 balls, Inzi edged a slightly quick delivery from Kartik straight to the keeper – a soft dismissal. At this point, Pakistan needed 72 runs off 48 balls to win. Slowly, wickets began to tumble. Quick cameos from Moin Khan and Abdul Razzaq brought Pakistan close. Really, really close. 49.5 overs, 6 to win. Moin Khan was on strike. Pakistan's then coach Javed Miandad could be seen in the team balcony, trying to advise Moin to finish the game off in a similar fashion to Miandad's in 1986 (remember the historic last ball sixer against India at Sharjah?). A full toss from Ashish Nehra which should have been put away in grand style, wasn't. A top-edge went straight to Zaheer at mid-off. India won by a mere 5 runs. Moin Khan failed to finish the job for Pakistan. There ended the great Pakistani chase.
Inzamam's stellar innings that brought the Pakistanis ever so close to victory earned him the Man of the Match award. During the presentation ceremony, Rameez Raja asked Inzi to rate his innings. Pakistan's heavyweight (in all forms of the word) cricketer replied in typical fashion, stating his innings didn't matter one bit if the team ended up losing. The Karachi match set the tone for the rest of the series. India might have claimed the win, but the match will always be remembered for Inzamam's valiant effort.
Kudos, Inzi!
Watch the highlights of this epic match here: