Cricket's Closest Contests: India vs Sri Lanka, Rajkot, 2009
3.89K //
09 Nov 2012, 12:00 IST
"Rajkot was a cricket occasion, not a cricket match." – Harsha Bhogle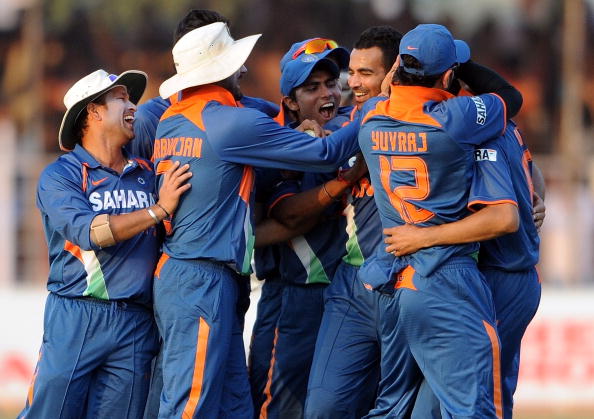 100 overs. Two centuries and four half centuries. 80 boundaries and 24 sixes. Over 820 runs scored, and only three runs separated both sides. When you find numbers like these at the end of a cricket match, you know the fans have had a feast. Almost three years after we were enthralled by an epic high-scoring cliffhanger between Australia and South Africa at the Wanderers, India and Sri Lanka captivated everyone when they were involved in a run-fest at the Madhavrao Scindia Cricket Ground in Rajkot in 2009. Played on a pitch that, as Ravi Shastri aptly described at the post match presentation "would have done a national highway of India proud", this match was a complete treat for the cricket lovers and one that will certainly be etched in their memories in years to come.
So as part of Sportskeeda's Cricket's Closest Contests series, let's relive this humdinger played between these two  Asian power-houses in the winter of 2009.
The setting: December, 2009. The first ODI of the 5-match ODI series between host India and Sri Lanka. India had comfortably won the 3-test series with a 2-0 margin while they had to share the T-20 trophy 1-1. Both teams reached Rajkot looking to kick-off the ODI series on a winning note. While both sides boasted of strong batting line-ups, it was the bowling department which was a cause of concern for both units. Sri Lanka's bowling looked feeble without the services of Lasith Malinga and Muttiah Muralitharan, with Nuwan Kulasekara and Dilhara Fernando the only experienced bowlers in their side. India, on the other hand, relied on the pace trio of Zaheer Khan, Ashish Nehra and Praveen Kumar along with an out-of-form Harbhajan Singh.
The batting, as always, looked solid for both sides. While India had Sachin Tendulkar, Virender Sehwag, Gautam Gambhir, MS Dhoni, Suresh Raina and Virat Kohli in their ranks, Sri Lanka looked equally secure as their batting artillery comprised of stalwarts like Kumar Sangakkara, Tillakaratne Dilshan, Sanath Jayasuriya and Mahela Jayawardene.
Taking into account the early morning start and the grass cover on the pitch, Sangakkara won the toss and asked India to bat first – a decision that backfired tremendously for Sri Lanka, much to the delight of the Indian spectators.
India's innings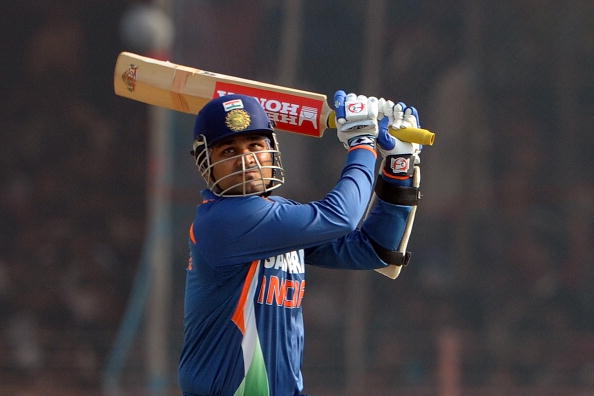 Although the Rajkot pitch was well-grassed, it did not possess any demons to trouble the batsmen; rather, the equal covering of grass made sure that the pitch held up firmly, making life easier for the batsmen. Openers Tendulkar and Sehwag started sedately with only 19 runs coming of the first 5 overs. But soon, Sehwag exploded, hammering debutant Welegedara for three fours in the 6th over.
Thereafter, Sri Lanka was all over the place. Sehwag stepped on the accelerator and dismantled the Sri Lankan bowling attack. He was beautifully supported by Tendulkar, who played some elegant drives during his knock of 69. Lack of quality in Sri Lanka's attack made sure that both of them scored runs with languid ease as India reached 150 in just 19 overs.
After Tendulkar's departure, captain MS Dhoni promoted himself to no. 3 to make merry on a flat surface and a timid Sri Lankan attack. Sehwag carried on with his destructive ways and reached a ton in just 66 balls. Dhoni also bludgeoned his way to a half century in just 34 balls. India raced to 300 in just the 35th over and looked good to go past their highest ever ODI score. Sehwag perished after a breath-taking knock of 146 of just 102 balls. Dhoni, after 72 from just 53 balls, followed four balls later.
The stutter continued as India lost Gambhir, Raina and Harbhajan in quick succession, but cameos from Ravinder Jadeja and Virat Kohli made sure that records tumbled in the final overs as India made 414 for 7 in their 50 overs, the highest ever total in their ODI history.
Sri Lanka's innings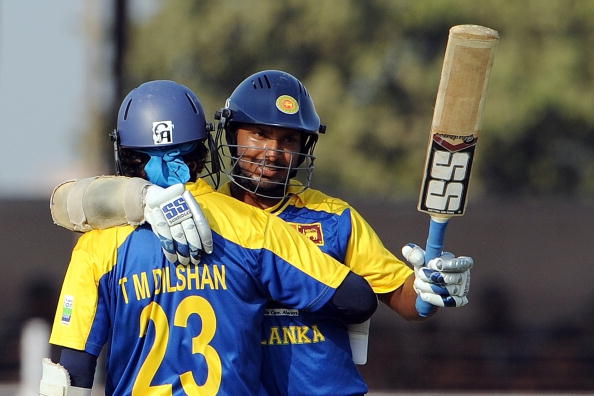 Most times, when you have to score eight-an-over from the very first ball, when you are 'behind the eight-ball', you end up playing catch up cricket from the very first delivery. Chasing 414 was extremely tough, but it wasn't out of question. With players like Dilshan, Sangakkara and Jayasuriya, Sri Lanka had enough fire-power to overhaul India's score. Also, the Wanderers game of 2006 and the unpredictable nature of Indian bowlers would have certainly given Sri Lanka some hope.
Tharanga and Dilshan looked positive from the outset and came out with genuine intent to win the match. Tharanga should have been back in the hut early, but he was grassed by Kohli on 10. He made India pay along with Dilshan, who himself cut lose with a flurry of boundaries as Sri Lanka raced to 81 in 10 overs. Zaheer Khan was brought as the first change bowler, but he was greeted by a crashing cover drive, while Jadeja was hammered for 17 in his first over. The opening duo put up 188 runs for the first wicket, and while Tharanga was dismissed for 67 stumped off the bowling of Raina, Dilshan carried on to reach a brilliant ton in just 73 balls. Dilshan continued to slaughter the Indian attack from one end, and was joined by Sangakkara, who himself showed no mercy on the bowlers.
Zaheer dropped Sangakkara when he was on 16, and thereafter Sangakkara made India pay heavily. In the 35th over of the Sri Lankan innings, Sangakkara clobbered 21 off Zaheer Khan in an over which read 2,4,6,4,4,1. Sri Lanka reached 300 in just the 36th over, needing just 103 in 84 deliveries with 9 wickets in hand.
The turning point
When you need just 103 in 84 balls with 9 wickets in hand and two well-set batsman in the middle, you have to think that it's the batting side who are the favourites. But in the 37th over, Praveen Kumar got rid of Sangakkara with a slower delivery after Sangakkara had made 90 off just 43 balls, ending what probably was the innings of the match. Harbhajan returned to have Jayasuriya stumped in the very next over. After Dilshan got castled in Harbhajan's next over, the game once again shifted in balance. Kohli ran out Jayawardene in the 40th over as Sri Lanka's  seemed like losing the plot, turning the match in India's favour. Still, Angelo Mathews and Thilina Kamdamby kept Sri Lanka in the hunt with singles and occasional boundaries and tried to make sure that the asking rate didn't go out of their reach.
The final few overs:
Sri Lanka needed just 15 from the last the 2 overs with Mathews and Kamdamby in the middle when disaster struck them. Kamdamby pulled one off Zaheer Khan to mid-wicket, Tendulkar gathered the ball and threw it on the half volley to Zaheer. Kamdamby didn't bother to ground the bat as Zaheer collected the throw cleanly and disturbed the stumps. Thilan Samaraweera was also caught short by Raina and suddenly, Sri lanka needed 11 runs from the last 6 deliveries.
MS Dhoni asked Ashish Nehra to bowl the final over. A single from Kulasekera and couple of twos by Mathews brought it down to 6 from 3 deliveries. Nehra then bowled a low full-toss to Mathews, who got under it but could not get the elevation and was caught by Sachin Tendulkar at mid-wicket, who probably took the most important catch of the game. As Mathews got dismissed, along with it ended Sri Lanka's hopes. Sri Lanka ended up with 411 runs and still lost the match by 3 runs, as India took a 1-0 lead in the 5-match series.
Virender Sehwag was adjudged the man-of-the-match. With 825 runs scored in a single day, it wasn't the fairest of contests between bat and ball, and one which came under the scrutiny of the purists. But whatever people might say, this game at Rajkot was certainly a wonderful advertisement for ODI cricket, and a spectacle where every fan got his money's worth.
Read more of this series here.