Who says Dhoni can't bat in Tests?
3.17K //
18 Dec 2012, 18:26 IST
"Talent is born within, technique comes with practice".
The awkward stance, mixed with the clumsy gait and the short jab, which is termed as 'defence' in his language, has always been a part of his legacy. His mannerisms are always unique on the field, right from the way he punches the handle of his bat while batting to using the bat as support while running. Mahendra Singh Dhoni, the most eccentric batsman of the Indian team, has always had his own style, right from the long golden hair which he sported while he was still the new kid on the block to the "salt and pepper" look that is a part of "Being Dhoni!" now. His journey to the top has been incredible and a source of inspiration for the youngsters, for the kind of belief he has wrought in them – you can be a star if you choose to work hard rather than blame the lack of technique, luck and skill.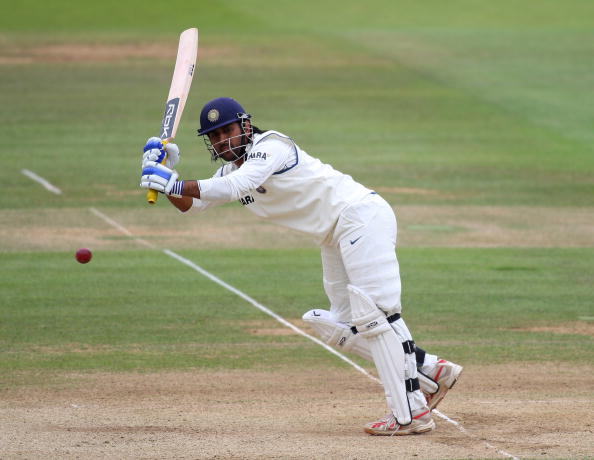 It is said that players without proper technique cannot survive in international cricket. Dhoni has been the advocate of the opposite and has remained successful throughout the years with mind-blowing consistency and temperament in the shorter formats.  But doubts have risen over his place in the test team owing to his poor recent performances, though he has been prolific in limited overs cricket.
Dhoni has earned the disapproval of the critics time and again for the poor and absurd technique he displays while batting. Having taken up cricket as a specialist wicket keeper in the beginning, Dhoni perfected an unparalleled and effective style while batting, though not pleasing to the eye. This has raised many an eyebrow and Dhoni has always been the subject of fans' biased views.
A wicket-keeper's primary job is to keep wickets and pouch catches without any errors. Batting is secondary to keepers. But with the level of competition increasing with every passing day, they are expected to form a vital part of the batting lineup. Traditionally, keepers who had an average of 25 were considered to be pretty good, while more than 25 indicated an excellent wicket-keeping batsman.
But the scenario today is completely different. A Test average of 25 is considered to be mediocre even for a bowling all-rounder. In my opinion, a test average of 35 or more for a wicket-keeper is extremely good and Dhoni should be given some credit to have preserved that average throughout his career. Dhoni has played his part in getting some quick runs with unprecedented consistency.
Playing at number seven along with the tail is a difficult task, especially if the team has lost some quick wickets. An opener would know for sure that he is going to walk in when the score reads 0-0. The upper middle order, especially number three and four would always be ready to grind it out no matter what the score is. But the role of a number seven batsman varies with every innings. Sometimes he has to walk in when the scoreboard reads 50-5 and has to stop the slide and bat defensively, whereas in some other circumstances he has to play a quick innings when the score is about 400-5. He would be expected to hit some lusty blows to extend the lead without squandering much time. Either way, he is under extreme pressure to perform and being the last recognized batsman doesn't make it any easier for him. People always expect the number six and seven batsmen to score the runs in case of a collapse. We have always been hard on the lower middle order batsmen and it's quite mean to blame them.
Dhoni has played some good knocks playing at number seven, and has won matches for us in the past. I agree that he has been effective mostly in home conditions, but that does not take away anything from his efforts.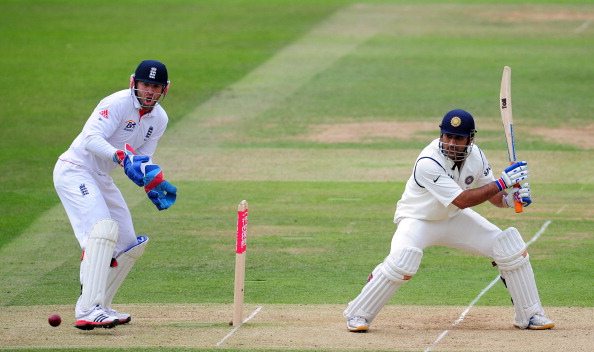 I would like to illustrate two of Dhoni's significant innings from both the above mentioned categories to prove his versatility in Test cricket. The first Test between India and Sri Lanka in Motera in 2009 is a classic example of his Test playing abilities. India was in a precarious position, having lost half the side for fewer than 160 runs. Dhoni walked in, joining Rahul Dravid to stage an incredible comeback. The skipper made a well-compiled century (110) to take India to safety. He played with extreme caution, having seen the kind of swing and bounce Chanaka Welegedera was extracting from the conditions. He was an able ally for Rahul Dravid, easing the pressure off the veteran batsman.
The next scenario is from the third Test between India and Sri Lanka in the same series at Mumbai. India was off to a flyer, thanks to a brilliant 293 by Virender Sehwag. He was walloping the bowlers left right and centre. With the dismissal of Sehwag, India needed a solid partnership to extend the lead. Dhoni responded with a 150-ball century which gave the much required impetus to declare with enough runs on the board. He was shielding the tail-enders as well, which was the talking point of his innings. His innings made sure that India did not have to bat again in the match and in the end, India won comfortably by an innings.
It sounds really clichéd to mention time and again that the wicket-keeper's job is the most difficult job in cricket. Yet, people choose to ignore that when they criticize Dhoni. It isn't easy, keeping wickets for more than two days and having to bat well to save a match. This is why wicket-keepers were given reprieves for their indifferent performances with the bat in the past. Dhoni has been pretty decent in that aspect. The 48 runs he scored against New Zealand while chasing, substantiated his significance to the team.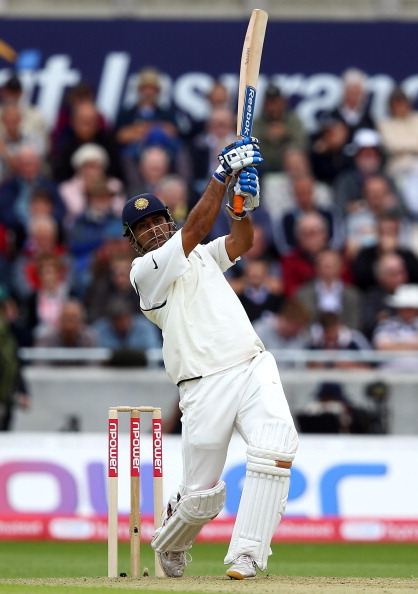 One can't really say that Dhoni is only suited to limited overs cricket after seeing his performances with the bat in Tests. In fact, there are under-cooked evidences in the recently concluded Test series to demonstrate his competence in the longer format. Though he did not score much, the two fifties he made (52 and 99) were worthy of being called genuine Test knocks. The first half century in Kolkata came when the team was struggling at 215-5. Sachin got out soon after Dhoni came in to bat and Dhoni was left to fend for himself along with the tail-enders. But he played around sensibly and did not expose the tail-enders to "save his average". He kept the England bowlers at bay for nearly three hours before edging one off Steven Finn. Though it wasn't a huge score in the context of the match, it showed that Dhoni was indeed capable of grinding it out. Had he an able partner, he could have gone on to make a century.
India were struggling in the series and Dhoni once again came to the fore in the final Test of the series with a gritty knock of 99 runs, which saved the face of the Indian team. The batsmen once again collapsed under the might of the English bowling, reeling at 4-70 when Dhoni joined Virat Kohli in the middle. He was under extreme pressure to save the match, having faced the same predicament for the past three Tests. He was a little edgy and tentative at the start, with the pressure showing in his approach. But he soothed his nerves soon after and put up a brilliant partnership with Virat Kohli. India would have faced yet another defeat, if not for this partnership. The highlights of this innings were the patience and determination that Dhoni exuded. He was never one to defend, but he did that in spite of himself for the greater cause, piloting a young Kohli along with him.
Dhoni is a perfect example of a number seven batsman, and it is cruel to ask him to score big every time he walks in to bat. It's like demanding Sehwag pick up five wickets every time he is asked to roll his arm over. Agreed, Dhoni should be more consistent, but that doesn't mean he should be relied upon to get the runs when we have specialist batsmen at the top of the order. Dhoni should be allowed to bat freely, because he is a responsible person when it comes to batting and I have never seen him throw away his wicket in any form of the game. Therefore, he should be trusted and allowed to bat the way he usually does!