Dhoni – Shishya or The Guru?
1.78K //
13 Jul 2013, 06:54 IST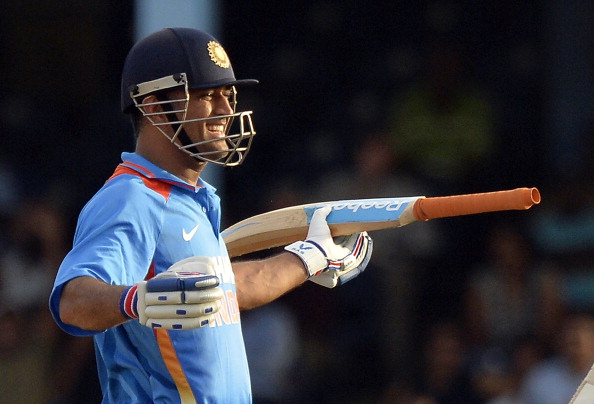 Abhimanyu, Arjuna's son, began his education while he was still in his mother's womb. He overheard the secrets of how to enter and destroy the 'Chakravyuh'. But he only heard about entering the 'Chakravyuh' and did not know the trick to exit this war formation. For a 16-year-old to lead an army against thousands of the Kauravas and take them by surprise, Abhimanyu did have the supreme qualities of bravery, leadership, patience and confidence in his decisions.
Coming to 2013, when I try to think of a person who could be the Abhimanyu of today, my thoughts create an image of Mahendra Singh Dhoni. The Indian captain possesses all the aforementioned qualities, but the thing that makes Dhoni different is his ability to harness those qualities time and again. Another thing that separates him is that he knows his way out of every 'Chakravyuh'.
MSD, apart from being famous for the 'helicopter shot' and the 'Captain Cool' tag, carries with himself a flair, which was supposedly spotted by Sachin Tendulkar, who recommended him as the captain for the 2007 T20 World Cup. The 2001 India versus Australia series was the turning point of Indian cricket. But the victory at the T20 World Cup in 2007 was the re-birth of a cricketing nation which was recovering from the disappointment of the 50-over World Cup disaster held in the same year. The Indian cricket board did take tough decisions post the World Cup failure, and one of them was handing the chariot to a young MSD.
How many of us are good at taking decisions? How many of us are good at taking decisions in crisis? And how many of us are brilliant at taking a decision when two billion people are looking up to us? Dhoni has always been numero uno in the list of the people taking brave decisions. Some called them senseless, some called them brave, some called them plain lucky. But even luck favours someone who is brave and is ready to gamble.
MSD will not only be remembered for Joginder Sharma's heroics in the T20 World Cup final, but will also be remembered for selecting Yuvraj Singh for 2011 World Cup, making a talented but struggling Rohit Sharma open the innings in Champions Trophy, making Ravindra Jadeja look  like a 'game-changer', letting Mohit Sharma be the strike bowler for Chennai Super Kings (IPL-6) and trusting Umesh Yadav and Ishant Sharma all the way along.
We all know the result in each case. Before the mentioned people etched their names in history, their names did not even figure in the 17 player squad of India for years. What made these talented people different? Talent can open the first door, second door or even the third door to success, but it is the ability to open the last door that distinguishes a player. MSD not only put his trust in these people, but also made them realise their importance and got the best out of them. It is said that a team is only good as its leader and Dhoni has reaffirmed this every time during the course of his captaincy.
For the past six years, MSD has played the role of a mentor, a guide and a team player. He has, time and again, showed the knack of pulling out the best from every player he has had as his resource. With no seniors playing in the T20 WC, he made Uthappa and Sharma look like the strengths of the middle order. No Zaheer Khan and he made RP Singh look like a strike bowler. No Sehwag and Gambhir, and we very well know what Dhawan and Vijay did to Australia.
Almost all the time, the results are associated with the way you finish your work. Are you a great finisher? A study shows that people are motivated, enthusiastic and cool headed at the start. But as they approach the finish line of their work, they tend to get slow and do not perform with the same efficiency as at the start. It takes a lot to be a great finisher and Dhoni, undoubtedly, is a prime example of a great finisher at work.
Your team is in trouble – 30 odd runs required with one wicket to go, and you need someone to seal the game. Dhoni opens the saviour umbrella and leads from the front. A team would always love to have a leader who puts his hand up and says – Let me wrap it up boys!
Having all the ICC trophies under his belt, Dhoni has proved to be a worthy leader. It might take a little time for him to be on the list of the greatest captains of all time since our world is ruled by statistics, but any cricket fanatic will definitely acknowledge his captaincy.
Let's go to 2020 for a moment. I can see MSD being the guest of honour at one of the B-schools, sharing his experiences on team management, using resources, taking 'odd' decisions and backing your decisions.
Such moments come after enough experience and achievements. But there is still a question that stumbles me. Is MSD the greatest student of the game or the greatest teacher of the game? I say – greatest teacher. It is surprising to see someone keep a straight mid-off and a long off for Kieron Pollard and get him out next ball caught at straight mid-off or have the famous leg-slip for an off-spinner.
Dhoni has it all; just like his batting, his decisions are unconventional, but they make 1.2 billion people rejoice, cheer and sleep well.