Down the memory lane - Tendulkar and Kambli's blitz at Wankhede
1.80K //
21 Nov 2012, 09:38 IST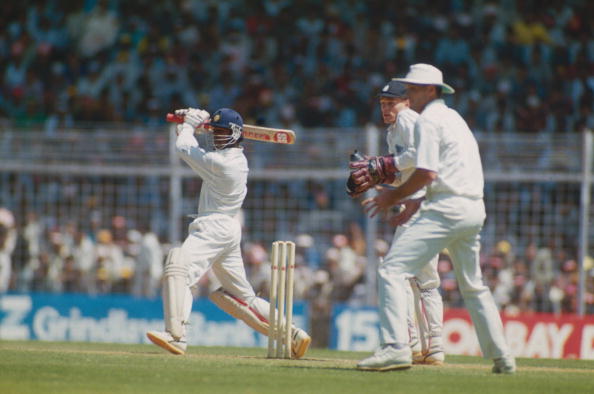 In 1993, the English team arrived at the Wankhede Stadium for the third Test match after having lost the first two matches at Calcutta and Madras quite easily. The game at Mumbai featured two of her favourite sons – Vinod Kambli and Sachin Tendulkar. A partnership of 664 runs, for their school Shardashram Vidyamandir, made the cricket aficionados take notice of these kids in the season of 1988.
Before the third test match in 1993, Kambli was just two test matches old and was coming to terms with the demands of the longest format of the game. Tendulkar was in his fourth season, twenty-three test matches old, and had established himself in the middle-order. It was his first game at his home ground. Tendulkar was fresh from a knock of 165 at Madras against a mediocre England bowling attack.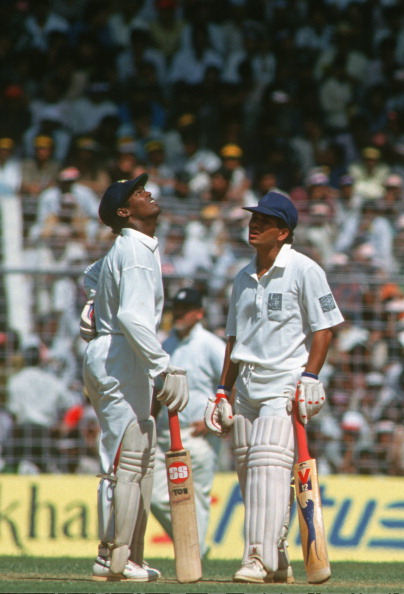 By the end of day two, which was a Saturday, India were 144 for the loss of one wicket, after England scored 347 runs riding on Graeme Hick's 178. On day three, Mumbai was expecting to see Kambli-Tendulkar alliance for the very first time in test matches. Since it was a Sunday, there was a lot of rush in the stadium.
Navjot Singh Sidhu was out in the first session of day three on 79, and suddenly there was a roar in the crowd. Sachin Tendulkar had arrived in the middle. Kambli was well-set by that time and was batting in his forties. These two friends had been together many times – be it a Harris Shield Game or a Ranji Trophy game for Bombay. But this was top-notch cricket – A Test Match: a format which pundits say tests the ultimate character of any player.
Tendulkar got off-the-mark with a boundary, playing a cut off Tufnell. Two balls later he repeated the same shot and got the same result. At the same time, Kambli was toying with the bowling and got a tad overconfident. He tried a lofted shot off John Embury (off-spinner) and was dropped by Phil DeFreitas at long-off. It was a lucky escape. Ramakant Achrekar, who coached both Tendulkar and Kambli in school, surely must have given Kambli an earful after he played a rash shot after crossing his maiden half-century in Test matches.
The new ball was taken by England. India were not too perturbed by that. Kambli welcomed DeFreitas with a whip off his hips for a four. Kambli then hit the same bowler for two consecutive boundaries – one was a square drive and other was a cover drive, during the fag-end of his second spell. "His (Kambli's) square drive reminds me off the West Indies great Roy Fredericks," said Geoffery Boycott, who was covering that series as a commentator.
Tendulkar hit Chris Lewis off the back foot through the covers – which was the shot of the match. It was a great jugalbaandi between two old friends who were matching each other shot-by-shot.
Kambli brought up his first Test match hundred when he steered off-spinner Graeme Hick's faster one for a boundary. Bombay crowd gave a standing ovation to the new star of Indian batting. Tendulkar, who had five Test match hundreds to his name that time, congratulated his schoolmate. There were firecrackers burst and an invasion from the fans.
Tendulkar, in the meanwhile, notched up his seventh test match fifty. He danced down the track and drove Tufnell through mid-wicket for a boundary, all along the ground. Those were ominous signs for England. Kambli hit two fours off Tufnell and England's best spinner was taking a huge bashing at the hands off the two favourite sons of Mumbai. Embury and Hick did not cause any trouble to these two batsmen.
The post-tea session on Day three produced a lot of attacking shots from the duo. Just when things looked good, Tendulkar played back to a Tufnell's arm ball and was adjudged leg before wicket for 78. The 194-run partnership was finally broken. The crowd was in a state of shock. Kambli remained unbeaten on 168 at the end of day's play. On the morning of the forth day, his coach Acherekar had come to see his pupil's batting. Kambli scored 224 runs, which must have made his coach proud. He might still have scolded Kambli for playing a loose drive and getting caught at backward point. Mumbai batsmen are not 'khadoos' for no reason. The coaches play a huge part in that.
There was no doubt in anybody's mind that the two Mumbai wunderkinds would serve Indian Cricket for a long time. One of the wunderkinds, twenty years hence, would be playing his 192nd Test match at the same venue on the 23rd of November. Could he make amends for the lost chance of scoring a century in 1993? Another wunderkind was lost in the wilderness but his talent was a rare one.