ECB wants the government to make match-fixing a criminal offence
2.03K //
17 May 2014, 15:02 IST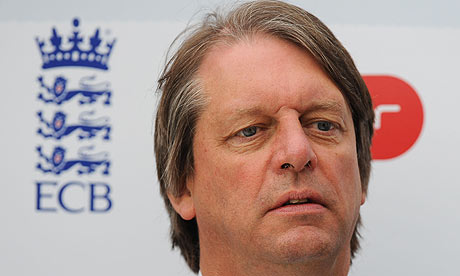 With the alarming number of corruption allegations on international cricket players, cricket boards across the world are seeking to involve the judiciary wing to clean the game. Giles Clarke, the chairman of the England and Wales Cricket Board established that ECB is working with the government to make match-fixing a criminal offence.
The ECB and Cricket Australia have held discussions with the ICC regarding the investigation of 12 professional players from around the world by the ICC anti-corruption squad. The alleged players are being probed either for match-fixing or failing to report the approach of a manipulator. Former New Zealand cricketer, Lou Vincent is reported to be one among the 12 international players to be investigated for the three county matches that he was a part of.
Players who have been found guilty of spot fixing have been tried under the 1906 Corruption Act rather than the Gambling Act. Mervyn Westfield, who is the first county cricketer in England to be prosecuted for spot-fixing has also been tried under the Corruption Act. ECB is eager on providing a stricter punishment to probable match-fixers.
"We don't comment on ongoing investigations though any allegation suggesting corruption in sport is damaging. It's important that we have appropriate legislation and sentences for cheating sport for material and financial gain," Clarke said.
"The ECB is working very closely with the government in the hope of finding some route through to provide legislation that covers this. The ECB is playing a full role in the ICC's review of the efficiency and effectiveness of the anti-corruption unit." he added.
Vincent becomes the lone suspicion for the three county matches that are being investigated - Sussex's CB40 match against Kent in 2011; a Sussex Twenty20 against Lancashire; and a Lancashire Twenty20 match against Durham. Vincent's team-mate Mal Loye, who is not under investigation had reported of being approached by the Kiwi to spot-fix matches.
ICC's anti-corruption unit's effectiveness was reviewed in a meeting in London on Thursday and Friday that was attended by ECB and CA, who seem to be worried about the unit's ability.
Since Westfield's four-month prison sentence in 2012, ECB's anti-corruption unit, led by Chris Watts, has appointed a small team that is positioned at all televised small over games.
However, the most challenging task the anti-corruption unit faces is the viewers' inability to beat time delay and phoning Asia for betting purposes. Since the unit is not entitled with the power to arrest, ECB is working with counties to ban those involved in such cases.