England 22 for no loss at lunch
695 //
06 Dec 2012, 12:32 IST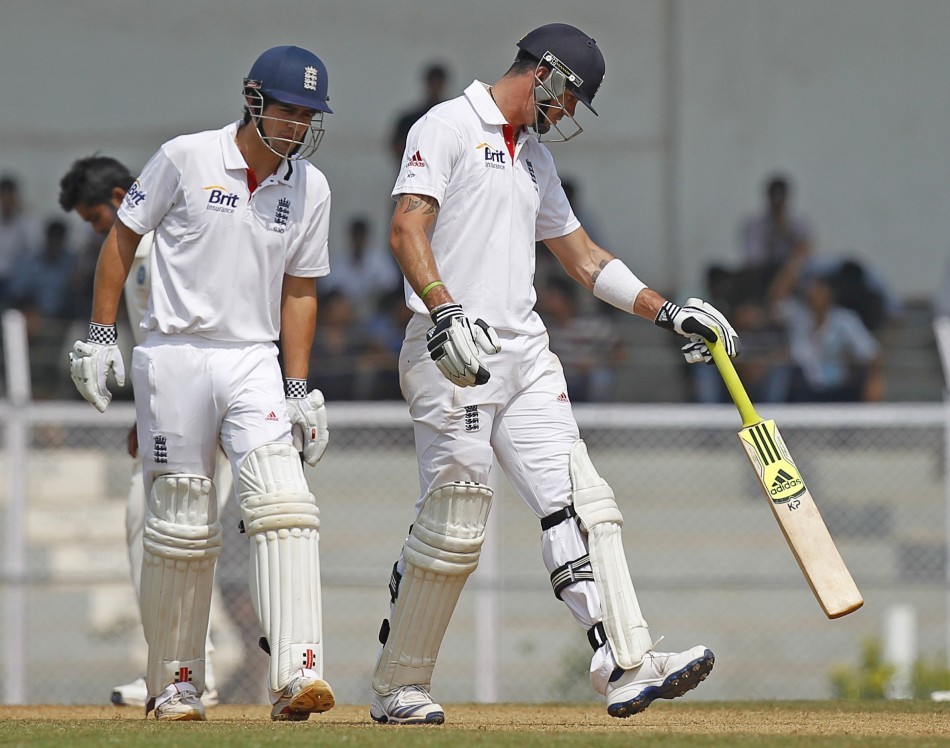 Kolkata, Dec 6 – England were 22 for no loss in the first innings after bowling out India for 316 in the first session on the second day of the third cricket Test at the Eden Gardens here Thursday.
Skipper Alastair Cook was batting on 17 and Nick Compton five at the lunch break.
Earlier, resuming on 273 for seven, India lost three wickets for 43 runs in the first hour to wrap up the innings.
Mahendra Singh Dhoni scored 52. Sachin Tendulkar was top scorer with 76 while opening batsman Gautam Gambhir made 60.
England's left arm spinner Monty Panesar bagged four for 90 while pacer James Anderson finished with three for 89.
The scoreboard of India's first innings against England on the second day of the third cricket Test at the Eden Gardens here Thursday:
India (1st innings)
Gautam Gambhir c Trott b Panesar 60
Virender Sehwag run out (Finn/Prior) 23
Cheteshwar Pujara b Panesar 16
Sachin Tendulkar c Prior b Anderson 76
Virat Kohli c Swann b Anderson 6
Yuvraj Singh c Cook b Swann 32
Mahendra Singh Dhoni c Cook b Finn 52
Ravichandran Ashwin b Anderson 21
Zaheer Khan lbw Panesar 6
Ishant Sharma b Panesar 0
Pragyan Ojha not out 0
Extras (b 5, lb 13, w 5, nb 1) 24
Total (all out in 105 overs) 316
Fall of wickets: 1-47 (Sehwag, 10.1 overs), 2-88 (Pujara, 25.4), 3-117 (Gambhir, 41.1), 4-136 (Kohli, 48.4), 5-215 (Yuvraj Singh, 68.3), 6-230 (Tendulkar, 74.1), 7-268 (Ashwin, 88.3), 8-292 (Khan, 93.6), 9-296 (Sharma, 95.3), 10-316 (Dhoni, 104.6)
Bowling: James Anderson 28-7-89-3; Steve Finn 21-2-73-1; Monty Panesar 40-13-90-4; Graeme Swann 16-3-46-1;
England (1st innings)
Alastair Cook batting 17
Nick Compton batting 5
Extras 0
Total (for no loss in 11 overs) 22
Bowling: Zaheer Khan 5-2-14-0; Ishant Sharma 5-1-8-0; Ravichandran Ashwin 1-1-0-0