England in New Zealand - Series Ratings
826 //
29 Mar 2013, 10:45 IST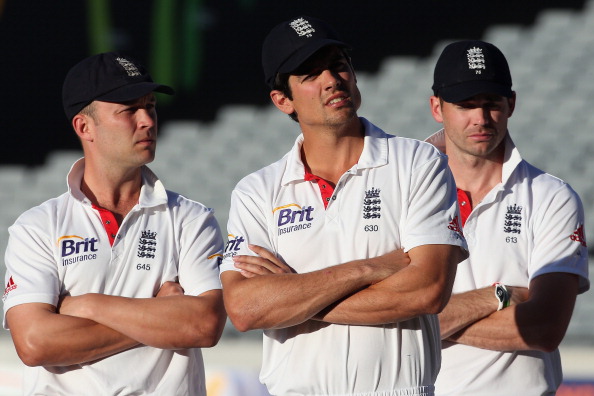 In typically arrogant fashion, England swanned down under expecting to dominate a young New Zealand side fraught with problems. Simple, surely?
Not so. Whilst New Zealand played well, England were a shadow of the side they can be, and without key players, the strength in depth England fans boast about went badly missing as they scraped a series draw 0-0. So, who did have a good series?
Alastair Cook (c) – 4
"Second only to Bradman" crowed McCullum only a couple of weeks ago. If that was a tactic to heap pressure on to the England captain's shoulders, then it worked. Cook's stewardship was weak and confused, particularly under pressure at Auckland, and for the first time in a long time, Cook's batting looked shaky. 116 on a featherbed at Dunedin was the only high point of a disappointing tour. File under 'character building'.
Nick Compton – 8
Inconsistency is the Achilles heel of the England side, and on this tour, no player summed this up better than new boy Nick Compton. After a first innings failure in Dunedin, he struck a hard fought maiden ton and then in his very next knock, repeated the performance. Three rank failures out of five isn't the worst tour performance of all time, but those pre-tour question marks would have evaporated entirely with at least a start in one of these.
Jonathan Trott – 7
England's Mr Dependable has had a tricky few months, and this tour was no different. For the first time, loose shots came into his game, and including interviews, his tour reeked of arrogance. His 121 at Wellington was a fine innings, but Trott will be the first to admit that cheerful starts are not quite what his side required at number 3 on some of the flattest wickets in recent memory. A run of 45, 52, 121, 27 and 37 is frustrating as much as it is adequate.
Kevin Pietersen – 6.5
The 'X' factor. The England match winner returned home early due to a bad knee injury that will also see him miss out on this year's IPL tournament. Before that, he was out off the first ball of his tour in the first Test, followed it up with a scratchy 17 and then smashed an easy on the eye 73 before giving his wicket away at Wellington. He'll want to strap his big scoring boots on in time for his return in the English summer.
Ian Bell – 6.5
Saved from a lower rating with an important and mature knock in the second innings at Auckland, Bell continued his Test match struggles on this tour. Always pretty to watch, Bell flirts between supremo to struggler from tour to tour, and on decks, he would usually fill his boots on; this time Bell came up short.
Joe Root – 5
Prior to the Test matches, he was England cricket's flavour of the month. After the second Test, his place was back to being questioned, and after the third, the praise was back, deservedly his once again. Still very much feeling his way around international cricket, Root will point to the limited overs matches for solace as he crawled through the Tests. That said, I expect the young Yorkshireman will go on to achieve huge things. The maturity he showed during his match saving innings at Auckland is just a taster of his talent.
Jonny Bairstow – 2
Harsh but fair. Bairstow was a victim of poor planning by the England management as he was thrown in to replace Kevin Pietersen, having not batted in over five weeks. He scored only 3 and 6 in that solitary Test and looked all at sea.
Matt Prior – 9
England's best player of the tour can now firmly put his hand up as the best wicket-keeper batsman in Test cricket. Two starts in the first Test was the entree for some incredible Test match batting in the second and first, and his match saving century in at Auckland will go down as one of the great innings. Faultless glove work backed up his impressive batting, which was no doubt elevated due to him being awarded the vice-captaincy for the first time. Possibly the most improved player in world cricket right now.
Stuart Broad – 7
Again, inconsistent, with a side of sulk. If Jonathan Trott is England's Mr. Dependent, then Broad takes the nickname of Mr Grumpy. No fielder was safe from his sideways looks, tuts and moans, and his spell on the fourth day of the final Test was shocking. However, fourteen wickets in the three match series is not to be sniffed at, and his 6-51 at Wellington was a throw back to his 2009 Aussie slaying heyday. In truth, his batting has gone to pieces, and save his all important blockathon with Prior, he looked all over the place at the crease. Bowling good, batting (with one huge exception) bad, attitude ugly.
Steven Finn – 6
Handed an opportunity to perform by a combination of injury and form, Finn will be indifferent with his efforts down under. A 6 wicket haul masks the difficulties he had on dead wickets, but Cook and Flower would have hoped their fastest, tallest bowler would have been more effective in those conditions. As ever he went for too many runs, but some solace can be found in his batting. Two 20s and a maiden half century suggest that his tag as genuine number eleven can be shaken off.
James Anderson – 6
England's main man wasn't at his best down under. That said, he took 13 wickets, at least one in every over, and looked to be the only bowler with any real control when the going got tough. Anderson was clearly playing with an injury for at least the second half of the series, and his management will be wary of his fitness going into an important year for England cricket. He led the line with a fine attitude, if a little under par.
Monty Panesar – 3
The Sikh of tweak continued his Jekyll and Hyde relationship with the English media by producing a poor series return. Whilst his supporters claimed he would cruise into any other Test side in the world, on flat decks he showcased his flaws with unimaginative and fearful spells of either flat, defensive darts or turgid and spinless flight. Panesar was completely out-bowled by rookie Bruce Martin throughout the series, and you've got to think that the only Englishman who enjoyed Panesar's tour was James Tredwell.