England make a comeback in 2nd Test
779 //
24 Nov 2012, 20:32 IST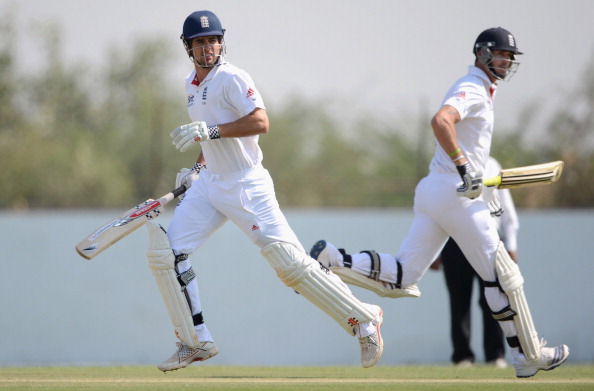 A lot has changed from the first test between England and India in Ahmadabad. England is not the same opposition that took on India before. English bowlers started on a high on the first day of the second test match in Mumbai, especially Monty Panesar, who is playing his first test in this tour. He had taken 4 wickets, including the key wickets of Sehwag, who is playing his 100th test match, Sachin Tendulkar and Virat Kohli. The attacking field placements by the English captain made India stutter briefly at 119/5 and it looked as if  England might wrap the innings up cheaply. But the composure of Pujara denied that opportunity to England. Pujara had two handy partnerships with Indian skipper Dhoni and then later with Ashwin. In the company of Pujara, Ashwin scored a half century and that meant India were at a comfortable position as Pujara scored his 3rd century, his second in this series. By the end of the day, India were at a comfortable position with 266/6 as the top scorers for India were batting by the end of the day.
Day 2 started badly for India as Ashwin went out plumb lbw off Monty Panesar. With this wicket, Panesar justified his selection in the team and completed his 11th 5-wicket haul. Harbhajan Singh, who is making a comeback into the test team, came to crease and started to find it difficult, but eventually scored a few lusty blows which made sure India reached 300 mark. He was trapped plumb in front of the wicket off the bowling of Swann who was unlucky on Day 1. Pujara thought of accelerating and was stumped by Prior on the bowling of Swann. It meant that Pujara got out for the first time in this series, which shows the great composure of the youngster and then Swann wrapped up the Indian innings, after India reached 327. Swann and Panesar were pick of the bowlers with 5 and 4 wickets respectively.
By seeing the track, which was not good for batting earlier, people started to expect a collapse of the England team, but England openers didn't let that happen as they started to read the spinners well and played for 31 overs before Ojha struck twice with the wickets of young Nick Compton and Trott. With KP coming to crease, Indians were fancying their chances of getting his wicket by Ojha but KP seemed to have learnt from the mistakes. He didn't give a chance to the left-armer to get his wicket and on the other side, England captain started from where he left in the last test. He continued to bat confidently, used his feet well and scored runs. The other two Indian spinners were not able to get any purchase from the wicket and KP played aggressively against the Indian spinners that made him reach 62 in no time.
Cook is just 13 runs short of reaching 1000 runs in this year and is behind Australian skipper Clarke who just scored record breaking 4th double century this year. English batsmen used sweep shot to great use in the game. In the meanwhile, they injured two of the Indian players – Pujara and Rahane. England ended the day 2 comfortably at 178 for 2.
With three days to go, England trail by just 149 runs with 8 wickets in hand. It made England favourites after the end of second day. With still 8 wickets in hand, England will look to get a big first innings lead while India will want to take early wickets in the first session of the day. Harbhajan Singh, playing his 99th test, will want to take a few wickets in his come back test to get his position in the team back.
Both the teams will want to take it session by session. English captain Cook, who is leading from front in their fightback, will want to make sure they won't lose the match from this strong position. With the game almost equally poised, both the teams fancy their chances of winning the match, which makes it an interesting one.
My picks of this game are Pujara ton, Panesar's bowling on the first day, Swann's Bowling and KP and Cook batting on the second day.