Everybody expected this rough patch: Dhoni
1.87K //
12 Dec 2012, 21:00 IST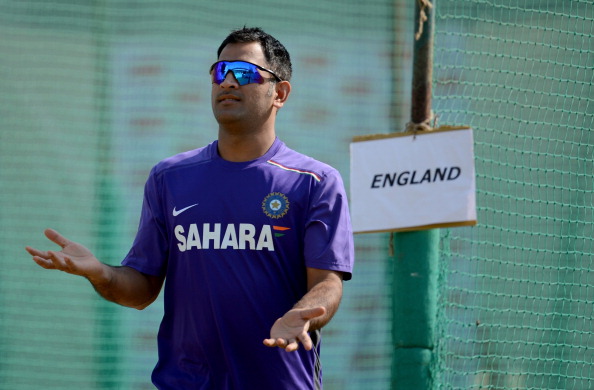 Nagpur - India captain Mahendra Singh Dhoni is not surprised with his team's rough patch in the Tests and said on Wednesday that his boys are high on morale ahead of the fourth and the final Test against England that will be their only chance to avoid a series defeat at home.
"Everybody was talking about this phase in Indian cricket when the big players would move on and the pressure will come on the youngsters and we may go through a rough patch. I think everybody expected this kind of a patch," Dhoni said.
"Of course, we have struggled in the last two Tests. If you ask big questions depending on two Test matches…it (a situation) may come in the future too where we may lose two Test matches and people will say, okay all these youngsters should go out and someone else should come in," Dhoni said.
Asked if his position as the skipper was threatened, Dhoni said: "When people appreciate me a lot, I don't feel as if I am in seventh heaven. And it's the same when people criticise me. We (Indians) have extreme opinions."
"We praise and then start pulling the same individuals down. I would say it's very important to be in the middle path because that's how you will enjoy the sport."
On criticisms by former cricketers like Rahul Dravid and Mohinder Amarnath, Dhoni said: "As ex-cricketers, we respect their opinions but we have our own problems to solve."
"If you are part of the Indian cricket set-up, everything is under the microscope and everybody has an opinion. You can ask plenty of questions on why that guy was not picked and why this guy was not given the new ball. It's a team sport. It's getting very critical," he said.
Dhoni insisted that the spirit of the team was high.
"Spirit in the team is really good. When you go through a bad patch, you fail to enjoy. Dressing room atmosphere is great," said Dhoni.
The skipper said the true character of his team will evolve in the tough situation they are facing.
"As a captain and an individual such a situation does not happen often. It was a similar situation against South Africa too (in 2010) when we played at home and were down in the series and the last game was at Kanpur (and won the match to draw the rubber)."
"But such situations are very few. Won't say it's a very good situation to be in, but the true character of a person as well as the team comes out in tough situations. In a way it's good we are in a situation like this. We have nowhere to go and have to do well in this game," he said.
Asked if he would prefer three spinners, Dhoni said: "The wicket looks good and hard. The combination of the team…you have to wait and watch. Can play the third spinner if you can weigh how important roles the fast bowlers and spinners can have on this wicket."
"There will be some reverse swing (depends on) whether we are going with that or with the fact that as the game progresses the additional spinner can be very effective in the second innings. We have to take into consideration all these and then decide on the playing combination."
Despite media reports that he was upset with Gautam Gambhir, Dhoni praised the southpaw.
"The best thing about Gautam is his aggressive character. He has batted very well in the last two games. Being aggressive is not only about stepping out and hitting the ball but also about positively defending," he said.